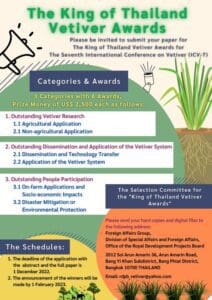 On the occasion of the Seventh International Conference on Vetiver (ICV-7), which is
rescheduled to be held in Chiang Mai, Thailand From May 29 – June 1, 2023, Her Royal Highness Princess Maha Chakri Sirindhorn, the Chairperson of His Majesty the King of Thailand's Chaipattana Foundation, has graciously granted US$10,000 of the King of Thailand Vetiver Awards from the Chaipattana Foundation for four of the most outstanding works on vetiver (prize money of US$ 2,500 each) in the following categories:
1. Outstanding Vetiver Research
1.1 Agricultural Application
1.2 Non – agricultural Application
2. Outstanding Dissemination and Application of the Vetiver System
2.1 Dissemination and Technology Transfer
2.2 Application of the Vetiver System
In addition, the PTT Public Company Limited's fund has been approved by Her Royal
Highness Princess Maha Chakri Sirindhorn to provide two additional awards (prize money of US$ 2,500 each) for the following categories:
3. Outstanding People Participation
3.1 On-farm Applications and Socio-economic Impacts
3.2 Disaster Mitigation or Environmental Protection
The six winners will receive the awards from Her Royal Highness Princess Maha
Chakri Sirindhorn, the Patron of The Vetiver Network, on His Majesty the King of
Thailand's behalf, during the Opening Ceremony of the 7 th International Conference on Vetiver (ICV-7) in Chiang Mai, Thailand. With the support from the Chaipattana Foundation, the recipients of the awards will have the honour to present their papers during the Conference and be covered for the cost of participation at ICV-7 as well as the international travel between their home country and the conference venue, including accommodation and meals during the conference period.
PLEASE NOTE THAT SUBMISSIONS HAVE TO BE MADE BY DECEMBER 31,  2022. For full details see (old): announcement to be updated.