Vetiver Systems – Climate Smart Technology
Introduction by Jim Smyle – President of TVNI VS_Climate_change_o.pdf (vetiver.org)
VS applications when used properly allow individuals and communities to adapt to climate change by enhancing their resilience over time to these changes making VS a climate smart set of technologies. We face a series of negative impacts caused by climate change that can be mitigated with VS. For example, land is being both lost and degraded over time as increasing pressure from people continues to grow over time. VS can be used for soil and moisture conservation by reducing runoff velocity and trapping sediments, it can be used to divert water slow and spread water and sediment flows, it enhances water infiltration, and is effective protecting and stabilizing soil related infrastructure. VS positively impacts riverbank stabilization especially in populated areas.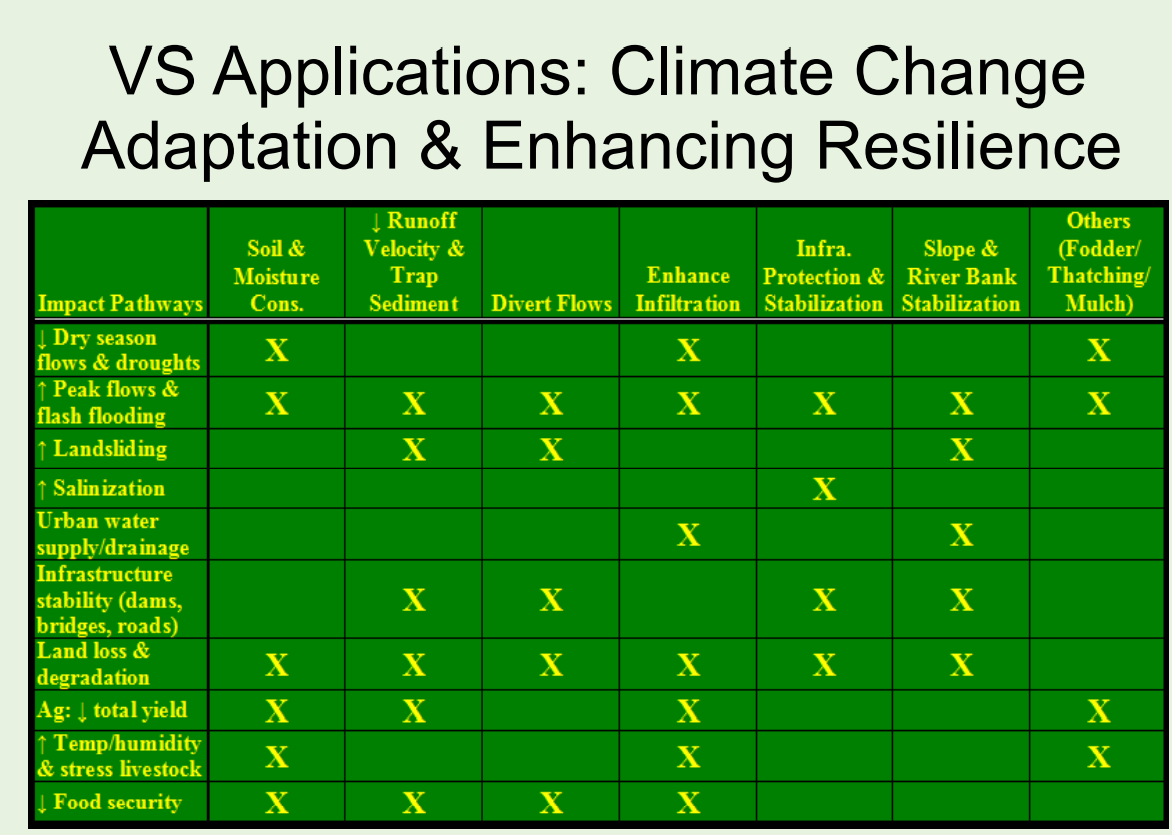 VS Applications will provide Adaptation & Enhancing Resilience in facing climate change
Two "types" of adaptation:
(1) Autonomous: adaptation that farmers, groups, communities can make privately. VS provides a tool that communities can use themselves at little cost — tool people apply themselves
(2) Planned: thru govt. actions & spending with the goal of enhancing the capacity of populations to adapt.  Enhancing peoples' capacity to adapt is a considered one of the top priorities for responding to climate change… VS can do that.
Systems that can effectively cope with existing weather variability will be more successful in adapting to future climate change than those that cannot. Even in the absence of climate change, anything done with Vetiver is going to help under current climate.
VS For Mitigation — High importance need for a better understanding VS potential for mitigation
Prioritize climate change adaptation: – – Mitigation financing is needed to accelerate adaptation by communities so as  to leverage additional benefits from mitigation. Nearly all VS applications can have multiple mitigation benefits.
CLIMATE CHANGE MITIGATION WILL BE SLOW UNLESS  FINANCIAL INCENTIVES ARE PROVIDED TO COMMUNITIES WHO CAN DEMONSTRATE EFFECTIVE APPLICATION OF CLIMATE SMART TECHNOLOGIES. EVERY COMMUNITY SHOULD HAVE A ZERO CARBON PLAN – FOR MANY RURAL COMMUNITIES  THE VETIVER SYSTEM COULD BE CENTRAL TO THAT PLAN.