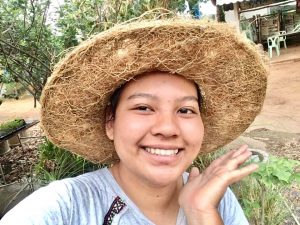 TVNI hosted webinars are a useful way of sharing information about the Vetiver System. The webinars are well received. TVNI members also participate in webinars managed by outside hosts. Webinars are livestreamed on YouTube and are available, with other videos, on TVNI's YouTube channel
TVNI  posts third party Vetiver-focused webinars on this page, if provided a short description of the webinar, the names of the primary presenters/speakers and the url link to the recording.
TVNI WEBINARS (and "public discussions")
#1 WEBINAR (completed) – Webinar Video at: https://youtu.be/p4OM9Vm1IqE and pdf
— Embedding Vetiver Grass Technology into Farm Systems at various scales under tropical and semi-tropical conditions. Presented by Dick Grimshaw and Jim Smyle
#2 WEBINAR (completed) Webinar video at: https://youtu.be/dqb3os89sYQ
— Developing, marketing and social impact of vetiver grass based handicrafts.
Videos of individual presentations: Jacob Jose (india); Paula Leao Pereira (Brazil); Vonnie Roudette (St Vincent and The Grenadines); June Slinger (Grenada); Oswaldo Luque (Venezuela)
#3 DISCUSSION (completed) discussion video at: https://youtu.be/W90OOgFJa70
Can the Vetiver System be used for coastal protection in West Bengal's Sundarbans?
This video comprises of a presentation by Samir Patitunda and Syed Samsun Nabi describing some of the physical and social problems as a result of extreme weather events in the Sundarbans of West Bengal. Additional presentations from Tran Van, Tran Man and Paul Truong describe how the Vetiver System has been effectively used since the late 1990's for coastal sea-dyke and estuarine river-bank stabilization in north and central Vietnam and the Mekong Delta under not dissimilar conditions to those in the Sundarbans. Mohammad Shariful Islam describes his 20 years of vetiver research and development in successful applications for coastal infrastructure stabilization in areas contiguous to West Bengal's Sundarbans.
These presentations are followed by an open discussion. Some interesting points emerge including the need for full community acceptance and participation; the need for quality plant and site applications; the potential use of jute fiber matting in conjunction with vetiver to enhance stability in the first year of vetiver establishment especially on sandy and "liquid" soils; the value of well planted vetiver hedges of sufficient density and number that reduces wave run up damage to the embankments and is equivalent to approximately a 10% saving in dyke/embankment height – significant saving in construction costs. Also the importance of planting vetiver on the inside slopes of dykes to prevent erosion from over topping storm surges. Post application maintenance is relatively simple and low cost and important for long term durability. Rules have to be agreed with local communities as to how the dykes are used, and once agreed need to be adhered to.
West Bengal participants: Samir Patitunda is a political and social activist from West Bengal, is a founder member and leader of the Political party called PDS or Party for Democratic Socialism. Currently he is a facilitator on different grounds to mitigate and bring sustenance for the people post disasters in the region. Syed Samsun Nabi, is coordinator for the India Vetiver Network. He was a part of the successful pilot implementation of VGT throughout West Bengal through the MGNREGS as a Chief Coordinator.
The Vetiver Network International participants: Dr. Tran T Van (Vietnam): Geologist/Geotechnical Engineer. …. Director (retired 2021) of the Vietnam Institute of Geosciences and Mineral Resources. Responsible for making recommendations for Vietnam's disaster mitigation programs. He founded and coordinated the Vietnam Vetiver Network and was responsible for the development of Vetiver Systems applications for protecting and strengthening Vietnam's cyclone protection infrastructure (sea walls, dykes, levees) as well as its use for protecting and stabilizing highways and other infrastructure, including the 2000 km Ho Chi Minh Highway. Tran Man (Vietnam). Civil engineer, Certified in Vetiver bio-engineering. Manage Bio- engineering projects using Vetiver grass for slope stabilization, riverbank protection, waste-water treatment, sediment control with Veticon Australia. Coordinator of the Vietnam Vetiver Network. Currently Head of Investment, Appraisal, and Supervision of the State Bank of Vietnam (SBV), Da Nang. Dr. Mohammad Shariful Islam (Bangladesh ): Professor of Civil Engineering at Bangladesh University of Engineering & Technology. He has been researching and developing the use of the Vetiver System for flood levee and river-bank stabilization in Bangladesh for many years and has been a major contributor to the promotion of the Vetiver System for Disaster mitigation. Dr. Paul Truong (Australia): Technical Director TVNI ; Director of Veticon Consulting. R&D and Application of the Vetiver System Technology for Environmental Protection and Bioengineering. Leading vetiver researcher with special focus on the use of vetiver for treating contaminated land and water. Formerly Department of natural Resources, Queensland, Australia. has been working with the Vetiver System since 1990. Jim Smyle (USA): Watershed management specialist, President and Coordinator of TVNI. Formerly – former World Bank environmentalist. Following retirement has consulted for IFAD, ADB, World Bank and other organizations involving rural poverty reduction, sustainable natural resources management and climate change adaptation relating to agriculture and forestry". Dick Grimshaw (USA): Agriculturist/soil conservation/land use planner and Founder of TVNI. Formerly – World Bank. Has been working with Vetiver System since 1986. Amongst his other tasks was head of the World Bank agricultural group in New Delhi (1982-87). He founded The Vetiver Network International in 1995 and has worked with it since that time. Dr. Dale Rachmeler (USA): Agronomist. Previously USAID project manager of vetiver related agricultural projects in Africa. Currently Secretary of TVNI.
#4 WEBINAR: China Vetiver Network. This webinar was held on November 17 and contained some interesting features. We have split the five presentations into separate You Tube videos. The main "takeaways" were: (1) China Vetiver Network under the leadership of Liyu Xu has been in operation now for 24 years and has played an important and sustained function in the promotion and use of VS in China; (2) much has been learned from VS application in China during that time;(3) the Chinese Government's Climate Action policies are giving VS a new momentum and prominence; (4) the quality of VS applications in China is very good; (5) private sector companies play an important role; (6) applications are carried out at an impressive scale — 270,000 ha of rice with reduced stem borer incidence due to the Vetiver System – A single company produces 90 million vetiver plants over 4 years – tertiary treatment to environmental standards of 80,000 tons/day of the City of Wenzhou's sewage effluent using floating vetiver; (7) a growing appreciation that vetiver applications have many important secondary ecological and economic benefits that accrue automatically following application for the primary use; and  a realization that environmental awareness needs to be taught to children at a young age.
The five videos are:
#5 WEBINAR: The Use of Vetiver to Control Stem Borer of Rice in China. (March 1st 2022)
 The webinar's (55 minutes) guest speaker, Dr. Zhongxian Lu of the Institute of Plant Protection and Microbiology, Zhejiang Academy of Agricultural Sciences, Hangzhou, China, is professor and head of crop insect pest management. He shared with his audience the experimental and field development application of ecological engineering of rice insect pest management, with a focus on the critical use of Vetiver grass in the control of pink and striped stem borer of rice. Thus far 270,000 ha of rice has been protected in 13 provinces of south China using the technology developed by Dr. Zhongxian Lu and his team. The use of vetiver for this application has resulted in an 80% reduction in pesticide use in the control of stem borer, improved the quality of rice and net income/ha, and appears to be reversing the resistance of pests to those pesticides that are being used. The presentation includes some very interesting data and figures, and we recommend that when viewing that you use the pause button frequently!
Webinar video link: https://youtu.be/gIYUMypvl48