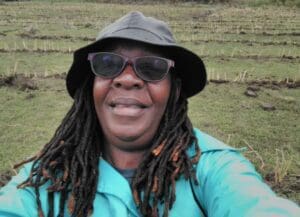 Jane Wegesa Fraser coordinates the Kenya Vetiver Network. She leads by "doing".  Jane is one of the founders of PLUS-Kenya, a Kenya NGO now in operation for more than 10 years. From inception she has proven to be the powerhouse in the field, working with communities, designing applications, teaching users, and showing how to actually apply the technology on the ground. Although she and PLUS-Kenya have been involved in various VS applications, her main focus is on farm soil erosion, water conservation and soil fertility enhancement, land reclamation, and infrastructure preservation (slope stabilization)
Jane story and passion for environmental improvement in Kenya is demonstrated in this photo album. She is affectionately known as Mama Vetiver in recognition of her wide and lengthy work with vetiver, leadership, warmth and caring for communities and the vetiver they grow. In Kenya and other countries, every county needs a Mama Vetiver. She is one of a number of outstanding women who are committed to the Vetiver System for environmental applications, all of whom play important leadership roles in VS development.
PLUS-Kenya  …… "Working hand in hand as a team, promoting and training VS applications starting with propagation, on-farm hedge establishment for soil and water conservation, gully rehabilitation, and as a bio-engineering tool in infrastructure protection. We have trained and introduced healthy Vetiver nurseries in driest areas of Kenya (arid and semi-arid) like Kilifi, Voi, Pokot, Turkana, Marsabit, etc. We have set up nurseries and trained communities in neighboring Uganda, Tanzania and South Sudan".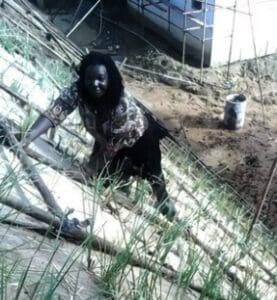 The impact that Jane and her vetiver partners, including Caleb Omolo, Christian Makokha, Paul Kombo, John Mukora and others, is expanding and could accelerate rapidly if given support.  The group have impacted initiatives in Uganda, Tanzania, and South Sudan. It has also built up a network of vetiver plant suppliers that are essential for expansion.
The keys to their growing success are community involvement and training, development of vetiver nurseries, ability to innovate, preparedness to tackle very difficult land degradation problems, and teaching and demonstrating how to apply the technology correctly.
My association with PLUS-Kenya has been since its inception.  The network and those involved have developed into a well informed a capable group who know their vetiver well, and how to get others involved. I would recommend to those agencies looking to mitigate Kenya's environmental soil and water related problems to involve Jane and those who work with her.