Vetiver Hedge Spacing.
Effects of initial spacing on Vetiver hedgerow closure at 24 months, demonstrating that establishing a functional Vetiver hedgerow requires that the Vetiver be planted close together. Photo courtesy of Dr. P.K.Yoon (1993)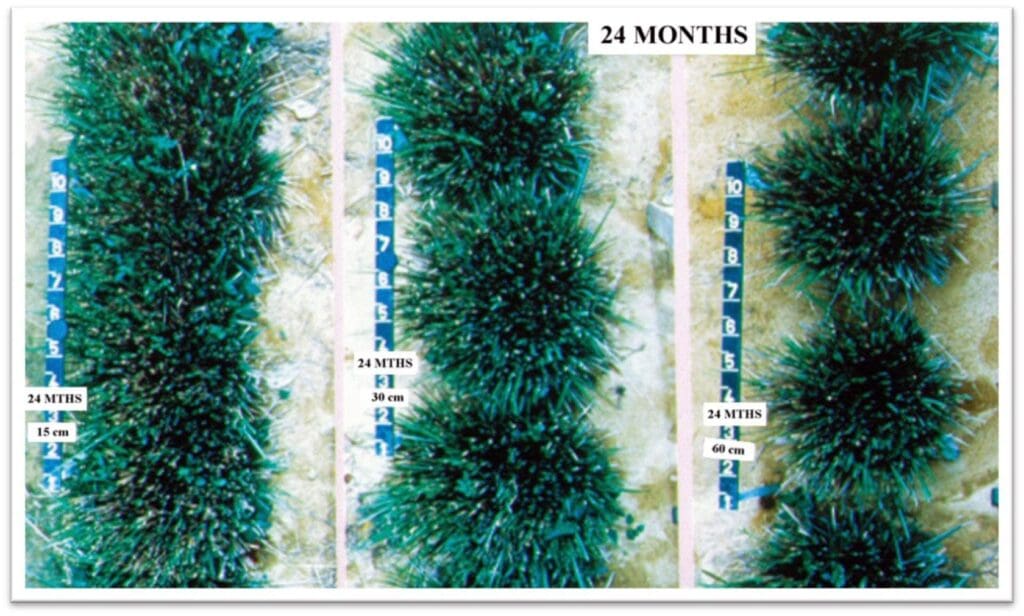 In writing the first article for this newsletter I was reminded again about Dr. P.K. Yoon's work, carried out more than 30 years ago, at the Rubber Research Institute in Malaysia, where he was then the Director.  His two-volume set of "A Look See at Vetiver Grass in Malaysia" remains one of the most comprehensive and indispensable references for Vetiver practitioners today.
The photo above comes from Volume II of that work, and provides a clear demonstration of why it is important to use the right spacing between plants when establishing a Vetiver hedgerow to take advantage of  Vetiver's unique ability to form a vegetative barrier of such density that it literally halts and backs up surface runoff. Planted too far apart, the individual Vetiver plants will not grow into their neighbors and form a solid hedge. This is well-illustrated in the photo above. The planting seen on the left side of the photo had an initial spacing of 15cm (6 inches) and there is complete hedge closure. However, where the initial spacing between the individual Vetiver plants was 30cm (12 inches) and 60cm (24 inches), the hedge has not closed up and so its function – halting and backing up runoff so that infiltration and soil moisture are improved, and sediments drop out to be deposited on the upslope side of the hedge –  is compromised.
The reason this came to mind is that in looking at many photos that accompany postings on social media or, much too often when reviewing the methodology used by researchers for assessing Vetiver hedgerows' effectiveness for controlling soil loss and reducing rainfall runoff (for example, this 8 year study in which the Vetiver was planted at 30cm apart), the plants are placed too far apart. Whether this is done due to a lack of knowledge about the appropriate spacing or because the user is simply trying to make their limited material cover a larger area, the end result will be the same: a Vetiver hedgerow whose soil and moisture conservation function is impaired, and any benefits reduced. When the technology is not properly applied, it doesn't work, as demonstrated by this piece of research.
Advice from an expert on establishing Vetiver…three months later
In the last Newsletter Feng Ziyuan of China shared his methodology for establishing Vetiver for commercial applications, the essence of which was his use of bare root stock instead of containerized material (with its much higher costs for the planting material, transport, and labor), along with the use of appropriate amendments – "microorganisms + soil improvement + organic fertilizers + water retention agent" – at planting to ensure establishment and good growth. He sent us pictures of a site where he was currently working and promised to share photos of the site three months after planting. The before and after photos, below, clearly demonstrate that his approach to establishing Vetiver for slope stabilization works very well!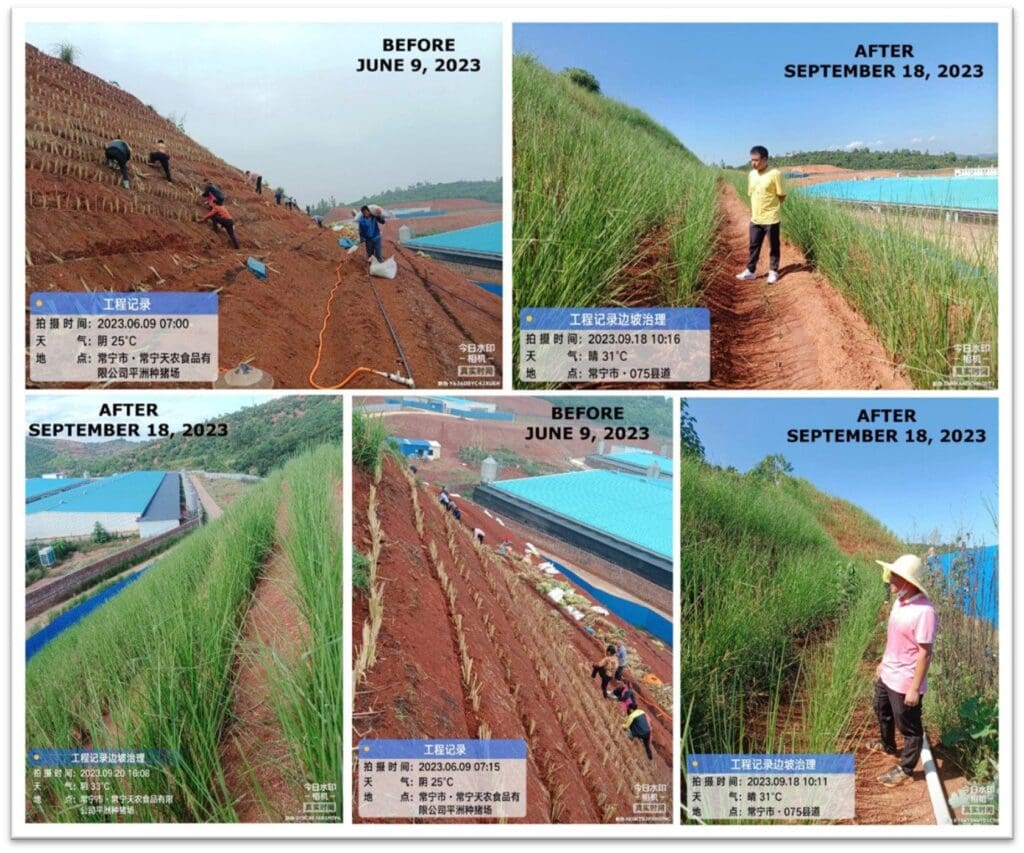 Photos courtesy of Feng Ziyuan (2023)
Italian Vetiver Network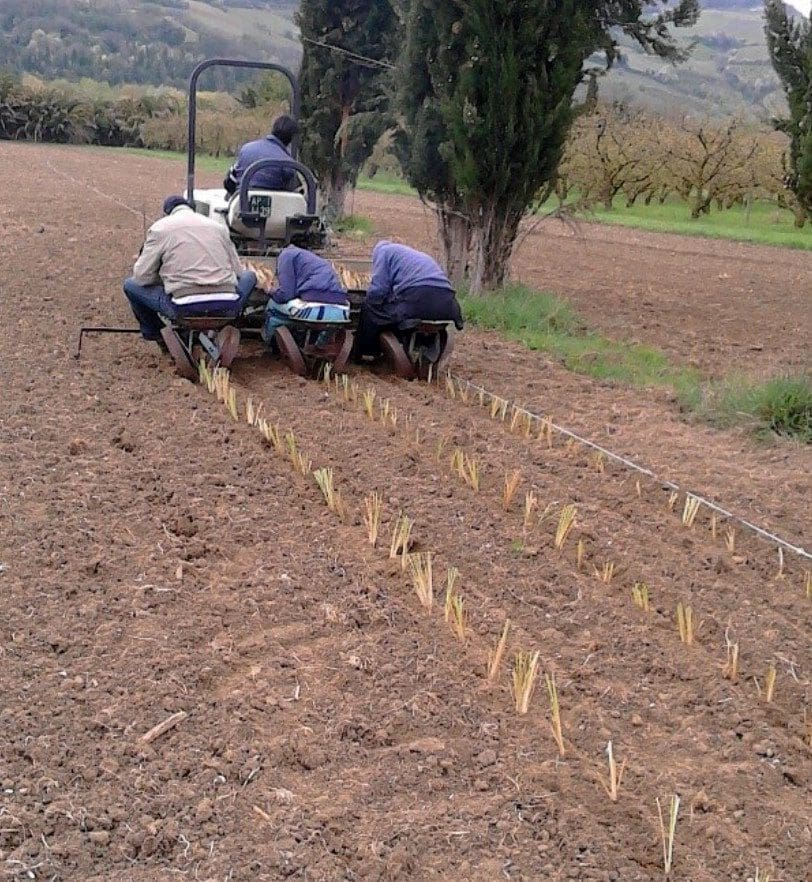 In July of this year Benito Castorina became the Coordinator of the Italian Vetiver Network. Benito is a longtime proponent of Vetiver Grass Technologies and in 2015 he was awarded a Certificate of Technical Excellence by TVNI for his work in Bio-Engineering, Plant Propagation, and Phytoremediation. He is also engaged in looking at innovative uses of Vetiver biomass for renewable energy, specifically to produce hydrogen gas. A YouTube video on the subject is available. You can find out more about Benito's work through the two papers he presented at the recent ICV-7 in Thailand, and those may be found in the Proceedings from the Conference. While at ICV-7, Benito proposed to the ICV Continuing Committee hat Italy be the host for the next International Vetiver Conference (ICV-8). More on that, below. Mechanized planting in Alberto Fulgoni's nursery in Montefiore Dell'Aso in Italy's Marche Region.  Photo courtesy of Alberto Fulgoni
Initial Discussions on the 8th International Conference on Vetiver
During ICV-7 a meeting was held of the ICV Continuing Committee to discuss the interest and potential for holding ICV-8.  Representatives from four countries – People's Republic of China, Republic of India, Republic of Indonesia, and Republic of Italy – attended and expressed interest in being the host country for the 8th International Conference on Vetiver. The preliminary proposals from each were as follows:
People's Republic of China – The Chinese Vetiver Network and the Chinese Academy of Sciences would be the organizing bodies.  The proposed site of ICV-8 would be in Nanjing, the capital of Jiangsu Province, and the proposed timeframe would be for 2026 or 2027.  The proposed focus of the ICV would be on agriculture and soil health.
Republic of India – The India Vetiver Network, First World Community, and Agriculture World would be the organizing bodies.  The potential location is to be decided, and the proposed timeframe would be for 2025 or 2026. The proposed focus of the ICV would be on climate change and climate action, and awareness raising and promotion of the Vetiver System.
Republic of Indonesia – Irma Hutabarat, known as "Mother Vetiver" in areas/islands where she has vetiver projects as well as for her contributions in the field of environmental conservation, would be taking the lead for organizing an ICV-8.  The potential location would be in Bali, and the proposed time-frame would be for 2026 or 2027. The proposed focus of the ICV would be on environmental management, phytoremediation, disturbed land reclamation, etc., and the Vetiver Systems' role in poverty reduction/alleviation.
Republic of Italy – Benito Castorina, the Coordinator of the Italian Vetiver Network, would be taking the lead for organizing an ICV-8. The potential location would be in Rome, Italy. The proposed time-frame is to be decided. The proposed focus of the ICV would be on environmental management, water pollution/phytoremediation, and renewable energy.
It was agreed that each of the proponents would take the next six months to carry out an assessment of the viability of their organizing a successful ICV-8, and in January of 2024 submit to the Continuing Committee their proposal, which would include the details of the time, location, financial sponsors and estimated budget, participating institutions, and the organizational support they would provide, and the thematic focus.
Hand2Earth Gaining Well-Deserved Recognition for their work with Vetiver
In a number of recent Newsletters we have shared the work being done by Vonnie Roudette (e.g., in April and May of this year) and the NGO, Hand2Earth in the Caribbean Islands of St. Vincent and the Grenadines. Most recently: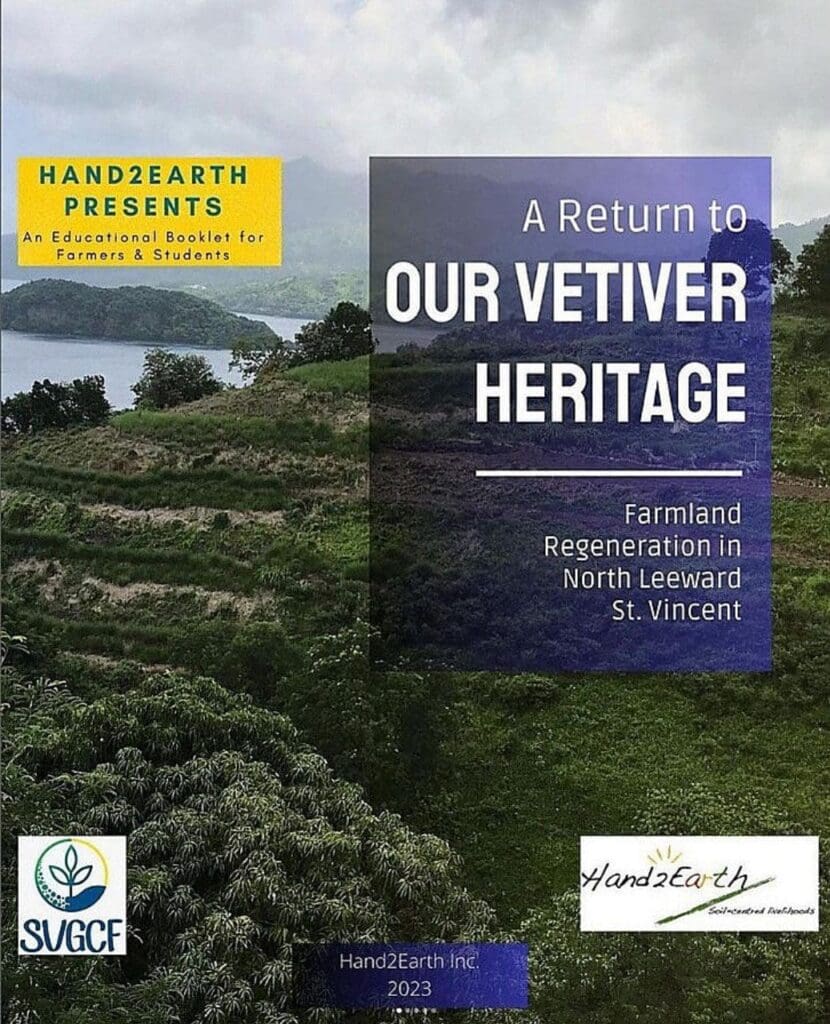 In August of this year, Hand2Earth was announced as being one of the 23 civil society organizations selected as a winner of the GEF Assembly Challenge Program. The award recognizes their work in Vincent and the Grenadines in farmland restoration to improve crop yields, food security, and farmers' livelihoods. In working towards the creation of sustainable farm systems, Hand2Earth's approach, amongst others, focuses on empowering the local farmers to be community educators, as well. This has included the setting up of an agriculture and heritage education center in one of the seven target villages to facilitate sharing and education amongst the communities. As noted in the May 2023 Newsletter, this initiative is rehabilitating 80-year-old vetiver hedgerows in St Vincent and the Grenadines, and expanding their use by reintroducing to local communities this "lost" local tradition of using Vetiver to sustain hillslope agriculture. Vonnie tells us that the award monies associated with the prize will go to expanding the project to include more farmers and vetiver heritage restoration sites.
In July of this year, Hand2Earths 2020 film "Grassmen II", was among a select few that were screened at the 2023 EU-CELAC summit in Brussels, which was attended by 62 heads of state of the EU, and Latin American and the Caribbean countries. The documentary film showcases the Vetiver land conservation and prisoner rehabilitation work begun in 2018.
Vetiver Heritage Booklets and Documentary. Hand2Earth's SVG Conservation Fund farmland restoration initiative, through its Community Education component, has produced a 16-page full colour booklet featuring an introduction to Vetiver Systems as well as the long and fascinating history of Vetiver in St Vincent. "The aim of the booklet is to encourage students and farmers to embrace their Agri-heritage and recognise the need to preserve and restore agri-ecological practices such as contour farming that produced the bountiful crops that established St. Vincent as the breadbasket of the Caribbean between 1920-1960". Also, Vonnie tells us that "We also have a documentary 'Our Vetiver Heritage' about the project in north leeward [that was launched] at the Vincent and the Grenadines Project Award Ceremony."A link to the documentary will be shared when it becomes available. At present, booklets are available through Gaymes Book Store, or the SVG Conservation Fund's office, both in Kingstown, St. Vincent & Grenadines. The sales fund the printing of more booklets for schools.
Latin American Virtual Conversations – A Space for Continuous Connection and Learning
The following is from Yorlene Cruz, who conceived of and followed through to establish a monthly virtual conversation on topics of interest to members of the Latin American Vetiver Network. Yorlene lives in Costa Rica, and is one of TVNI's Directors.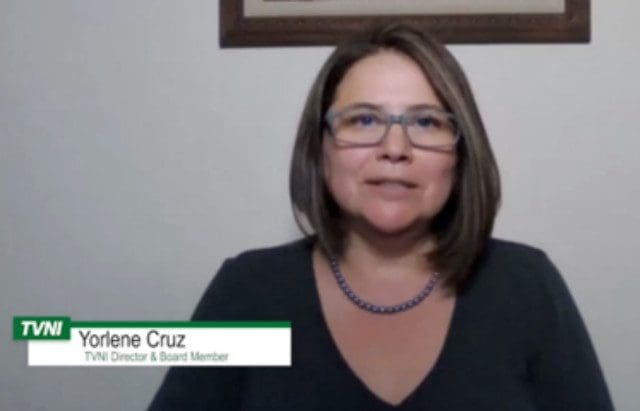 Since January 2023, we have enthusiastically launched the Latin American Virtual Conversations, a monthly initiative aimed at providing members of the Latin American Vetiver Network with a constant forum to share experiences, knowledge, perspectives, and accumulated research over the years.
The format of these gatherings is designed so that, each month, a fellow speaker can share their best practices related to their work and experiences. This translates into a unique opportunity for the speaker to open the doors of their nursery, business, and/or project. Participants are free to ask relevant questions and provide comments, fostering a process of continuous improvement, exchange of ideas, and the adoption of best practices as part of the benchmarking of Vetiver Technology.
The Conversations take place through the TVNI's Zoom platform on the last Wednesdays of each month. To date, we have held 9 of these sessions, all of which are available for viewing on The Vetiver Network International's (TVNI) YouTube channel. Don't miss the next Conversation, which is scheduled for November 30th.
If you wish to participate as a speaker, we invite you to submit your name and the title of your presentation through the following link: https://bit.ly/3D1jptO
To receive access links to future sessions, we encourage you to join our distribution list through this link: https://bit.ly/3CVA8Pd
We look forward to seeing you in our next Conversation, where the Vetiver community comes together to learn, share, and grow collectively.
Note: A playlist of all the Conversations to date may be found here, on TVNI's YouTube channel. The Conversations are in Spanish, however for non-Spanish speakers, YouTube provides the option to have translated sub-titles, in the language of your choice. Click on "Settings" on the bottom right (the gear icon) and turn on "Subtitles/CC" to "Spanish (auto-generated)". A new box will open. Click on "Subtitles/CC Spanish (auto-generated)" and the option to "Auto-translate" will appear. Then choose the language you wish to have the discussion translated into.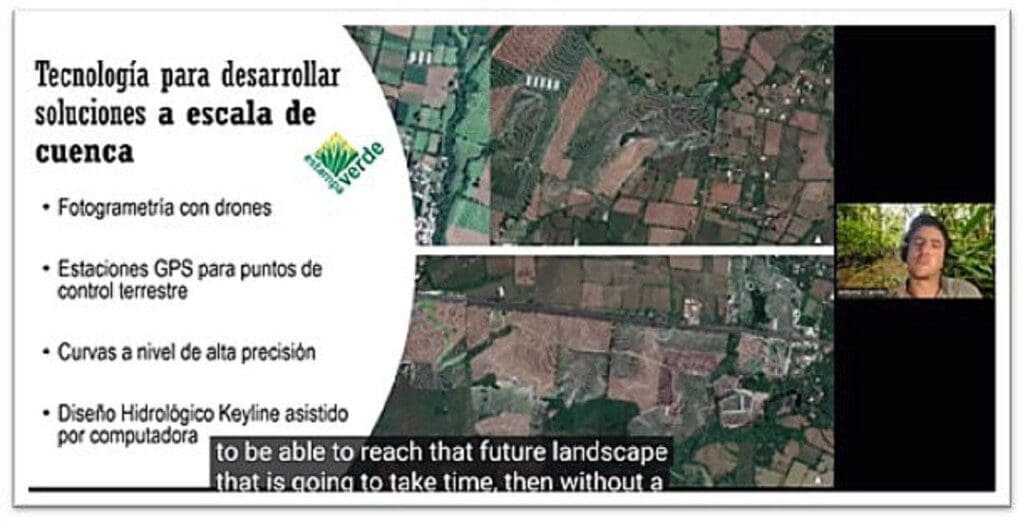 Spanish language translation available of Dr. Rattan Lal's ICV-7 Keynote Speech
Thanks to Dr. Oswaldo Luque M. (in Venezuela) there is now a Spanish translation available of Dr. Lal's ICV-7 Keynote address:  Manejo de la salud del suelo con el pasto vetiver para la seguridad alimentaria y climática. Conferencia presentada por el Dr. Rattan Lal ICV 7 marzo 2023. Clicking on the Spanish title will take you to the paper. For those of you who have not yet watched the video of his Keynote "Managing Soil Health With Vetiver Grass for Food and Climate Security", you may find it here.
Artificial Floating Island with Vetiver for Treatment of Arsenic-Contaminated Water: A Real Scale Study in High-Andean Reservoir
This 2020 research paper – that reports on research carried out in the Ilinizas paramo* in Ecuador –.by Drs. Kalina Marcela Fonseca Largo, Joseline Luisa Ruiz Depablos, Nataly Marisol Llugsha Moreta**, and Dr. Edgar Fabián Espitia-Sarmiento*** is of particular interest for several reasons, not the least being that:
Arsenic (As) is highly toxic in its inorganic form and contaminated water – used for drinking, food preparation, or irrigation of food crops – poses a severe threat to public health from cancer and other illnesses. Yet in many parts of the world both surface and ground waters can be contaminated with As, either from human activities (e.g., mining, and industrial processing) or natural sources. In the area where this research was carried out, small farmers are utilizing As-contaminated water to irrigate their potato crops, forced to ignore the potential health hazard as their livelihoods depend on being able to produce irrigated crops. In order to be suitable for agricultural use, the water should be treated but traditional methods for removing As are difficult and expensive to implement. Thus, the authors were interested in testing Vetiver as a more flexible, and cost-effective nature-based solution.
The area where the work was carried out is a paramo that lies at 3190 m above sea level, receives an average of 729mm, and the mean annual temperature is 11°C with a lack of thermal seasonality. Throughout much of the year, air temperatures barely reach 12°C during the day, and night frosts may occur at any time of the year. These temperatures and conditions are generally considered to be very marginal for Vetiver applications.
The researchers found that even under these difficult, high Andean conditions, floating islands of Vetiver grass performed extremely well, with the grass adapting quickly to the local conditions such that:
"[In the first phase, where the Vetiver was planted] in soil, Vetiver cuttings became purple due to the environmental conditions of a cold climate. The color of change is negatively correlated with the cold temperature, but thanks to its capacity of adaptability, Vetiver was able to recover in a satisfactory way, and its survival reached 85%… In the second phase, already being set in a hydroponic environment, in the absence of As, the plants gradually turned green once more due to the use of coconut fiber that can yield or absorb heat quickly; facilitating constant root development, both in hot and cold seasons…the plants on the floating matrix reached a survival rate of 92%. At the end of the adaptation process, the plant roots reached 30 cm in the floating matrix, and they were set up in the [agricultural water reservoir or irrigation pond] with extreme As concentrations. The two [artificial floating islands with Vetiver]…were monitored for 120 days, with a survival rate of 95.88%…despite the high concentrations of contaminants."
As to Vetiver's effectiveness and the practicality of using floating islands of Vetiver to decontaminate irrigation water under smallholder, potato farmer conditions:
"The average remediation of arsenic was recorded as 97% in water and 84% in sediment… [and] it was found to be effective for extreme concentrations. The treatment…shows that Vetiver is the most suitable plant in terms of As removal. The efficiency of this macrophyte compared with other species As phytoremediation capacities in different water bodies of water. [The figure below shows]shows best results for Vetiver.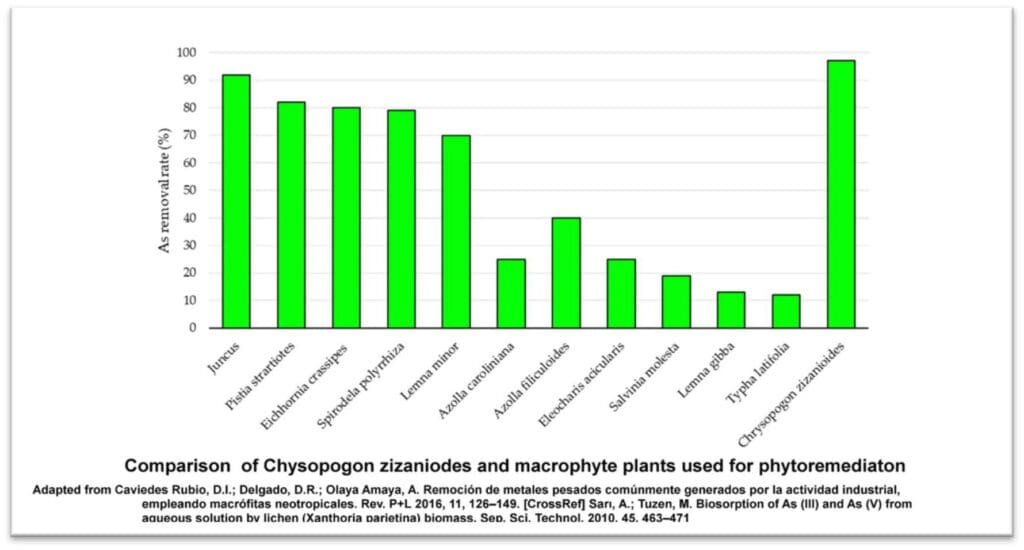 "…raw water for filling [irrigation ponds] is not a restriction, because surface water is sufficient and it could be used after 30 days of treatment, with to 96% As removal, for the first cycle of potatoes crops irrigation. Finally, to manage time constraints for the period of crop, the community has a set of reservoirs that can be rotated, as a way to achieve a uniform coverage. In case of setting up the [floating islands with Vetiver] with greater capacities, the pilot-scale study suggested that 10% of [of the irrigation ponds surface area] should be covered with [floating islands with Vetiver].
* A paramo is an ecosystem, comprising a vegetation type that occurs between the upper limit of continuous, closed-canopy forest (i.e., forest line or timberline) and the upper limit of plant life (i.e., snow line). It is characterized by clump grasses, large rosette plants, evergreen shrubs, and cushion plants. They occur between about 3,000 and 5,000 m.
** Water Resources Management Group, Technical University of Cotopaxi, Ecuador.
*** Water and Aquatic Resources Research Group, Universidad Regional Amazónica Ikiam, Ecuador
Vetiver Pest Management Impacts at EcoCentro's Garcia St. Urban Farm
As those of you who follow Vetiver Grass Technology developments know, Vetiver grass has proven to be effective in the control and management of a number of important agricultural pests. For example, in the Ecological Engineering in Pest Management for Rice in China. Recently, Jess Mayes has informed us of yet another agricultural pest for which the use of Vetiver grass may be a good, natural alternative.
Jess, who works with the non-profit Terra Advocati, has been an active promoter and implementer of the Vetiver both in the USA (in South Central Texas) and in Mexico. Late in 2022, Terra Advocati awarded a small grant to San Antonio College's Eco Centro, Garcia St. Farm, to start producing and using Vetiver within their farm system, monitor the impacts of the Vetiver integration within their production models, and produce a local, available stock of vetiver for other uses within the community.
He tells us: "The Vetiver is doing great at [the Garcia St. Urban Farm], and they saw a about a 70% reduction in squash borer damage to their zucchini, after having planted rows of Vetiver next to the squash…[that] surprised the hell out of me. We plan on implementing VS in their new orchard, and of course, in the farm.
He promises to keep us posted on this and other developments with his and Terra Advocati's Vetiver work in in the US and Mexico.
Top photo, Jess Mayes (second from right), provides the initial Vetiver planting material for Eco Centro's urban farm. Bottom left, propagation of Vetiver begins at the farm during winter 2022/2023. Bottom right, a view of the Garcia St. Urban Farm. Photos courtesy of Terra Advocati.