CYCLONE FREDDY – VETIVER HEDGEROWS AS CROP INSURANCE??

This cyclone has in the past month devastated Mozambique, Madagascar and Malawi. A quote from AP …
"About 4 million people — a fifth of Malawi's population — were already facing food insecurity and "more people will now need assistance" after floods destroyed close to 120,000 hectares (297,000 acres) of farmland, said the World Food Program. The price of the staple maize has skyrocketed to between 300% and 400% compared to the same time last year in affected areas, said WFP. Among those in dire need of assistance in Malawi are more than 500,000 people displaced by the floods, according to the International Organization for Migration. In Mozambique, where the cyclone destroyed extensive infrastructure and damaged about 350,000 hectares (865,000 acres) of farmland, aid agencies are struggling to reach desperate communities where roads have been damaged, said the WFP. More than 160,000 people have been displaced and living in temporary shelters in the country, according to the U.N humanitarian agency".
I understand from contacts in Malawi that thousands of farmers receiving support and credit from various government and non profit agencies, not only lost their crops and possessions, but also will have outstanding farm debt. We have seen this before when other extreme events have hit farming communities — loss of land, crops and lives. Vetiver Grass Technology can provide some insurance to extreme weather event damage. Here are a couple of reports on how  vetiver protected farm land and infrastructure in Central America when hit by Hurricane Mitch (1998) a category 5 storm. Sources from Malawi tell me that tobacco farmers in southern Malawi who were using vetiver suffered a lot less than unprotected farms. Other farmers in Malawi have found that vetiver provides valuable protection against climate change induced weather events – see New York Times article "The Climate Hackers of Malawi"
Vetiver grass hedgerow farm applications should be considered as an essential crop insurance against extreme weather events (both drought and flood). I would recommend insurance companies that provide crop insurance to small farmers consider making VGT part of the package. The same applies to the many non profit organizations that are providing farm inputs on credit. Not only would this help protect their financial resources and client benefits, but would also help improve soil health and the environment generally.
THE SEVENTH INTERNATIONAL CONFERENCE ON VETIVER (ICV7) UPDATE
We encourage our readers to participate either in person or online in this important and useful conference to be held in Chiang Mai, Thailand from May 29 to June 2023. If you attend you will be able to meet interesting and critical people involved with the science and application of vetiver, including Dr. Rattan Lal – keynote speaker – a winner of the World Food Prize – and the world's leading agricultural scientist. Even if you cannot attend in person you can attend in real time on Zoom and you can present your paper online as well. To do this you should register and sign up at: https://icv7.rdpb.go.th/registration/     Currently the conference schedule can be found here
THOUGHT FOR THE MONTH – SOIL TEMPERATURE IS GETTING HOTTER.

Hotter soils —- Climate change – in most parts of the world soil is going to get a lot hotter. Vetiver is one way of helping to cool
it. Tho Ngo (Vietnam) recently took some outdoor temperature readings at 12 noon in Cao Phong, Hoa Binh, Vietnam:
Ground surface: 53.7°C. ………..  At 5cm soil depth: 47.7°C, humidity 89%. …………….. At the crown of the grass: 41.5°C, 95% humidity. ……………. underneath uncut grass, the soil temperature at 5cm depth: 34°C. ………….. Later, around 13-14h, the surface of the soil may have reached 60°C.
Climate change will cause the average temperature to increase, but not as dangerous as prolonged heat waves, sudden and abnormal temperature increases for about 3-5 days, causing heat shock for plants and livestock. …. Why not cover the soil? Vetiver not only survives extreme heat but also is good for cooling techniques such as mulch and shade. 
One example Robusta coffee trees (40% of the world's coffee) are extremely sensitive to temperature "During the growing season every 1 °C increase in mean minimum/maximum temperatures above 16.2/24.1 °C corresponded to yield declines of ~14% or 350‐460 kg/ha" From: Not_so_robust_Robusta_coffee_production_is_highly_sensitive_to_temperature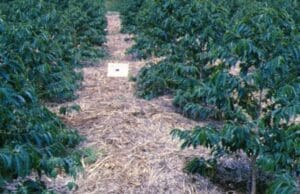 Applying vetiver grass technology to farms not only improves soil fertility and soil moisture but its massive biomass can be used as a very good mulch for coffee that will significantly lower soil temperatures.
Higher temperatures result in extreme rainfall events. Quote Trinidad and Tobago Met Dept ….. "With a warmer climate, though T&T has recorded lower overall rainfall in the Dry and Wet Seasons, extreme precipitation has increased. Since 1985, the TTMS has recorded an increase in the number of extreme single-day rainfall events, extreme three-day rainfall, and an increase in the percentage of rain these extremely wet days contribute to our annual rainfall totals.'  Another very good reason to plant vetiver hedgerows to reduce the damage and flood impacts of these events, to reduce significant erosion, and improve recharge of soil moisture and groundwater.

SCRAPP – REGENERATIVE AGRICULTURE WITH VETIVER (RAV) – the Lela diary.
In previous newsletter I have reported on this vetiver development that, with funding from TVNI, was recently initiated by Caleb Omolo and Christian Makokha at Lela Village of Siaya county, Kenya, to introduce, train and help establish Regenerative Agriculture with Vetiver (RAV) practices on 35 farms owned  mostly by widows. Here follows notes from Caleb on what has being happening in April – a lot!!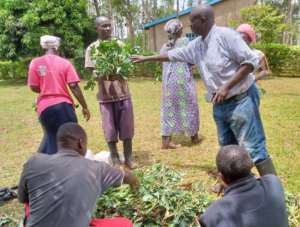 "…. Lela project is taking shape … on the demonstration farm we were able to finish planting the Vetiver hedgerows and cover crops, and planted pumpkin, maize and beans.  We call the system "three sisters" …. pumpkin will cover the whole ground, beans will fix the nitrogen, and maize will help the beans to climb. We are using succession planting in the first season, then next season vetiver grass will begin to change the soil chemistry by bringing nutrients deep in the soil to planted crops, breaking the hard pans, mining minerals and makes them available to soil fungi. The maize provides shade to coffee and fruit seedlings .….. Today a team from Trees for the Future (TFF) (USA and Kenya) visited me and were very positive about incorporating Vetiver grass as component of its work in East Africa.  …. l was able to convince the TFF about the unique characteristics of vetiver root systems and their interaction with mycorrhizal fungi, and its breaking the hard soil pan on all types of the soil. Subsequently we learned from Peter Kingori (Chief Training Officer in East Africa for TFF and one of our UNVI vetiver practitioners) that TFF will introduce RAV to 7,000 of its farmers … We are almost done planting the food forest …. all the seedlings have been brought to Odda's compound (the landowner who provided the land for the demo farm). The participants only work at the community garden on Fridays, on a weekly basis, so it is taking us longer to finish the planting. We are going to distribute vetiver slips to the widows next week so they can start their own vetiver nurseries ……….. Today we planted assorted fruit trees, Ruiru11 coffee seedlings, and vegetables.  For the next two months training will be switched to the trainee farmers' plots .……. l travel to Lela every Thursday, and l am very happy with the progress and the rains! …. The designed implementation at the demo site is complete.  We have planted 10,000 slips at the demo RAV farm (food forest and vetiver nursery), another 10,000 slips will be planted at the participants small farms. Christian and l managed to design one participant farm today, and we identified five dedicated farmers to be trained as trainers to train others on Vetiver regenerative farming. Pauline Saris (a local university graduate volunteer) is going to work with them in the community to spearhead the completion of the house gardens planting … Distributing kale to the farmers to be planted with Vetiver…. The hard part remaining will be the monitoring and evaluation of the project progress ………. Another good news, Citizen TV, one of Kenya's largest TV networks, will show our work in Regenerative farming ….. It will make a documentary covering RAV implementation, benefits and outcome, and the environmental impact. …" Here (in Swahili) is a TV broadcast from the project — the documentary will be made later….."

FROM THE NEWSPAPERS
Hand2Earth joins with SVG Prisons on a project to restore farmland. 
Vonnie Roudette is one of our unsung heroes who is committed to improving the land and those, who are generally poor, that work on it, on the Caribbean islands of St Vincent and the Grenadines. We first came across Vonnie when she helped rehabilitate inmates of His Majesty's prison on St Vincent through vetiver handicrafts (see video: Grass Men). She is also involved with the rehabilitation of 80 year old vetiver hedgerows, that have in some case created 5 meter high risers, on the leeward side of the island. Now she is working with more prison inmates …..
"The St. Vincent and the Grenadines Conservation Fund's farmland restoration project designed and implemented by Hand2Earth (managed by Vonnie) has extended their north leeward vetiver project to set up sustainable contour farming in Belle Isle Correctional Facility. …. Prison Officer Kevly Gould of Spring Village and 14 prisoners from the Belle Isle Correctional Facility were trained in Vetiver System Technology over a three-week period in August 2022. ….  the Belle Isle area was traditionally covered in productive farms terraced with vetiver grass. This project has enabled the prisoners to put their training into practice and experience the benefits of farming with vetiver to reintroduce the practice of terrace farming to the area, and also to practice the system when they leave prison……. Officer Kevly Gould is proud of the dedication prisoners have shown to the project. "My team [of prisoners] has motivated me to expand the project from its initial area to what we have now. The enthusiasm they have shown shows the benefits of learning new skills that will assist them when they come out of prison. We are really reaping the benefits in healthy produce for the prison kitchen."….. The visits by local community groups to the prison farm where prisoners interact with community members and learn from them as we as share knowledge has benefited them tremendously. This has helped them feel part of something bigger than themselves and engineer a spirit of self-worth…..  Vetiver grass can also be harvested for the prison craft program which is another program that has added value to the prisoners' lives. … Hand2Earth is a locally based NGO that partners with communities to bring local knowledge and experience to bear on eco-based solutions for soil restoration, eco-livelihood creation and sustainable use of natural resources."
From <https://www.stvincenttimes.com/hand2earth-joins-with-svg-prisons-on-a-project-to-restore-farmland/>

Vetiver grass can help arrest soil erosion.
In the March Newsletter I referenced a new initiative focusing on regenerative agriculture that is being discussed for farmers on Mt Apo, the Philippines. Here are some extracts from a well balanced news article by Henrylito D. Tacio, a journalist who is from the area.
"If you ask someone in Davao Region where Balutakay is, it seems no one knows. If you Google it, you will be directed to Balutakay Coffee Farmers Association. It is a group of coffee farmers who banded together and ended up producing the award-winning coffee that is now internationally recognized for its exceptional quality. …. What used to be a forested area is now teeming with agricultural crops. Aside from coffee, farmers now plant high-value crops like cabbage, carrots, green onions, potatoes, ornamentals, strawberries, and bananas in this site at barangay Managa, Bansalan, Davao del Sur. ….. Without trees, the topsoil—the primary resource in farming—is eroded. … Deforestation reduces the water holding capacity of the soil due to the lack of trees. This reduces the infiltration of water into the ground, which increases the chances of flooding. … When the area is devoid of trees, the evaporation level is disturbed, which in turn dries up the moisture needed to continue the water cycle. The water cycle balance is greatly affected, leading to drought in critical agricultural areas. In addition, deforestation decreases precipitation and affects the aquifer resources. …….. Allan B. Ampoloquio is very much aware of these consequences. In fact, if he has his way, he wants to bring the greenery of Balutakay. It may not be accomplished by planting trees but instead by incorporating vetiver grass into the crops planted by farmers. …. what really alarmed him is that those who are supposed to be active in arresting these problems aren't doing their jobs. ….. "The irony is that the authorities are at a loss in addressing and protecting both the interest of upland farmers and that of the lowland communities that are threatened by flash floods. .…… Planting vetiver grass may be a possible solution to the problem. "God has given us a simple, nature-based solution to the problem," Ampoloquio said, adding that the vetiver grass technology is aided by years of research and experience by more than 100 countries around the world. … which is why Ampoloquio is now working with the agriculture office of Bansalan and other local organizations to entrench coffee farms in Balutakay with vetiver grass. In the mid-80s, over 1,000 hectares in the area were planted to coffee…. to sustain coffee farms in Balutakay, Ampoloquio suggested planting vetiver grass in the farms. "Vetiver grass is known to offer a green and cost-effective way to slope protection, soil erosion, rehabilitation of degraded land, restoring soil health, and preserving water……..The benefits of companion planting, mulching, and integrated pest management is projected to provide farmers with better harvest, profitability and sustainability," he said.
"Vetiver grass, locally called rimoras or moras. … Based on a study conducted by the Central Bicol State University of Agriculture (CBSUA), it was found that vegetable yield in areas with vetiver grass is higher compared to areas not planted with vetiver grass. The presence of vetiver was observed to minimize soil loss in the area. In Leyte, a study conducted by the Visayas State University (VSU) showed crops like corn and upland rice planted near vetiver hedgerows have performed well. Corn planted near vetiver grass produced bigger ears than those near Napier grass. The herbage from vetiver grass has been found to be a good mulch for sweet potatoes. ….Vetiver grass contributes much to the control of topsoil erosion, VSU reported. The transported soil is accumulated along the vetiver hedgerows where it is trapped. Vetiver grass has an expanded/dense base which can serve as a physical barrier preventing soil and water from passing through….. Vetiver grass can also be used as an effective measure to prevent the occurrence of landslides in sloping areas. In addition, it can likewise prevent soil erosion in riverbanks. Results of VSU study showed that less water passes through the vetiver hedgerows during heavy rains once they are established. Contour plots have leveled three years after planting vetiver grass. "After four years of planting lines of vetiver grass, the gullies are not visible," VSU reported.
From Manila bulletin: https://mb.com.ph/2023/4/21/article-tacio-vetiver-grass by Henrylito D. Tacio.

 Delhi LG launches plantation drive for restoration of Yamuna floodplains
"A triple grid plant cover consisting of riverine grasses in the first layer — immediately on the banks of the river, a second layer of bamboo trees and the third layer of flowering trees will be developed on this, till now neglected, barren and depleted Eastern Bank of the Yamuna, which had turned into a dump yard of waste. ……  Riverine grasses are extremely critical for the restoration of the flood plains. DDA, like Asita East, will be planting three species of riverine grasses – Kaas – Saccharum spontaneum (1,38,075 nos.), Moonj – Saccharum munja (1,39,604 nos.) and Vetiver (1,29,796 nos.) – at this stretch. Vetiver grass is extremely useful in recharging groundwater, reducing siltation of drainage systems and water bodies and for remediation of degraded and polluted soil. Vetiver grass can tolerate extremely high levels of heavy metals and is also regarded as a low-cost technology for soil and water conservation."

From ANI 22 March, 2023. https://theprint.in/india/delhi-lg-launches-plantation-drive-for-restoration-of-yamuna-floodplains-2/1462737/
Fresh Water, New Hope
How a UCLA senior helped Bali farmers clean their crops.
"So, what did you do on your last summer vacation? Whatever it was, chances are Shreesh Karjagi has you beat. The Kenyan-raised UCLA student flew 8,000 miles to Indonesia with blueprints for his own big idea — a new, cheap and easy way to clean agricultural water in rural communities. The rising senior had learned all about phytoremediation, or deploying plants to filter contaminated water, in Professor Shaily Mahendra's environmental microbiology classes at the UCLA Samueli School of Engineering ….  Karjagi had to persuade the locals to help him build his device, a web of rafts framed by discarded plastic piping holding grasses that would filter the water running through rice fields and homes. It took weeks of adjustments to make the rafts strong and stable enough. …. "I knew from my own background how vital safe water is, but some well-intentioned solutions have been expensive, prone to failure and seen as coming from outside, from the West," he says. "I wanted to get around that by working with the villagers using materials that were already there."  He recalls the locals' excitement when the first five-by-two platform was locked into the ancient waterways. People watched with rapt attention as the raft's dangling grasses, called vetiver, cleansed the water as it flowed through, almost magically removing fecal matter, chemicals and debris. It was remarkably effective: Tests showed the once-murky water was now safe for irrigation."
From <https://newsroom.ucla.edu/magazine/shreesh-karjagi-bali-indonesia-water-engineering-microbiology>

Soil erosion leads to major crop losses over last 15 years
ICAR-CCARI Goa study shows losses in cashew, mango and coconut cropping systems
"Soil erosion in Goa (India) has led to major crop losses over last 15 years.  Studies conducted at the Indian Council of Agricultural Research-Central Coastal Agricultural Research Institute (ICAR-CCARI), Goa show soil losses in cashew, mango and coconut cropping systems, estimated to be 24, 12.6 and 10.5 tonnes per hectare per year, respectively without any conservation practices i.e. control, which are less or close to the national average soil loss. To further reduce the soil and nutrient loss, the ICAR-CCARI, Goa has developed technologies for soil and water conservation measures in important crops such as cashew, mango and coconut based. Studies on cashew were conducted on 19 per cent slope from 2001-2013. In cashew, the soil and water conservation measure standardised (continuous contour trenching and vegetative barrier of vetiver grass) reduced the runoff by 44.5 percent, soil loss by 47 percent (reduced from 24 to 12.3 t/ha/year) and NPK (Nitrogen, Phosphorus, and Potassium) loss by 60.2 percent (reduced from 89.7 to 35.7 kg/ha/year) with increased soil organic carbon stock by 140 percent. …..  Studies on mango were conducted on 19 percent slope during 2002-2019, wherein, a soil and water conservation measure of continuous contour trenching (CCT) and vegetative barrier (VB) of vetiver grass reduced soil loss by 83 per cent (reduced from 12.6 to 2.15 t/ha) and runoff by 53% than control (reduced from 42.1 to 22.3 per cent). This recommended measure on an average reduced NPK loss by 88.6 percent over control………. The cultivation of crops like cashew, mango and coconut reduces soil erosion however adoption of soil and water technologies developed by ICAR-CCARI further help to reduce soil erosion loss and improve soil health".

FromTeam Herald <https://www.heraldgoa.in/Goa/Soil-erosion-leads-to-major-crop-losses-over-last-15-years/202814>
FROM SOCIAL MEDIA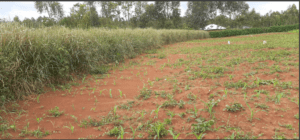 From Christian Makokha (Kenya) — a photo of a well grown (planted in 2019) three-year-old vetiver hedgerow in western Kenya (Mumias). You can see how soil is trapped by the hedge, and rainfall runoff is spread out along the hedge, enhancing infiltration, and the balance passes evenly through the hedge to "irrigate" crops lower down the slope. Over time naturally terraces build up behind the hedgerow changing the slope of the land – thus reducing runoff velocity and soil erosion. The hedge in the photo has high biomass for use of mulch and other needs. Note, unlike in India, (see report from Goa – above) vetiver in Kenya is planted as a continuous hedge, without resorting to digging expensive  trenches that have proven no better at reducing rainfall runoff and eroded soil and have none of the other key benefits from vetiver hedgerow applications.
From Vietnam Farmers Vetiver Group – vetiver hedgerows planted along stream banks and on hill slope for erosion control and for support to perennial fruit trees.
"Referencing Vetiver roofing panels – About US$ 0.85 for a 1.5m-length vetiver roofing panel like this. Buy more, get 10% off. This is the price in Thailand. In Vietnam, no one has done it yet, but there are many who could. The economic value from grass leaves is very attractive, enough for you to think and do something big. Selling about 2,000-3,000 sheets a year is not difficult. To get long leaves like these, choose Songkhla3 soft-leaf vetiver cultivar"
From <https://www.facebook.com/groups/448622132344169>(Vietnam)
From Chris Thong – Malaysia: Good example of Regenerative Agriculture with Vetiver (RAV) – erosion control, mulching, symbiosis, pest control, soil health improvement.
Kien Vu Van – Vietnam. Above — Quality  and well prepared vetiver plant material. Slips like these will guarantee high survival rates at planting, and a good hedgerow. A birds nest made from vetiver roots (should be free of bugs!)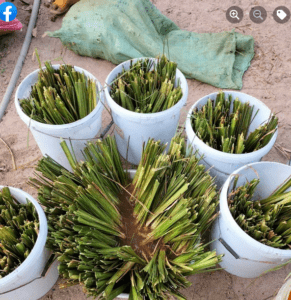 From Ege Unalan (Turkey). A nice stand of vetiver at the end of winter. Should be cut for mulch/compost allowing good regrowth from the center of the clump. The climate is warm and temperate in Çanakkale. The rain in Çanakkale falls mainly in the winter, with relatively little rain in the summer. The average annual temperature is 15.8 °C | 60.4 °F in Çanakkale. In a year, the rainfall is 694 mm | 27.3 inches.
From: Papua New Guinea – Robinson Vanoh is a Director of TVNI and also owns a vetiver consultancy – Eagle Vetiver Systems (PNG) Ltd (Agriculture) – and Eagle Vetiver Systems Ltd (Bio-engineering). He also coordinates the Pacific Islands Vetiver Community.  These two images show well grown papaya and banana in association with vetiver hedgerows under RAV.  Vetiver is a perfect fit for food forest/food gardens of Papua New Guinea and the South Pacific Islands. For more see Pacific Islands Vetiver Community Inc.
From Tho Ngo – Vietnam – TVNI Agricultural advisor and founder and coordinator of the Vietnam Vetiver Farmers Group. A topic for discussion
In this document of the Royal Thai on guiding farmers to prepare and make handicraft products from vetiver leaves, I noticed that they encouraged farmers to grow the cultivar "vetiver songkhla3" because of characteristics such as large biomass, softer, less sharp leaves, and longer, tougher leaf blades compared to other species. Songkhla3's ability to adapt to any land is also important. You can use Google Translate content from the image. We do not have a clear recommendation for one or several species of vetiver for agricultural use.
Do you think that is necessary? In Vietnam, we also isolated the Songkhla3 cultivar and found it to be most suitable when applied in agriculture, and in landslide control as described in the Royal Thai document.
RESEARCH
Removal of atrazine from submerged soil using vetiver grass (Chrysopogon zizanioides L.)
From <https://www.tandfonline.com/doi/abs/10.1080/15226514.2022.2103091> By: Faming Zhang, Jiansong Peng,  Yuhong Rong,  Shixian Sun &  Yi Zheng
" Although the fate of atrazine in agricultural soils has been extensively investigated through various experiments, little is known about the effect of vetiver grass on atrazine dissipation from submerged soil. With the identification of soil-leaf transportation and four metabolites in vetiver leaf and soils, significantly accelerated atrazine dissipation from the submerged soil was achieved in the presence of vetiver. Particularly, the formation of less toxic dealkylated products in the leaf indicated vetiver is a promising grass for atrazine removal from submerged soil." 
Biological pilot treatment reduces physicochemical and microbiological parameters of dairy cattle wastewater (DCW)
From <https://link.springer.com/article/10.1007/s11356-022-24681-3> by : Marcos Filgueiras Jorge et al
"The influence of vetiver on the removal of nutrients from the DCW was analyzed and the productivity estimate (t.ha–1) was performed. Constructed Wetland System (CWS 1) cultivated with cattail (Typha domingensis was not able to reduce the organic load indices, but it was able to retain fatty material and sodium. CWS2 cultivated with vetiver grass (Chrysopogon zizanioides) CWS showed a reduction in nitrogenous forms and also for other nutrients, achieving the greatest removal of sodium and greatest decay of fecal contamination indicators, thermotolerant coliforms (56.13%), and E. coli (46.82%)"
Comparison of Chrysopogon zizanioides mouthwash with Chlorhexidine mouthwash in Chronic Periodontitis Patients-An Clinical trial
From <https://jptcp.com/index.php/jptcp/article/view/1510> by R.Saravanan
"Results of the study showed that Chrysopogon zizanioides and chlorhexidine are equally effective in reducing plaque, gingival, and bleeding indices at 14-day intervals. However, no significant reductions in PD, CAL and BI in the 14-day interval in group 1 (Chrysopogon zizanioides) and group 2(Chlorhexidine mouthwash) when compared with chlorhexidine were evident.
Conclusion: The results in the present study indicate that Chrysopogon zizanioides may prove to be as effective as chlorhexidine mouthwash in its ability in reducing all the three indices by reducing probing depth, clinical attachment level and bleeding index."
Rapid restoration of spoil ground along expressways through a combination of vetiver grass cultivation and fertilization
From <https://meetingorganizer.copernicus.org/EGU23/EGU23-1823.html> by Lulu Bai and Peng Shi
Soil degradation of the spoil ground generated during the construction of expressways is a serious concern, and the ecological environment of the mound created by the unplanned piling of abandoned soil is poor. Revegetation could quickly and efficiently restore the ecological environment of the spoil ground. This study aimed to explore the direct and indirect effects of different fertilization treatments on the remediation of spoil ground soil using vetiver grass, and determine the most appropriate combination of fertilizers to help repair the ecological environment of the spoil ground. To study the changes in the physicochemical properties, enzyme activity, microorganisms in rhizosphere soil, and plant characteristics of vetiver grass, 12 treatments were set up, including no fertilization (CK), a single application of nitrogen fertilizer (N1:150 kg/ha, N2:300 kg/ha, and N3:450 kg/ha), a single application of phosphorus fertilizer (P1:350 kg/ha and P2:700 kg/ha), and a chemical fertilizer combination (NP: N1P1, N2P1, N3P1, N1P2, N2P2, N3P2) ……………. N2P2 had the highest comprehensive score (34), indicating that N2P2 could be used as an effective fertilizer combination.  These results indicate that the benefits of appropriate cultivation and fertilization practices to help restore degraded soil. Combined fertilization treatment (NP) improved the path coefficient of soil physicochemical properties to plant traits and soil enzyme activities, and thus better restored the habitats of spoil ground.
Bio-Inspired Stabilization of a Test Levee Slope Using Vetiver Grass on Highly Plastic Clay
From <https://ascelibrary.org/doi/abs/10.1061/9780784484708.009by Amber Spears, P.E.; M. Sadik Khan, Ph.D., P.E., M.ASCE; Robert W. Whalin, Ph.D., P.E., M.ASCE; Omer E. Alzeghoul
According to the National Centers for Environmental Information (NCEI), the US was impacted by 20 separate billion-dollar disasters in 2021, including inland floods, severe storms, and tropical cyclones. Shallow landslides are common on earthen infrastructure that contains high plasticity clay due to its swelling nature, particularly when exposed to moisture during extreme weather events. As severe weather becomes more common due to climate change, levee slopes are further compromised. Vetiver grass implanted as a bio-inspired slope stabilization method in levees built using marginal soils, such as Yazoo clay in Mississippi, provides an economically and environmentally sustainable solution. Vetiver has deep grassroots that can exceed 10 ft (3 m) in depth; this makes it ideal for water conservation and stormwater management. The current paper presents a 40 ft (12.2 m) × 30 ft (9.1 m) study area of a test levee slope improved using vetiver grass. A finite element (FE) seepage analyses and limit equilibrium stability analysis considered the effect of seepage, flooding, and rainfall on the stability of a comparable levee design with and without vetiver implantation. This research demonstrates that planting vetiver in Yazoo and loess clays is feasible and can improve the stability of the levee. With increased probability of extreme weather, vetiver's use on levees holds promise as a climate-resilient solution.
Water Balance Final Cover Using Vetiver Grass in Texas
From <https://ascelibrary.org/doi/abs/10.1061/9780784484661.019> by: Sonia Samir, Ph.D., P.E.; and Mohammad S. Khan
The current paper evaluates the applicability of vetiver grass for water balance final covers (WBFC) in Texas. There has been limited research and application of vetiver grass for landfill WBFC although it is an approved final cover system for landfills. The objective of the paper is to simulate vetiver grass for the WBFC in arid and semi-arid regions in Texas, using computer program UNSAT-H. The paper evaluates the applicability of vetiver grass and estimates percolation through the landfill cover. The paper illustrates WBFC with vetiver grass provides adequate storage capacity in both arid/semi-arid regions in Texas. WBFC with vetiver grass for north Texas (semi-arid) has a storage capacity of 16.32 in. (415 mm), where the maximum required storage is 9.96 in. (253 mm); for west Texas (arid region) it has a storage capacity of 15.10 in. (384 mm), where the maximum required storage is 2.84 in. (72 mm).
Influence of reinforcement method on the crack characteristic parameters of expansive soil experimental studyFrom
<https://www.nature.com/articles/s41598-023-33107-0>  by: Liu Shu, Huang Yonggang & Wang Guiyao
The expansive soil slope is mainly characterized by the decline of slope integrity caused by shallow expansive soil cracking and the destruction of internal soil structure, which seriously affects the overall stability of expansive soil slope. To study the effect of the combination of geogrid reinforcement and slope vegetation on inhibiting the development of expansive soil cracks, six groups of test models were made. The natural dry–wet cycle was simulated, and the crack image was binarized by using image processing technology. The crack characteristic parameters such as crack ratio, crack width, and crack length were extracted, and the effect of various reinforcement methods on inhibiting the development of cracks was comprehensively evaluated. The basic situation of the development of crack indexes in each group with the development of multiple dry–wet cycles was obtained, and the fluctuation changes of crack indexes in different stages were different under different reinforcement methods and dry–wet cycles. At the same time, the influence of different reinforcement methods on the crack development of expansive soil is obtained. It is considered that planting vetiver grass + geogrid backpacking has a good effect on inhibiting the crack development of expansive soil.
SMALL EARTH DAMS AND DUGOUTS

In many parts of the world farmers and communities are expanding storing water in an effort to manage  the increasing threat of drought and lack of water for domestic, livestock, and crop needs. Dugouts (tanks) and small dams – mostly farm dams – (3-5 meter depth at full supply level) are a fairly common means of achieving water storage. Unfortunately, many are poorly designed and constructed, and are rarely protected. Dugouts lose capacity because of seepage and unwanted sediment inflows from unprotected adjacent spoil heaps and from the collector drains.  The main problems being under-designed spillways, inadequate core material, bad compaction during construction, and inadequate wall protection from wave action and other erosive forces.
It would seem to me that there should be opportunities for potential providers of these low cost water storage structures f0r design and construction overview, and for the inclusion of vetiver to protect earthworks and spillways. To be able to design a small earth dam the designer has to be able to use Google Earth or topo-maps to help identify sites and measure catchment areas, to be able to read, understand, and use the contents of simple manuals, and to learn to use a plane level table or dumpy level. .. and be  practical and use common sense. I am not an engineer, but as a young agriculturist in Zambia in 1964/66 it did not take me long to learn to design and construct small dams.  …. if only we had known about vetiver !!!!!!  Here are some links to three useful guides to those of you who may want to provide such services.
PRACTICE MANUAL FOR SMALL DAMS, PANS AND OTHER WATER CONSERVATION STRUCTURES IN KENYA
Handbook of Basic Instruction for Dam Construction (CONEX Zimbabwe – this was the manual that I used 60 years ago)
Manual on small earth dams
PREVIOUS NEWSLETTERS
March 2023   February 2023 January 2023 December 2022 November 2022
October 2022 September 2022 August 2022 July 2022   archived 1990-2002