Vetiver Systems in Africa May 2002
Vetiver Systems continue to be promoted in Africa, where they are greatly needed. Here is a note from Anthony Makoye -- coordinator of the Tanzania Vetiver Network (TAVEN). Also some excerpts from the latest Southern Africa Vetiver Network (SAVN) newsletter and annual report.
"Towards the end of year 2001 various enquires were received from regional authorities mainly from North and Western Tanzania with respect to how they could control soil erosions, land degradation in the mining areas and control of siltation in lake areas in an effective and low cost manner.
In response we undertook to explain to them in writing how vetiver grass could be deployed to curb such situations. Kigoma regional authorities (Kigoma town is on the eastern shores of Lake Tanganyika) approached TAVEN to carry out a detailed study with cost estimates as to how they can arrest the situation. Kigoma region environmental degradation in manifested in the four major ways:-
1. The deforested and bare hills around Kigoma are experiencing serious sheet and gully erosion.2. The central drainage channel and other town infrastructure like railway station play grounds etc. are full of silt which is hindering the efficient use.3. Lake Tanganyika is experiencing serious uncontrolled siltation which will soon obstruct navigation, anchoring and fishing activities.4. The Tanzania Electric Supply Co. Ltd. (TANESCO) has fuel reservoirs near the lake which drip fuel on the ground which seeps underground into the lake causing pollution and threatening aquatic life.
These problems according to the authorities need to be addressed immediately. A project proposal was submitted to donors, through the National Environmental management Council (NEMC).
Another enquiry was received from Kahama Mining Corporation which operates a world, class gold mining at Bulynhulu regarding the use of vetiver grass to control land degradation and reclamation. We made available to them, 150,000 tillers of vetiver grass plants which are being used to control erosion, mining spoils, helping to revegitate the mining slimes.
Early this year TANROADS (Tanzania Roads Agency) approached us to find out how they could use vetiver grass to control spoiled roadsides, gullies, road-cuts and land fills. Their approach was based on the booklets the greenbook and "Nyasi Za Vetiva" they obtained from TAVEN and were distributed to all Regional Engineers Tanzania mainland offices which were used when read as a method of controlling erosions alongside major highways. They are actually planting vetiver grass to control such erosion.
From the foregoing activities we see serious inclination by local people, institutions to adopt vetiver grass technology in the country. Institutions like TANROADS, mining companies etc. have realised the effectiveness of this technology. TAVEN will embark on serious promotion of this wonder grass by organising seminars in the country. We have recently approached our Tanzania Technology Transfer (TANT2) which in collaboration with the Faculty of Engineering, University of Dar es Salaam and supported by US Federal Highway Administration (FHWA) carry out the task of improving the quality of road transport by having well maintained road network, and an efficient road transport sector through dissemination of information and training, of both providers and users of roads.
TANT2 has in principle agreed to jointly organise a one day seminar which is tentatively scheduled in July/August 2002. We envisage to invite various individuals, NGO's institutions, agencies to attend this one-day crucial seminar, (internally and externally). We are thinking of inviting one resourceful person from South Africa (SAVN), Mr. Duncan Hay SAVN Coordinator, to attend this seminar. We believe this seminar will be an eye opener to our community which need this technology directly". Anthony Makoye -- TAVEN
Great opportunities here for development agencies to support TAVEN and East Africa's leading vetiver systems country. Ed
SAVN's coordinator, Duncan Hay has issued a new and interesting SAVN Newsletter #10. I recommend browsing through it. SAVN membership continues to grow to nearly 1000 users and agencies and demand for the technology continues to grow. Besides SAVN there are a further six functional networks in the region. This is good news and it would good to see networks established in Zambia and Zimbabwe. It is interesting to see how communities in South Africa are getting involved with vetiver, as earlier in Oaxaca, Mexico, VS is a relatively easy technology for communities to learn and master, and of course the wide range of application often fits with community needs.
Agriflora Ltd, the largest exporter of horticultural crops in Zambia, is working with eight cooperatives situated within 50 km of Lusaka. There are 120 active outgrower farmers who have been introduced to vetiver primarily for erosion control. Other benefits include: vetiver act as a bio-trap for maize stalk borer; as a haven for beneficial preditors such as lady birds; as mulching material: and as a windbreak.
Africa is not an easy place to grow crops, the continent has more than its fair share of droughts, its tenure and traditional systems often precludes the control of livestock, and the demands on farmers' time is often conflicting. Even so it looks as though through perserverance, training, and good information dissemination VS is catching on. Congratulations to all those involved. Dick Grimshaw -- May 2002
Commentary January 2002
At the end of 2001 TVN initiated a discussion board on this site. We hope you will use it regularly.
I am anxious that the Discussion Board will become the "Heart" of TVN's homepage, and that the documents that we hold in our archives will be its "reference library".
We encourage users to interact, question and share their experiences. We have expert moderators who will respond and comment when needed. Discussions will be threaded and archived so that in years ahead users will be able to refer back to them. Posting of messages is open to the public. However we would like you to register so that later if necessary we can keep in touch. You can write as much as you like and add images as well. Please open the discussion board and you will find information how to proceed.
We start the new year with some exciting results coming in from Australia relating to the "cleaning" of black water sewage by Vetiver Systems. The research, funded by the Wallace Genetic Foundation, and under the direction of Paul Truong shows (see histograms in middle column of this page) that five rows of vetiver grass will reduce total nitrogen, nitrates, phosphorous and E.coli levels to less than that achieved by Australia's traditional sewage treatment plants. These results have important implications for the use of Vetiver Systems as a technology to support waste water treatment and public health. The full report is available on this site.
Jane Thomas from Bangladesh, who has done much to promote Vetyiver Systems in Bangladesh and in particular its use on the Damapara Water Management Project, writes:
"Every day stories still appear in the news about thousands more people being left landless because of embankments and river banks being washed away. It seems such a rotten shame when the tools (vetiver grass) are right there to exploit and save so much land".
One has to keep asking why this technology is not used to its fullest extent. Most of the answers come down to ignorance and lack of knowledge.
It seems to me that we have here a technology that can be used across a wide range of environmental technologies both safely, easily and at low cost. The technology is one of the very best and until something comes along that is better then governments, development community, and related institutions should see that it is used before more scarce natural resources are lost or polluted. Time is short. The next 20 years will see continued population increases, continued natural resources depletion and continued pollution. Most of these areas are populated by poor people whose incomes will become lower as resources continue to deplete. On this page you will read John Greenfield's assessment of the economic value of vetiver grass -- take heed of it.
I find it quite extraordinary that when the majority of users, whether they be individuals, companies, agencies or others, actually use Vetiver Systems, and apply it CORRECTLY, for any of its many applications that they are nearly always surprised and excited when they see the results ... and want to expand its utilization. Thus we must find ways to expand the dissemination and promotion of the technology.
I would challenge the international research and development agencies to either promote Vetiver Systems more vigorously or come up with alternative low cost and acceptable solutions that can be applied easily and in the short term. If they can't find a better solution then they should use what we have got -- Vetiver Grass!!!
Dick Grimshaw. January 2002
xxxxxxxxxxxxxx
I want to draw your attention to some vetiver activities that are worth following up. Thanks to Paul Truong and Narong Chomchalow we have two new technical bulletins published by PRVN -- The Utilization of Vetiver as Medicinal and Aromatic Plants with Special Reference to Thailand and Vetiver System for Wastewater Treatment -- both interesting topics. The continuing work on the latter should be closely followed as the potential is exciting. Criss Juliard in Senegal is also developing demonstrations relating to wastewater treatment and is happy to share his ideas and results obtained thus far.
Stabilization of landfill, railroad, and building sites and other steep sloping structures continues in China. Thanks to Xia Hanping and Liyu Xu we are able to bring images of these developments to you.
In China Dabe Mountains, an area that is populated by very poor farmers, the China Vetiver Network has recently arranged for a development grant from Australia and the Salvation Army that will support a vetiver systems based soil conservation program for this area.
From Madagascar,
Phillippe Grandjean
(GTZ) reports ..."we completed an important Vetiver work in
Marovoay
with the Water User Associations as we are now closing the Rice Project in Marovoay by the end of this year. We now estimate that over 120 km of Canals, roads, dykes and waterways are protected using Vetiver System in the Marovoay area and in March 2001 we "exported" the technology to protect the sewage drains of Mahajanga town (Vallon Metzinger) in co-operation with another German Project there."
Rob Mackenzie of the Swaziland Farmer Development Foundation reports with mixed results on the use of vetiver for dam stabilization in Swaziland. The problems relate to how to control livestock, proper application of VS, and time of planting.
In Senegal Criss Juliard reports on a growing use of vetiver grass, and an interesting and successful application to bananas.
There have been a number of conferences where vetiver systems have been discussed including in China and the United Kingdom. The latter involved Mike Pease (EMVN Coordinator). He prepared a very nice power point presentation, if anyone should like a Cd-Rom of the presentation please contact me.
I see that PRVN and SAVN have recently produced ne newsletters, they can be found on their web sites at http://prvn.rdpb.go.th/ and http://www.inr.unp.ac.za/vetiver/ respectively.
We are pleased to hear from Ken Crismier that Vietnam's Ministry of Agriculture has now tested VS and accepts its use as a suitable technology for soil and water conservation. This together with TVN research funding in Vietnam should help speed up the use of vetiver there.
We have a new search engine for this site. It seems to work well and can find virtually anything including information in the back issues of TVN's newsletters.
Finally I know that you are all busy but I would ask you to send us feedback regarding successes and failures with VS. TVN depends on this feedback for newsletters and for the homepage.
Thank you.
Dick Grimshaw November 16 2001
VETIVER SYSTEMS FOR ENGINEERING
CHINA NATIONAL NEWSPAPER "COMMUNICATION TIMES" November 16 2000
"the application of vetiver system (VS) for highway stabilization and greening was a breakthrough in highway construction and maintenance and the new technology was fully approved by scientists and experts"; "The technology could effectively control the displacement of upper soil horizons and stabilize the road embankments"; "It can reduce soil erosion and adjust soil moisture and increase soil strength"; "It can grow on different soils with different slopes, and different climates in southern China"; "The application of vetiver could get better economic benefit, environmental benefit, and soil benefit as well"; The paper said "the application of vetiver system in highway was the first creation in Zhejiang province, and a modern technology in China" ; the new technology will be extended throughout the province and will be used progressively in highway construction and maintenance, especially the roads in the mountains".
April 2001
Special Announcement
The 22nd newsletter to be published by TVN in November will be milestone in TVN's history. We have a new newsletter format, and as of October 15th 2000 Board approval for new team to operate TVN. I know that Jim Smyle (TVN President) and Joan Miller (TVN Coordinator) will do an excellent job in taking TVN and the Vetiver System to new heights. They will be able to do this because TVN and its affiliated networks (last count 22) truly represent an international effort to deal with soil and water conservation, and the stabilization and rehabilitation of man made problems relating to soil and water. Nowadays most of the new vetiver initiatives are being made by national network members, and we rely more and more on these people to undertake these initiatives and take responsibility for the results.
Since Jim Smyle and I started networking vetiver information in 1989 communication systems have changed dramatically as a result of the Internet. Thus we have been able to communicate rapidly and effectively assuring quick decisions and rapid turn round of information. TVN's has become an important source of information and receives more than 1500 hits a month. Over this same period a few but important institutions including the World Bank, the Royal Danish Government, the Wallace Genetic Foundation, the William Donner Foundation, and The Royal Development Projects Board of Thailand have been extremely generous in providing grant funds and/ or services to support the world wide vetiver initiative. In addition practically every bilateral and multilateral donor agency have included the Vetiver System in their projects where relevant.
I would like to make special mention of His Majesty the King of Thailand's vetiver initiative. His understanding of the technology and his conviction of its value for Thailand resulted in: a huge research undertaking, practical applications and demonstrations in Thailand, the generous sharing of information through two Thai sponsored international vetiver conferences and the training of foreign vetiver users. In addition Thailand sponsors the Pacific Rim Vetiver Network (PRVN) that has developed into our most important affiliated network. PRVN has published some excellent technical bulletins that have been made available to vetiver users around the world. We are very proud that Her Royal Highness Princess Maha Chakri Sirindhorn of Thailand accepted our invitation to be TVN's Patron. We are also pleased to announce that Dr Sumet Tantivejkul, Secretary General, Chaipattana Foundation, Thailand has been elected a director of TVN's Board.
In early years we relied mainly on governments to disseminate vetiver information through their extension services, this did not always work too well. More recently we focussed on establishing national networks and supporting NGOs. This approach has generally worked well. Most recently we have involved the private sector. We see important private sector involvement in the Philippines, Australia, China, Central America, Madagascar, South Africa and Thailand. We believe this involvement will expand fast as more companies see the value of the technology. Private sector participation has accelerated as a result of the widening range of applications of the Vetiver System, particularly for engineering.
We still have a long way to go. More research is needed to determine the limits of its use and application. We see huge potential for vetiver in improving both quantity and quality of water, and for the rehabilitation of vast areas of land that have been destroyed in the process of mining and infrastructure development. It is a known fact that in Guangdong Province of China 80% of all sedimentation is derived from construction sites. In that province Vetiver Systems have been conclusively proven to be the most effective and least cost solution for rehabilitation and stabilization.
To conclude I want you to know that having handed over the Presidency of TVN to Jim Smyle I have no intention from fading from the vetiver scene. I will remain as Chairman of the Board and for at least the next year will be TVN's Treasurer. My intention is to focus on fund raising and creating awareness amongst policy makers of the value of the Vetiver Systems. Both are important. We need to raise funds that will help support national networks either directly or indirectly; and we need to make key policy makers aware of the value of the System in the many areas of its application. The Vetiver System is not a technology confined to the agricultural sector, but rather to practically any sector that has natural resources links.
Dick Grimshaw, Bellingham, WA. November 3 2000
---
The William H. Donner Foundation Inc. has made a US$100,000 grant to The Vetiver Network. The grant will be used to fund the The Vetiver Network's "Research and Development Awards Program" (RDAP) and for the direct funding of special vetiver research projects. In the case of the former (RDAP), awards will be made at the Third International Vetiver Conference (IVC3) to be held in China in 2004. TVN will shortly announce the award categories. TVN will also announce the criteria relating to the direct research grants. In both cases the primary focus will be on "Vetiver and Water" and its impact on water conservation, water quality, and protection of water related structures and features.
TVN's Board of Directors is extremely grateful to The William H. Donner Foundation Inc. for its support to TVN , and the Foundation's recognition of the current and potential uses of the Vetiver Grass System.
October 9th 2000
Princess becomes Patron of The Vetiver Network
It is with great pleasure that the Board of The Vetiver Network announces that Her Royal Highness Princess Maha Chakri Sirindhorn of Thailand has accepted our invitation to become the Patron of TVN. This is a great honor for us and all vetiver users and supporters around the world. Not only does H.R.H. have a great interest and hands on experience of the Vetiver Grass System, but she also represents a family that has done much to bring focus to environmental improvement to Thailand, and through specially focussed projects have reduced rural poverty throughout the country. The projects under her initiatives can be found at http://www.kanchanapisek.or.th, http://www.rdpb.go.th, and http://www.chaipat.or.th. We are sure that using her patronage respectfully , wisely and carefully the vetiver initiative will go forward at an accelerated rate.
New Funding for TVN
During the past few months TVN has been fortunate to receive some renewed funding from two of our key donors. The Wallace Genetic Foundation has provided $76,000 of which $61,000 will be used for some special research, under the responsibility of Paul Truong of Queensland, relating to vetiver and water. These funds will be matched by the Government of Queensland and Queensland University. The balance $15,000 will be for research on the cold tolerant "jiji" grass in China, under the responsibility of Liyu Xu, coordinator of the China Vetiver Network.
The Royal Danish Government has made a grant of Kroner 900,000 (approx. $115,000) to TVN to support the component in "Vetiver 2000" (https://www.vetiver.org/tvn%5F2000.htm) that relates to dissemination of technical information. These funds will be used to maintain TVN's newsletters, home page, reprinting of technical handbooks, production of CD-ROMs, etc. Some of the funds will be granted by TVN to national and regional networks to help them produce technical data specifically for their areas of operation.
We thank both of these donors for their continued support.
TVN Organizational Changes
I would like to take this opportunity to tell you about some changes that are underway relating to the organization of TVN. In April of this year I moved to the North Western part of the USA – specifically – Bellingham, located in Washington State just south of the Canadian border. It so happened that Jim Smyle and Joan Miller returned from Costa Rica to northern Virginia at about the same time, and we have taken this opportunity to spread the responsibilities of coordinating TVN and its administration between the three of us. Jim will become President of TV, after Board approval - (probably in October), Joan has been formerly appointed TVN Coordinator as of August 1, 2000, and I will remain as Chairman (and President until Jim's appointment is approved by the Board). We have made these changes partly because at IVC2 in Thailand there was a feeling that younger people should take over the management of TVN, and frankly because I need help if we are to improve the efficiency of our operations. It will take a few months to formalize these changes since we have to have our Board ratify them. For those of you who know Jim and Joan I hardly need say that they are deeply committed to the Vetiver Grass System, Jim put together the first nine newsletters that TVN produced and Joan as Coordinator of the Latin America Vetiver Network did a fantastic job in introducing vetiver, in Spanish, to Central and South America (Oscar Rodriguez of Venezuela has taken over as Coordinator of LAVN). Please note that none of us "TVN administrators" receive any salary or benefits -- our work is voluntary.
Lastly I want to tell you about some new publications that are under preparations. John Greenfield is writing a new book on Vetiver Grass Systems, hopefully we will be able to publish it one day! Paul Truong has taken responsibility for producing two new CD-ROMs – one reproduces P.K.Yoons five part report "A Look See At Vetiver"and power point presentations by TVN and presentations made at the recent IVC2. These are fully illustrated with excellent colored photographs and is a veritable compendium of technical information on vetiver, its science, its propagation and application. The second CD-ROM brings together a number of separate CDs by Paul Truong on vetiver and its applications. These CDs will be available within a couple of months. If you would like a copies please contact Joan Miller at [email protected].
New Coordinates for The Vetiver Network
Jim Smyle Email: James [email protected]
Joan Miller Email: [email protected]
Dick Grimshaw: [email protected]
The new mailing address of The Vetiver Network is;
The Vetiver Network, 3601N 14th Street, Arlington VA 22201, USA
Tel: 703 525 7092
Fax: 571 243 6203
Dick Grimshaw. Bellingham, Washington State – August 1st 2000.
---
Vetiver and the Environment.
Leesburg. January 25, 2000.
The Royal Projects Development Board and the Government of Thailand hosted the Second International Vetiver Conference -- "Vetiver Grass and the Environment" from January 19th to January 22, 2000. It brought vetiver users and promoters from 33 countries and successfully demonstrated and confirmed that Vetiver Grass Technology (VGT) based on the Vetiver System (VS) is being adopted at accelerated rates for a wide range of environmental applications. The proceedings of the conference will be published separately, but here follows a summary of the status of the VGT/VS.
Thai and other vetiver research carried out over the past 10 years demonstrates a wide range of applications and uses as well as better understanding of the physiology and mechanics of the plant and system. The Vetiver System is a "biological" or "soft" engineering method that is responsive to environmental mitigation needs over a broad range of ecological conditions for a range of applications that are normally treated with "hard" engineering solutions or not at all.
ACCOMPLISHMENTS. The conference confirmed that the Vetiver System will:
Reduce soil loss by more than 90%.
Reduce rainfall run-off by up to 70%.
Increase crop yield by as much as 40%.
Improve tree seedling growth (15%) and survival (95%).
Stabilize engineered structures, and reduce point source erosion from highway and building sites at reduced costs, often less than 90% of the cost of the "hard" solution.
Improve polluted sites (landfill stabilization, removal of excess phosphates, nitrates and pesticides from farmland).
Improve ground water recharge.
Rehabilitate wasted land (gullies, mining, extreme degraded lands).
Prevent or reduce natural disasters caused by hurricanes, land slides and flooding.
Vetiver grass was also demonstrated as an excellent material for thatch, building materials, handicrafts, natural pesticides, and aromatic oils).
VETIVER SYSTEM PROMOTION. The conference confirmed that VS has been successfully promoted because:
Networks and promoters focussed on a single, low cost technology, that works.
VS is based on a unique grass that has a wide range of ecological adaption and functions.
End users come first.
Leaders and users are committed.
Of generous, fast and free sharing of information.
Conflicts of interest are minimal.
Those who have made R&D contributions are given good recognition.
Networking and close linkage between networks.
Because bureaucracy has been minimized and controlled risks have been taken.
FUTURE NEEDS AND FOCUS. The conference confirmed that:
There is a need to highlight the importance of grasses, especially a unique grass like vetiver that has many characteristics peculiar to itself.
The general population, particularly school children need to be educated about vetiver grass and the Vetiver System.
Environmental and other policy makers should be made aware of the value of the Vetiver System for environmental mitigation programs in tropical and semi-tropical countries. VS should, where appropriate, be a mandated system.
The adequate supply of good quality plant material is critical to any vetiver program.
Improved marketing of VS to potential clients should receive priority.
More national networks need to be established,
VS is not used by many development sectors, it is no longer the "property" of the agricultural sector, therefore cross linkages need to be established between sectors.
For even quicker VS adoption rates, particularly in the engineering sector, the private sector must become fully involved.
In readiness for the Third International Vetiver Conference that will be held in China in 2004 the conference's "Continuing Committee" agreed that the theme of the next conference should be "Vetiver and Water". Thus supporting a global focus on water quality and availability for which the Vetiver System has great potential. Some thoughts and consideration for this theme can be found in the linked article.
Dick Grimshaw.
---
Vetiver and Water
Leesburg. January 25, 2000.
The Vetiver System will continue to address many of the areas of need that have been identified over the past fifteen years. There is much to do, and there is much being done to extend the technology to new applications that reflect the need to restore our planet to a better ecological condition.
However, in this first year of the new Millennium there is a world focus on water – its quality, its availability, and its destructiveness. The Vetiver Network and those attending the second International Vetiver Conference in Thailand support this global focus.
Vetiver grass and the Vetiver System could play a crucial role in improving the availability and quality of water in tropical and semi-tropical countries, since it behaves as a biological sieve in preventing the movement of soil (and the attached pollutants), by conserving and "cleaning" water, and by strengthening, through its root system, soil profiles, thus preventing water induced slippage and collapse and subsequent damage to property and life.
One way of bringing focus to the Vetiver System and its special relevance to water is to view the watershed - drainage system (rivers) from mountain to sea as the essential ecological unit on which improvements can be made – the river receives and the river gives. How do we optimize what goes in and out of the stem of the river? How can the Vetiver System play a part in making sure that what goes in is good? The following takes the main sections of the stem of a river and summaries the potential Vetiver System applications for each section. (note the following abbreviations: WQ – water quality impact; WA – water availability impact, DC – water related damage control))
River Stem -- Upper Reaches -- A Place for Vetiver
Spring (water source) protection. (WQ,WA)
Watershed rehabilitation and conservation. (WQ,WA)
Improved soil moisture -- crop yield increases. (WA)
Modification of hydrographic characteristics. (WA)
Flood control. (WA. DC)
Ground water recharge. (WA)
Mine tailing protection and clean up. (WQ)
Handy crafts – alternative income for headwater communities to reduce pressure on land and subsequent erosion and water losses. (WA,WQ)
River Stem -- Middle Reaches -- A Place for Vetiver
Watershed rehabilitation and conservation. (WQ,WA)
Ground water recharge. (WA)
Stabilization of check dams and reservoirs. (WA, DC)
Control of rainfall runoff from construction sites. (WQ)
Riverbank (buffer) stabilization. (WQ,WA)
Construction site stabilization. (WQ, DC)
Protection of small rural communities. (WQ, DC)
Improved soil moisture and crop yields. (WA)
"Cleaning" of water runoff from fields and industrial sites. (WQ)
River Stem -- Lower Reaches -- A Place for Vetiver
Ground water recharge. (WQ)
Stabilization of check dams and reservoirs. (WA, DC)
Control of rainfall runoff and sediment flows from construction sites. (WQ,DC)
Riverbank and levee stabilization. (WA, DC)
Irrigation canal and drainage protection. (WA, DC)
Flood control. (WA, DC)
Improved soil moisture and crop yields. (WA)
"Cleaning" of runoff from polluted sites (agriculture and industry). (WQ)
Constructed wetlands. (WQ)
Protection of urban areas. (WQ; DC)
Landfill stabilization. (WQ)
De-silting. (WQ, DC)
Leachate and other industrial waste control. (WQ)
River bank protection from boat "wake" wash. (DC)
Livestock feedlot effluent clean up. (WQ)
Coastal areas -- A Place for Vetiver
Pollution reduction of coastal agriculture. (WQ)
Pollution reduction of coastal industries. (WQ)
Tourist resort and property runoff reductions. (WQ, DC)
Beach and coastal lagoon stabilization -- filtering. (WQ)
Barrier reefs - silt reduction flows to barrier reefs. (WQ)
Associated research needs
Vetiver cultivars suitable for "water" uses.
Vetiver breeding to extend genetic variation.
Continued research on vetiver growth.
Water "cleaning" (pollutant removal) mechanisms of vetiver.
Hydraulics of river bank stabilization.
Planting and propagation techniques for "water".
Technical standards.
Most of the forgoing has already been demonstrated and put into practice. A systematic approach as outlined above when applied by the relevant sector agencies could, in association with the private sector, have an immense impact on the availability and quality of water. How fortunate for the world to have a low cost simple technical solution to help provide a solution for some of the water related environmental problems that face the world today.
Dick Grimshaw.
Vetiver Grass Technology and Disaster Mitigation
Leesburg, Virginia, December 22 1999
Most of us will be having a pretty good and prosperous Christmas and New Year, thousands of Venezuelans are having a miserable time just trying to survive the floods that have ravaged their communities and homes. Although we don't know the details of all the causes behind the flooding and mud sldes, we know that where vegetation is removed and the soils are fragile the results, even under moderate rainfall conditions, can be calamitous.
Vetiver Grass Technology (VGT) if used to stabilize peri-urban building areas, deforested hill sides, river banks and levees, and highway embankments could help to reduce the damage that might occur from future high rainfall occurence in Venezuela. This Network would strongly urge policy makers and relief agencies to consider vetiver grass technology as an importnat tool for rehabilitation in Venezuela.
VGT has proven very effective in the Far East for protection against cyclones, just as in El Salvador and Honduras, where used, it provided near perfect protection against the ravages of Hurricane Mitch in 1998.
Fortunately TVN has been able to document some of these stories and they can be found at:
In addition there are two contacts who can help interested persons make effective contacts.
Oscar Rodrigues of "sociedad conservacionista aragua". SCA has been promoting the use of VGT in Venezuela.
Joan Miller (Costa Rica) coordinator of the Latin America Vetiver Network. Joan can help with contacts throughout Central and South America and can provide hard copy materials in Spanish..
Finally for those of you who live in California and are worried about mudslides we have a new article "Southern California Vetiver Grass Tales: "Moondust & Shale" that is well worth reading.
Dick Grimshaw
---
Soil and Water Conservation. New Standards Set for Narrow Stiff Grass Hedgerow Technology (NSGHT).
November 30, 1999, Leesburg, Virginia
A couple of weeks ago I attended a meeting of United States Natural Resources Conservation Service (USNRCS) "Warm Grass Hedge Group" that has, under the leadership and advice of Doral Kemper, been researching the use of narrow stiff grass hedgerows for soil and water conservation in the United States. Since vetiver grass will not survive the cold winters of the US, the group has concentrated mainly on indigenous grasses such as eastern gamagrass, switch grass, and miscanthus. All these grasses have good rooting systems, are relatively dense, with stiff stems. Research over past few years has come up with similar results for these grasses as research for VGT has in the tropics. These hedgerows reduce soil loss and soil movement, reduce runoff, and some, such as eastern gama grass, reduce the nitrate movement in runoff and soil water. What the group has achieved is a good example of a coordinated approach to researching an important topic. They have researched the dynamics of what is happening to soil sediments at or near the hedgerows, they have set out new standards for conservation professionals to apply, and have codified these standards in terms of RUSLE (Revised Universal Soil Loss Equation). As a result of this agricultural and conservation advisors can now plan for narrow stiff grass hedge technology (NSGHT) with some confidence because the engineering and hydraulic parameters have now been established. Seth Dabney of the National Soil Sedimentation Laboratories at Oxford, Mississippi has set up a web site http://www.sedlab.olemiss.edu/uep_unit/projects/Dab_veg/index.htm that provides a practical training venue (including on site photographs) to match the "standards". Two DRAFT papers developed by USNRS are on our web site:
Chapter 3i, Vegetative Barriers, Core 4 Conservation Practice
Natural Resources Conservation Service , Conservation Practice Standard Vegetative Barrier (Feet) Code 646
What does this mean for VGT when used for soil and water conservation applications under tropical conditions and generally under small farm conditions. Vetiver grass has better characteristics than indigenous US grasses. It has deeper and more dense roots; it has a stem/leaf density (600 per square foot) three times that of the most dense US grass (Miscanthus sinensis) and its stems are stiffer and stronger. It has many other advantages including a wide range of adaptability and tolerance to heavy metals. Thus vetiver has a unique advantage over most other grasses under tropical and semi tropical warm winter environments.
The standards developed by USNRCS are for primarily for large commercial farms and are linked to existing conservation structures such as grass waterways, engineering conservation formula, and conservation standards that have to conform with the Farm Act. All a bit complicated. The standards that we have developed for VGT are less rigorous, and focus mainly on natural processes that take account of the general lie of the land and the magnificent hedging, spreading and filtering capacity of vetiver grass. Further VGT when applied to small farms (5 ha or less) is applied where land is in extremely short supply and where farmers farm every piece of the land. Thus they will not accept waterways and other non-productive conservation features.
Personally I believe that the new US stiff grass hedge standards will be modified over time as farmers and researchers get to understand what these hedgerows are doing, and how farmers manage them and the water that flows through them.
In developing countries where conservation engineers dominate soil conservation practices and policies, at least now we have here some useful data (developed and endorsed by conservation professionals) that will support the use of VGT or other stiff grass hedgerows. Therefore there should be little excuse not to use them in some form or other. Further farmers and other users who have been using VGT based on "what they see over the fence" or what they have heard from the Vetiver Network can feel more secure (if they need to feel so!) in VGT application with the backing of this US data.
This US work has useful implications for countries that have hot summers and extremely cold winters, such as north China, central Asia and the Mediterranean. The implication is simple: Look for deep rooted "warm grasses" that survive extremely cold winters that meet the minimum standards and use them for soil and water conservation, together with other practices such as minimum tillage. Note the heavier and more intense is the rainfall, the more is the need for narrow stiff grass hedges.
Finally, just as the Vetiver Network has turned to NGOs and the private sector to market VGT, the same is required of the narrow stiff grass hedge technology (NSGHT). I would urge multilateral and bilateral development agencies, along with consulting companies and others to look hard at this US research data, and if convinced start introducing it into land management and conservation practices of their member countries. But remember modifications may be needed depending on climate and farm situation.
Dick Grimshaw
---
Vetiver Grass Technology for Engineering
Leesburg, Virginia. November 6, 1999
I am just back from two and a half weeks in south China attending a workshop organized by Liyu Xu, the Coordinator of the China Vetiver Network (CVN), for highway engineers. It was a great experience working with him and Paul Truong (Australia ) and Diti Hengchanovich (Thailand). More than half the time was spent visiting sites in Jiangxi, Fujian and Guangdong Provinces that have been stabilized with VGT. Read Liyu Xu's report for more detail.
During the past few years China has added over 30,000 km of major roads to her inventory. Many of these are in the south of the country. Apart from the great length these highways often pass through rugged terrain involving massive fill and cut engineering. It is estimated that over 80% of the point source erosion comes from these and other infrastructure developments in China's south eastern provinces. As a result there are huge stabilization and re-greening problems to deal with. The normal Chinese approach is to stabilize with local grasses (that are not deep rooted) and or use stone masonary to face the cut and fill. Linked to this construction are large and unrehabilitated stone quarries that add to sediments flows and remain an environmental eyesore.


This is a typical scene in the mountains of Fujian and Jiangxi -- cut and fill slope unprotected and eroding fast. Near by is a failed and costly effort to protect the slope with concrete.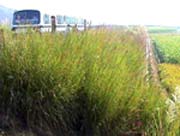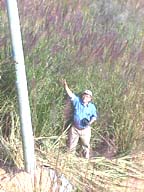 Above left: a fill slope planted to vetiver in October 1997. Now fully stable.
Above right: A fill slope planted to vetiver in March 1999 (8 months old). Note the large sediment deposits below the wall that are sourced from adjacent unprotected areas.
Below right: Vetiver at over 2 meters after 8 months planted on very unstable fill embankment
Below left: 20,000 sq meters of vetiver planted in October 1999 on the cut slope of a super highway (World Bank financed) near Fuzhou, Fujian. Virtually 100% survival rate from bare rooted planting.
Over the past three years the highway departments of the provinces have been testing VGT and the results are convincing and impressive.
In Guangdong a cut and fill slope on a highway near Guangzhou planted by Xia Hanping in 1996 is now fully stable. Vetiver was interplanted with Acacia mangium seedlings. These trees are now over 20 ft high and the area has been turned into a dense woodland. Most of the vetiver has been shaded out. But it did its job in providing initial stabilization and a better environment for the trees to grow.
As a result of this work and other work it appears that there is lot of opportunity to expand the use of VGT to highways throughout south China, and to use it for the reclamation and re-greening of the many quarries that have been opened to supply materials for the massive construction program that has taken place in China since the market reforms were initiated.
A major limitation to the expansion of VGT is the lack of trained and experienced landscapers. This can be rectified through technical training workshops for existing and new landscaping companies. We see a big increase in demand for VGT, which means that small farmers will get involved as suppliers of quality plant material (training needed here too).
What we are seeing in south China is an emerging pattern of increased use of VGT for engineering purposes. Companies have been established in Central America, Philippines, Malaysia, Australia, and South Africa to produce large quantities of plant material and to apply the technology to construction sites. The rate of demand is likely to go up as more companies are established and they market the technology to highway designers and highway owners. A paper just published on this homepage shows that in Australia (a high priced labor market) financial savings are estimated at over 60% when VGT is used over conventional methods. In China the savings are 90%+!!
Other areas of potential for VGT in China and other tropical countries is VGT's ability to stabilize acid sulphate soils in coastal areas, rehabilitation of mines, and stabilizing of river banks, dikes and levees. In China, Bangladesh, and Vietnam millions of dollars are spent annually on maintaining the levees of major rivers. VGT could be used to reduce these costs.
Also published at this time on the home page are new papers that confirm VGT application for mine stabilization, wetlands, infrastructure, and the removal of surplus pesticides from cotton and sugar cane fields in Australia.
VGT is on the move; those of you whose main focus is to use VGT for on farm soil and water conservation should look at some of these other applications, because as the demand for them grow, so will the demand for vetiver planting stock, most of which will be produced by small farmers.
Dick Grimshaw
---
Vetiver and Groundwater
Leesburg, Virginia. July 27th 1999
It has been a hot dry summer here in the north east of the United States. In Loudoun County, the northernmost in Virginia, it has been particularly hot and dry. Reservoirs are drying up, and rivers are running low. Country folk who depend on wells and springs find their water supply receding, sometimes losing them all together. Part of the reason for this is the growing population that is dependent on ground water supplies -- there is an over demand, and the ground water table is not being replenished. This reminds me of the problems facing large segments of the population in countries such as India and China who are dependent on groundwater for their wells; the same is the case in Africa.
Groundwater recharge should therefore be an important feature of water resources planning. Ground water not only supplies wells and springs, but also enhances the dry season flow of major river systems. Recharge will improve if rainfall runoff is reduced. Good vegetation cover is essential -- trees, pasture, and crop covers all reduce runoff. Vetiver grass hedgerows also play an important role in groundwater recharge. We know from field observations and experiments that rainfall runoff is reduced by as much as 70% when vetiver hedgerows are planted across the slope and on the contour. This runoff reduction is due part to the effect of the hedgerow in slowing down and spreading out runoff over a larger area, but also because its strong roots can penetrate hardpans that are off limits to many other plants, and thus significantly improve infiltration. We know from feedback in India (both in high and low rainfall areas) that where vetiver hedgerows are in place water levels in wells are higher, springs do not dry up, and small streams run longer into the dry season.
In addition vetiver hedgerows are effective in removing excess nitrates and phosphates that may be in the runoff water, and there is some evidence that vetiver will remove excess pesticides as well. Thus vetiver hedgerows have a dual function of increasing ground water levels and improving its quality.
Because vetiver hedgerows do such a good job in reducing runoff they are also very effective in flood control, both in the upper watershed catchments and on the flood plains themselves. Flood control means a reduction in the volume of runoff and a slow down (delay) in the release of flood water. Of course because vetiver is slowing down the movement of water it is also reducing the rate of soil erosion, and is retaining the soil that is eroded in the areas adjacent to the hedgerows and not in downstream reservoirs, estauraries and coral reefs.
Vetiver Grass Technology should play an important role in the 21st Century as we look for solutions to conserve and store more water.
Please note that readers who want to read previous Editor notes can go to Editor, particularly to read about some recent additions to this home page that relate to content, and to AIDS, Vetiver, and Power Flour
Dick Grimshaw
---
July 1999
There is a lot of activity in the Vetiver world with two important vetiver conferences coming up in the next six months; the first, in Nanchang, China (October 1999) primarily for highway engineers; and the Second International Vetiver Conference in Thailand in January 2000. Both should be very interesting and useful. In particular readers should make a special effort to get to the Thailand Conference to meet Vetiver researchers, promoters and users from all over the world. Both the Chinese and the Thais are excellent hosts.
Orhan Baykal, our Web Master, has been assigned to Cambodia for about nine months -- we wish him a happy time there, and thank him for all the hard work that he has put into our web site. As a result your Editor has taken over the responsibility as Web Master! With some intrepidation I started tinkering with it, and found to my delight that it is not such a difficult thing to edit it. So information will continue to flow. The more you send in, the more we can add to the site.
As a training exercise I have now added a VETIVER INDEX that includes all the files on our web site and on our FTP site. The index is generally in alphabetical order each file title is either linked directly to the relevant file or to another file from which further navigation will be needed. Files that have been added in the current month are marked with an * I hope to make improvement to the Index from time to time.
One thing that I would like to do is to index all the contents of our newsletters. There is a lot of work involved in this task. I am looking for a volunteer!! Someone like me - retired!! If anyone is interested, please contact me at [email protected]. This job is really worth while as the newsletters have a huge amount of information in them. Mike Pease (EMVN Coordinator) has indexed most of the newsletters in hard copy. However I am looking for electronic indexing that will include internet linkages to the written matrials.
In May a very useful workshop was held by LAVN and the World Bank in El Salvador to teach and demonstrate to participants the positive impact of vetiver grass technology in El Salvador and how it withstood Hurricane Mitch. Participants returned to their countries eager to use the technology. I hope they succeed in persuading the policy makers to invest in vetiver. For feedback details see Joan Miller's report and the photos that go with it..
My last editorial focused on the usefulness of vetiver for distaster mitigation, and the El Slavador results certainly proved that VGT is a very good and low cost anwser.
Finally I want to draw your attention to Power Flour (PF), Vetiver, and AIDS! A strange combination! We have been promoting Power Flour because it is a low cost solution to help reduce malnutrition in very young children. Its connection with TVN is that Noel Vietmeyer is a mover and shaker for both PF and Vetiver, but also because we can promote PF through many of our NGOs and other participating vetiver agents. So what has all this got to do with AIDS? A few years ago Father Anthony Koning in Kenya wrote to me to ask for help and advice on vetiver. He runs an AIDS program and he wanted to use vetiver to improve the soils and impove incomes and reduce poverty -- poverty being one of the causal agents of AIDS. I got him interested in PF, initially for children, then he started feeding PF treated food to AIDS patients in their terminal phases where many were literally starving to death because they could not swallow their traditional food. Father Anthony wrote to say that PF treated food enabled the terminally ill patients to be more comfortable and better fed in their final months of their lives. So if any of you readers wan to to try out PF and find out more about this simple technology please read all about PF on our web site and contact Tom Hartzel the PF Network Coordinator.
---
April 1999
Vetiver and Disaster Mitigation
We have evidence from those countries that were effected by Hurricanes Georges and Mitch that where vetiver grass hedgerows were planted damage to road structures and landscapes were minimized. Prior to these two 1998 hurricanes, that impacted the Caribbean, The Vetiver Network learned of cases in Natal (South Africa), Philippines, and China of cases that clearly demonstrated that vetiver provided excellent protection against cyclones and typhoons.
We have also learned from the Latin America Vetiver Network that vetiver will be used extensively in the rehabilitation of agricultural land and roads in Honduras. These natural disasters, although creating mayhem in the countries concerned, do offer opportunities to use the most appropriate technologies for the protection against future catastrophe. The Vetiver Grass Technology (VGT) is one such technology. We know that it will do the job of stabilization and rehabilitation. In addition it is a very low cost labor intensive technology. Its application in the disaster zones will not only provide a very good long lasting solution, but it will also provide employment for tens of thousands of people who have lost their jobs.
The weather seems to be getting more unpredictable. Even in the absence of major catastrophic storms, we find that rainfall events associated with El Nino can be nearly as devastating. If VGT had been used in California many of the mud slides might never have occurred, we know that the technology works in California, but the State Government will not endorse it, and therefore it can not be used in public works programs. The State will only endorse the technology following a long period of testing even though research results from other parts of the world show that the vetiver cultivar (Sunshine - found in California, Louisiana, Texas, and Florida) has the same DNA as Australia's Monto vetiver which was tested for seven years as to its potential invasiveness before being released. Continued delays in endorsing VGT will lead to continued land degradation and misery to those who live on that land.
It is time for national policy makers to take another independent view of VGT (National Academy Science carried out a review of Vetiver in 1992, at a time when many characteristics of vetiver were not fully understood) now that there is much more evidence available to VGT's technical capabilities and applications. We want to see official endorsement of the technology so that its application can be further extended.
In winning Monsanto's "John Franz Award for Sustainability" in 1996 VGT was judged by a panel of international scientists to be the best environmental technology. Since that time VGT has proven its capability time and time again. We hear from serious development professionals who work in the field with vetiver that:
"It is the best technology that has emerged in the past 50 years"

"It is the easiest technology for transfer to farmers and the adoption rate is very high"

"There have been few technologies that I have seen over the years that have so much to offer" and so on.
Those of you who read this note and who already use vetiver should advocate the authorities in its use. Those who are looking for solutions to the horrendous disasters of 1998 and who know little about VGT should read further this web site. If you want our help there are many vetiver users around the world who are very willing to help.
Those of you with interest in Viet Nam should contact Ken Crismier . Ken has done a great job in starting a new network in Viet Nam and developing a great awareness amongst officials and people of Viet Nam. He still has a long way to go (see announcement). If individuals or agencies are interested in this initiative please get in touch with Ken. He has also translated and published "Vetiver Grass -- A Hedge Against Erosion" into Vietnamese. Contact Ken for copies.
Dick Grimshaw