The Vetiver Network International has used conferences and workshops as an important means of furthering the dissemination of the Vetiver System, creating ideas and themes for future research and for the discussion and dissemination of the research results. These meetings take the form of international vetiver conferences held every 3-5 years, regional conferences, and national and local conferences. TVNI publishes online the proceedings of conferences and workshops along with respective power point presentations.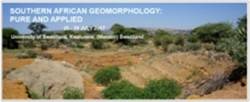 Southern Africa Geomorphology Theory and Practice Conference - Swaziland July 25-28 2017. Stemming from discussions at the previous conference at Sani Pass, South Africa, we are pleased to announce that this conference and its associated workshops will be held in Swaziland, in association with the University of Swaziland. This conference seeks to create a forum to explore the contexts of theory and application in Geomorphology and the related fields. Given the extent of soil erosion and land degradation in the Southern African region, and recognising the involvement of geomorphologists in topics related to these, we are particularly pleased to confirm that both the International Vetiver Network (TVNI) and the Soil Erosion Focus Group of the Land Rehabilitation Society of Southern Africa (SEFG-LaRSSA) will be holding relevant workshops during this conference. We are confident that this will enhance the international status of the meeting, and broaden the base for discussion and meaningful interaction. We look forward to being able to welcome delegates to the Kingdom of Swaziland. A pre-conference and main excursion to places of interest will also be offered.
6th International Conference on Vetiver - Da Nang, Vietnam.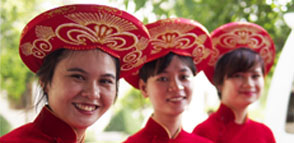 May 6 to 9 2015

The Conference, organized by The Vietnam Vetiver Network was successful, interesting, and attended by participants from 23 countries. Special thanks to Van Man and Van Tran of the Vietnam Vetiver Network and their helpers for making the conference successful and friendly. 56 papers were presented and on the whole the quality was excellent. The complete Conference proceedings comprising text and Powerpoint presentations are available online.
ICV6 Complete Conference Proceedures - Papers and Presentations
Summary and Highlights of ICV6 Papers by Paul Truong - this link
KING OF THAILAND VETIVER AWARDS ANNOUNCED The winners of the six awards are Mohammad Shariful Islam (Bangladesh), Liyu Xu and Biao Huang (China), Alain Ndona (Congo DR), and Malee Nanakorn, Tanapon Phenrat, and Songkiert Tansamrit (Thailand). Each receive US$2500. Also nine Certificates of Excellence have been awarded. The awards and certificates were presented to the recipients by TVNI's Patron, Her Royal Highness Princess Maha Chakri Sirindhorn of Thailand at ICV6 at Da Nang, Vietnam. Details of the awards can be found at this link.
TVNI AWARDS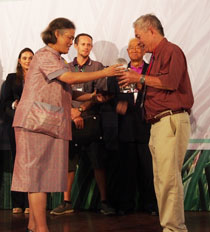 - Announced at ICV6 May 6 2015
Paul Truong of Australia receives (left) Global Vetiver Champion Award from TVNI Patron, Her Royal Highness Maha Chakri Sirindhornfor 25 years service to the Development of the Vetiver Grass Technology with special reference to his work on the development of Vetiver Grass Technology for the decontamination of land and water; and for his mentoring and support to many young post graduate students working on vetiver as part of their thesis.
Alain Ndona of the Democratic Republic of the Congo awarded Vetiver Champion Award for the introduction and dissemination of the Vetiver Grass Technology in Congo Kinshasha and Congo Brazzaville with specific reference to slope stabilization.
Alois Kennerknecht of Peru awarded the Nick Dolphin Award (US$ 750) for the communal application of the Vetiver Sytem in urban areas of Lima, Peru.
Luu Thai Danh of Vietnam awarded the Mark Dafforn Award (US$ 1,500) for his comprehensive review and compilation of Vetiver Grass Technology application for phytoremediation.
Kittima Sivaarthitkul of Thailand and her colleagues of the Land Development Department awarded the Monty Yudelman Award (US$ 2,500) for developing Vetiver Grass Tracking System for Thailand.
Other TVNI awards can be found at this page.
Suwanna Pasiri, Deputy Secretary General of Royal Development Projects Board, of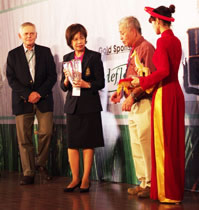 Thailand receives a special TVNI Award from Paul Truong and Roley Noffke for 20 years of dedicated service in the support of the global Vetiver community. Suwanna has worked tirelessly providing reliable and generous back up support for Vetiver conferences, supply of Thai vetiver specialists, publications, and the Vetiver handicraft prgram. Thank you Suwanna - may you forever be a Vetivarian!!
| | |
| --- | --- |
| China - International Vetiver Conference - China - October 1997 | China |
| China - International Vetiver Conference - China - October 1997 Abstracts | China |
| El Salvador - Bioengineering Workshop for Post-Hurricane Mitch Construction -Experiences with the use of vetiver for the Protection and stabilization of Infrastructure | El Salvador |
| Ethiopian National Vetiver System Workshop - March 2009 | Ethiopia |
| ICV1 - Fisrt International Vetiver Conference - A Miracle Grass | Thaiand |
| ICV2 - Second International Vetiver Conference: Thailand -- January 2000 | Thailand |
| ICV3 - THIRD INTERNATIONAL VETIVER CONFERENCE AND EXHIBITION -- VETIVER AND WATER -- October 6-9, 2003. Guangzhou, P.R. | China |
| ICV4 - FOURTH INTERNATIONAL VETIVER CONFERENCE Vetiver and People - 2006 | Venezuela |
| ICV5 - Ffith International Vetiver Conference - Vetiver and Climate Change, Lucknow, India. October 2011. | India |
| ICV6 - Sixth International Vetiver Conference - Empowering Sustainable Develoment Da Nang, VIETNAM May 2015. | Vietnam |
| VETIVER WORKSHOP at the TAMIL NADU AGRICULTURE UNIVERSITY (TNAU) in Coimbatore on April 11, 2016 - Proceedings | India |
| India - Vetiver: A Miracle Grass. First National Workshop | India |
| Kenya Vetiver System Workshop - March 2009 - | Kenya |
| Kuwait National Workshop | Kuwait |
| LAICVS1 - FIRST LATIN AMERICA INTERNATIONAL CONFERENCE ON THE VETIVER SYSTEM (LAICVS1) Santiago - Chile - October 2010 | Chile |
| LAICVS2 - SECOND LATIN AMERICA INTERNATIONAL SYSTEMCONFERENCE ON THE VETIVER - Oct 3 to 5 2013, Medellin, Colombia | Colombia |
| Morocco Workshop on Waste Management- 2007 | Morocco |
| Philippines 1ST PHILIPPINE CONFERENCE ON VETIVER, MARCH 5-7, 2014 | Philippines |
| VIETNAM - DANANG - VETIVER CONFERENCE - JANUARY 2012. NEW Focus - civil and environmental engineering | Vietnam |
| | |