California -- Vetiver has been used successfully to stabilize slopes prone to mudslide collapse
The following images by Paul Truong shows examples of fragile slopes supporting costly homes and structures. They have NOT been treated with vetiver. All these slopes could be stabilized with vetiver at relatively low cost. There a re a few landscapers starting to use vetiver for such purposes. One of them is Doug Richardson of Ecological Land Design, 375 Lambert Road, Carpinteria CA 93013. Tel: 805 565 9453.
Vetiver plant sources include Greenlee Nurseries and Casa Colina located in Pamona. Also Wolfram Alderson at: Wolfram Alderson <[email protected]> is a mine of information and is willing to give advice and point to supplies of plant material and field applications.
PLEASE COMPARE THESE SLOPES WITH SIMILAR AND MORE COMPLEX ONES IN CHINA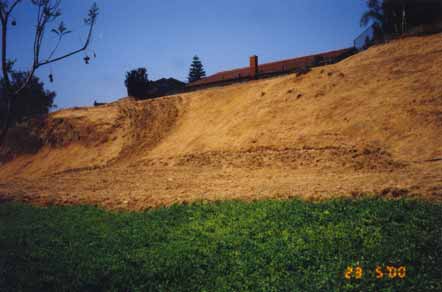 Anaheim
Malibu1
Malibu 2
Malibu 3
Malibu 4