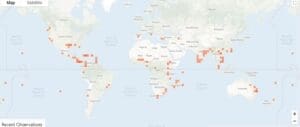 CASH AWARDS:  Wouldn't it be great to have an extra US$500? Well, if you planted vetiver in your country, you could WIN!! No matter if you have vetiver for slope stabilization, erosion control, nursery supply, landscaping, or essential oil production, you may be eligible to win one of three prizes: 1st Prize US$500, 2nd Prize, $300, or 3rd Prize $200!
What do you need to do to enter the contest? You simply add your vetiver planting locations to the free and easy to use iNaturalist website, and the top three people who have the most sites by March 31, 2022 win the money!
It doesn't take very long to add your plots, but we have a few rules for the contest: https://www.inaturalist.org/projects/vetiver-systems/journal. To learn how to add your vetiver to iNaturalist, read this helpful guide, and feel free to ask us if you have any questions.
Don't have a lot of vetiver sites? No problem! We think you should still add your plots to iNaturalist because it's a fun way to show off your vetiver plantings! Plus, our main goal of this competition is for the vetiver community to add as many vetiver sites as possible in iNaturalist so we can assess where and how vetiver is being used throughout the world…and you never know, you might still win!
Eric Wiediger