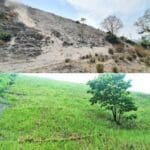 When not stabilized and protected, fly ash dumps, associated with coal fired power generation plants, are serious health hazards due to heavy metals (Zn, Pb, Cu, Ni, Cd, and As) in the fly ash dust and associated dumpsite leachates. These toxic chemicals impact surrounding people, animals, land and groundwater. Phytoremedial mitigation using vetiver grass can be very effective, primarily through phytostabilization of the fly ash, with phytoextraction of toxic metals as a secondary benefit.  Vetiver when grown in fly ash: has a dense mass of ash binding roots; is tolerant to the heavy metals (that when extracted remain mainly in the roots — the leaves can be fed safely to livestock or used for other purposes); and shows no significant sign of plant damage thus assuring long term survival.  These facts are confirmed in a "Technical Note: Vetiver Can Grow on Coal Fly Ash Without DNA Damage" by Rajarshi Chakraborty a & Anita Mukherjee, Centre of Advanced Study in Cell and Chromosome Research, Department of Botany, University of Calcutta , Kolkata, India Published online: 13 Aug 2010.
Eleven years (2021) later the Bokaro Power Supply Company at Bokaro Steel City, Jharkhand, India, protected 8000 m2 of fly ash using vetiver grass under the design of Pradeep Kumar, managing Director of Biostarts Ventures of Kolkata. The project was executed by Jagan Singh of Bokaro Steel City.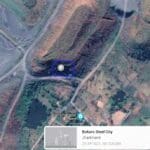 This first vetiver fly ash stabilization project is located on a steep slope adjacent to an internal access road and agriculture land. Although partly vegetated with native grasses the ash slides down in rainy season and is airborne during the dry season contaminating adjacent farming areas and water sources. This was an appropriate location for permanent green capping and stabilization through vetiver bio engineering application.
This project is described in more detail in a Biostarts Ventures Report. In summary:
The fly ash dump site area was fully stabilized and restored by the application of jute geo textiles, biomass substrates, beneficial microbes and sustainable plants (Vetiver) directly on fly ash through bio-engineering techniques.
The restoration was undertaken without the use of additional soil.
The fly ash dump area was restored within 3-4 months with a permanent green capping.
The project technology is 100 % eco-friendly and practical for the effective control of soil, water and air pollution.
This project is being expanded to more areas for fly ash stabilization, and on a continuous annual basis. The next project for 10,000 sq m is under tender.
More information relating to Biostarts Ventures vetiver related projects for phytoremediation and bioengineering are in this presentation.