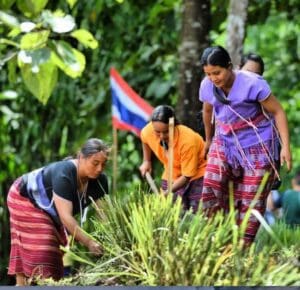 The third announcement has been made on the ICV7  website  for this conference, to be held in Chiang Mai Thailand from May 29 to June 1 2023, organized  by the Chaipattana Foundation & the Office of the Royal Development Projects Board (ORDPB). The main theme is Vetiver for Soil and Water Conservation, and the conference will commemorate the very important role that His Majesty King Bhumibol Adulyadej the Great played in the world wide development of the Vetiver Grass Technology and its applications. Specific details under the announcement can be found HERE.  There is no registration fee, nor are there fees for the post conference tour, conference meals and refreshments.

The conference will be held in person and online (real time). There is now a new registration platform to register for in person and online attendance. Even if you registered on the old form please re-register HERE.
INTERNATIONAL HANDICRAFT TRAINING COURSE
Associated with ICV-7, a free-of-charge international vetiver handicraft training course will be held on 29 – 31 May 2023 , all day, at the Shangri – La Hotel, Chiang Mai, Thailand. The training course is opened to all of those who work in the handcraft industry, or simply interested in using vetiver handicrafts – making and applying this initiative in their countries .
I would encourage you to attend this conference, where you can learn about some of the new vetiver research and development that has taken place world wide since ICV6 in 2015.