Android LineageOS 7.1.2. Steps to recreate:
Open app. Go to Australia. Click on first project icon I can see. Search Menu opens up but can't be closed using the '< >' in the top right corner. See first two screenshots with the '< >' in two different positions but the menu still open.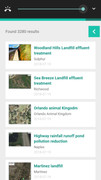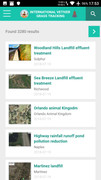 To get rid of that search menu, I have to hit the hamburger menu, click Search Results and then use the '< >' to close the menu with the normal behaviour.
When clicking on the site in Australia, no other information is displayed. After using the desktop version, I believe data is being downloaded to populate the thumbnails which may render the app busy. I haven't left it open long enough to be sure as our data here is slow.
Last edited by Evan (2018-10-31 12:41:12)