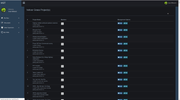 There is a data transfer on this page, even after loading and looking at other projects then hitting back, that locks up the page for over 30 seconds.
You can see the transfer at the bottom left, the 'search' bar is missing until whatever happens is finished.
It could be loading 2000+ sites at once?