Venezuela
TVN support to Sociedad Conservacionista Aragua (SCA) is leading to a well planned investigation of vetiver in Venezuela and for its future use for conservation. SCA's technical leader,Oscar Rodriguez, has
been recognized nationally for his vetiver initiatives. In its first year SCA has identified traditional sources of vetiver in the interior of Venezuela, has run a number of workshops, established demonstrations, and has supported LAVN in the dissemination of information about the technology to other parts of Latin America. SCA is working with other NGOs and agencies to establish vetiver propagation units and to train potential users. TVN videos (in Spanish), slides and other teaching material has proven very useful in SCA's work.
Mexico
TVN awarded a two year grant to the NGO "LASOS" for vetiver initiatives with communities located in Oaxaca State. LASOS works as part of the Program for Erosion Control and the Restoration of Soils of Oaxaca (PERCES). LASOS is working in 10 locations with small farmers groups, (4 women's groups, 2 local farmers groups, 2 community authorities and 2 NGOs). In the past two years 5 km of hedgerow were planted, and 33 nurseries, 30 demonstartion sites, 17 research projects have been established in 5 regions. More than 300 farmers, researchers and extensionists, including 40 women, have been involved in workshops, trainings, planting and maintenance activities. Vetiver hedgerows have worked well, and reports of their effectiveness for soil conservation seem well founded. The PERCES vetiver program has shown what can be achieved when a comprehensive and coordinated approach is taken, and where the communities are seen to be central to the program and its success. Jim Smyle and Joan Miller (Director and Coordinator of the Latin America Vetiver Network) have visited Oaxaca and have provided technical assistance to PERCES and LASOS. The program provides an excellent lesson as to how communities, NGOs, Universities and government agencies can work together to achieve a common objective it is the commonly owned "vetiver technology" that provides the focus.
As a result of the success in Oaxaca, the PERCES members are a supporting and providing training for a major erosion control project in the State of Mexico where vetiver will be a major component.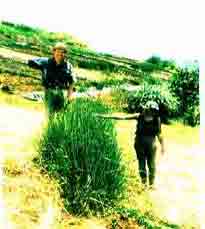 Euador - - Quote from Fundacion Golondrinas (FG) "The first step in restoring land is by planting hedges of grass or bush in contour lines. FG has selected Vetiver Grass for its amazing performance, its ability to stop run-off and build up 'induced terraces'..". Here we see Maria-Eliza Manteca Onate, the founder of FG, showing just how much sediment has been built up behind a vetiver hedegerow on very steep and degraded lands in the Mira Valley of NW Ecuador. There are many countries in South America who should take advantage of vetiver grass technology - - they don't - - for the simple reason that people don't know about the technology. LAVN is working hard to get information to where it is needed.
Ecuador
TVN is supporting the Ecuadorian NGO Fundacion Golondrinas (FG). Because of the impact of El Nino there were serious fires in the project area, and the program has not progressed as fast as expected. However, it has shown the need for good demonstration, if farmers are to be persuaded to adopt the technology and the fire tolerance of vetiver hedgerows. Even so FG has proven that vetiver will grow well on the badly eroded and completely deforested area of the Mira Valley. Furthermore the demonstration impact is starting to impact on local residents and on potential users elsewhere in Ecuador. FG will therefore focus on establishing demonstrations that show the impact of vetiver protection on crops, particularly pineapples.