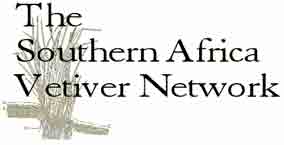 A Completion Report
February 1997 – June 1999:
Compiled by: Duncan Hay, Institute of Natural Resources
Submitted to: Dick Grimshaw, The Vetiver Network
All correspondence to be directed to:
Duncan Hay, Programme Manager and Director, Institute of Natural Resources, Private Bag X01, Scottsville, 3209, South Africa
Tel: 0331-460796, Fax: 0331-460895
E-mail: <[email protected]>
Acknowledgements
Numerous individuals and organisations have expended considerable effort to support the establishment of SAVN. Funders are listed in Section 3.9. A special mention of appreciation must go to Dick Grimshaw of TVN, Mark Dafforn of the National Academy of Sciences (USA), Paul Truong of the Queensland Government (Australia), and Tony Tantum of Specialised Soil Stabilisation (South Africa). Their willingness to impart of their considerable knowledge on Vetiver has allowed us, in turn, to effectively service network participants in Southern Africa. Also, a special thanks to Jane Zimmermann for her fund-raising efforts in an increasingly difficult economic climate, and to Tanya Ellis and, more recently, Gail Knox-Davies for their highly effective administrative support.
1. Introduction
In February 1997 The Vetiver Network (TVN), an international network focusing on the promotion of Vetiver grass technologies worldwide, initiated the establishment of the Southern African Vetiver Network (SAVN). The Institute of Natural Resources was invited to coordinate the Network and Duncan Hay, a Programme Manager and Director at the Institute, was appointed coordinator.
The mission of SAVN is to promote and support Vetiver grass technologies for soil and moisture conservation in the agricultural, mining/quarrying, civil construction and conservation sectors in the SADC region. Because of its location there is a certain focus on South Africa.
This report covers the development of the SAVN and its activities from its inception in February 1997 until June 1999.
2. SAVN Objectives
SAVN has the following specific objectives:
To establish a network of organisations and individuals with a mutual interest in the application of Vetiver grass technologies in Southern Africa.
To promote the use of Vetiver grass technologies throughout Southern Africa amongst:

Government departments
Infrastructure and service supply agencies
Conservation agencies
Development and Environmental NGOs
Private companies, particularly those involved in mining, quarrying and civil construction activities
Small and large scale farmers

To disseminate information to all interest parties which results in the appropriate and effective use of Vetiver grass technologies
To promote and facilitate the establishment of Vetiver grass nurseries particularly by disadvantaged communities
To facilitate the supply of seed stock either at competitive prices or freely to those requiring it and to link suppliers with potential clients.
To facilitate training in Vetiver applications as and when required
To direct research towards improving Vetiver applications.
To raise funds for network activities and on-the-ground projects.
3 Progress in achieving objectives
3.1 Network establishment
SAVN has a network of approximately 400 individuals and organisations located in Kenya, Malawi, Tanzania, Zambia, Zimbabwe, Namibia, Botswana, Lesotho, Swaziland, Mozambique and South Africa. Of these Malawi, Zambia, Zimbabwe and South Africa have good representation. A list of members and their contact details can be downloaded from the website.
3.2 Promotion
SAVN has successfully promoted Vetiver and supported Vetiver applications amongst the following key organisations:
Departments of Agriculture (several SADC countries and three provinces in South Africa)
Department of Water Affairs and Forestry (South Africa)
Parastatals (e.g. National Roads Agency, Umgeni Water)
Several international agencies operating in SADC (e.g. GTZ, DANCED, DANIDA, AUSAID, DFID)
Conservation organisations and Departments
Civil Construction and Engineering companies
Mining Companies (e.g. DeBeer's, Anglo-American, Foskor, several coal mines, Zambian Copper Mines)
NGOs and development agencies (e.g. EcoLink, The Valley Trust, INR, religious organisations, BMW Educational Trust
Most of these organisations (or divisions of these organisations) are members of the Network.
In addition, SAVN has supplied numerous articles for a range of popular and technical publications ranging from daily newspapers to technical mining magazines.
3.3 Information dissemination
Website: The network has a comprehensive website () linked to the international site (. It contains:
Technical information on Vetiver grass including the World Bank "Green Book"
The SAVN newsletters
A database of SAVN members
Various reports
Newsletters: Five Newsletters have been compiled and distributed since the inception of the Network.
World Bank "Green Book" and the EcoLink booklet: Both these informative booklets are out of print and stocks have run out. The World Bank is not considering printing more of the "Green Book" and EcoLink does not have funds to print another run of their booklet (See Section 4)
Publications and fact sheets: SAVN has produced two documents
Technical Specifications SAVN has produced a simple technical specification fact sheet for general distribution (Appendix 2)
Vetiver Field Manual: David Jobson, together with Programme Administrator, Gail Knox-Davies, has produced a draft Vetiver field manual to assist in demonstrations and presentations. The manual has a strong photographic base and is designed to compliment the other publications.
Vetiver video: SAVN has copied the Vetiver video so that it is once again available for a nominal fee
3.4 Nursery establishment
Using the funds allocated by Nedcor Community Development Trust SAVN is facilitating the establishment of the following community based nurseries
Hazelmere Dam - in partnership with Umgeni Water at Hazelmere Dam
Eshowe - In partnership with the Zulu Agricultural & Credit Union and the Siyakhanyisa Networking Forum
Bushbuck Ridge – with the Bushbuck Ridge North Conservation Project
The funds will also be used to:
Increase stack availability from the Nansindlela Nursery
Establish a nursery at the Nelspruit Women's Prison
Establish two nurseries at schools in Mpumalanga
Discussions have been held with relevant stakeholders, infrastructural and training requirements have been determined and planting will commence in Spring. In all instances there is a demand for stock in the vicinity of the nurseries.
The National Landcare Programme has also allocated funds for nursery establishment and entrepreneurial development activities. The details of this initiative have yet to be defined.
Also, as a result of the presentation to the National Landcare Committee it is likely that Vetiver nursery establishment and Vetiver applications (with a strong emphasis on job creation and poverty alleviation will commence in Msinga (KZN) and Nebo (Northern Province) in the latter half of this year.
3.5 Seed Stock supply
The Institute's agricultural training, research and demonstration farm, Nansindlela, located near Inchanga has established a Vetiver nursery from which it supplies either freely or at a subsidised rate seed stock. When it cannot supply it directs users to other suppliers such as Spoornet nurseries, Department of Agriculture, The Valley Trust and commercial growers.
3.6 Training
As part of its small scale agricultural training course Nansindlela has a module on Vetiver grass technology.
3.7 Research
There is a considerable body of international research that demonstrates quite clearly what Vetiver can and cannot do. The focus of the Network is on application opportunities rather than on research needs. One area of action research that warrants attention is the extent to which Vetiver can attenuate leachate flow out of landfill sites. We are aware that it does it but how it does it and how effective it is remains vague.
3.8 Mpumalanga Vetiver Grass Programme (MVP)
The MVP has been fully integrated into the Network:
David Jobson has achieved considerable success in the area. As a volunteer receiving a very modest monthly allowance his activities are particularly cost effective. His successes should also be seen in the context of ongoing and debilitating reconstructive surgery to his teeth, necessitated as a result of an assault and attempted robbery in Grahamstown last year.
The MVP has a travelling exhibition that is used at various agricultural shows and similar events. The assessment is that response to this form of promotion has been limited and that more specific identification of venues is required.
The Department of Agriculture is developing three community nurseries in Moutse (NW Mpumalanga) and planting will commence in October 1999.
Forty-four new Network members have been recruited from this region to the network in 1999.
3.9 Fundraising
Various agencies have allocated funds and other resources for specific and general activities carried out by the Southern African Vetiver Network. Their contributions are acknowledged with considerable gratitude. They are listed below:
Anglican Diocese of Pretoria, Eastern Transvaal – Assistance in administering MVP funds
Anglo-American and de Beers Chairman's Fund – R 25 000
British High Commission: The Development Section – R 50 000 to MVP
EcoLink – Provided a base for MVP
Institute of Natural Resources – Provided a base for SAVN and supplied professional time at a sponsored rate.
Nedcor Community Development Fund – R 95 000 for nursery establishment
Specialised Soil Stabilisation – Supplied information and advice on commercial applications
The Vetiver Network (International) - $US 30 000 for the establishment of SAVN
Voluntary Service Overseas (VSO) – Core funding for David Jobson
4. Future Activities
The following activities will take priority over the next six months
Continued recruitment into the network
The establishment of a partnership programme and trust fund to ensure the ongoing financial sustainability of SAVN
Secure funding for the publishing and dissemination of the World Bank "Green Book" and the EcoLink Vetiver booklet
Support the implementation of the recently commenced Vetiver nurseries initiative
Increase the capacity of the Nansindlela nursery to supply seed stock
The provision of presentations, workshops, advice and demonstration on a demand basis
In Appendix 1 an informal paper is presented which lays out the challenges for SAVN and other networks in the new millennium.
5. SAVN Finances
Following is a summary of income and expenditure for SAVN from the network's inception in 1997 until June 1999. Details of MVPs contribution are only included from December 1998 when it was formally included within the SAVN project administration system.
Income:
TVN - R 140 600
Anglo-American and de Beers Chairman's Fund - R 25 000
Nedcor Community Development Trust - R 95 000
British High Commission - R 25 000
Total - R 285 600
Expenditure
MVP expenses - R 53 000
Co-ordination fee - R 132 465
Vetiver stock - R 14 346
Travel and subsistence - R 15 618
Printing, telephone and fax - R 7 146
Capital equipment (Irrigation system for Nansindlela nursery) - R 2 511
Tapes/films/slides/maps - R 9 961
Total - R 235 047
Balance (30/06/99) - R 50 553
---
Appendix 1
Miscellaneous Millennial Meanderings of a Vetiver Man
Duncan Hay
Coordinator: Southern Africa Vetiver Network
Preface
This draft informal paper has been prepared as a basis for input at a panel discussion to be held at the Second World Vetiver Conference in Thailand, January 2000.
Introduction
In November 1996 I was largely unaware of the existence of the "miracle grass", and soil and moisture conservation and land rehabilitation were only peripheral interests. Then three men; Dick Grimshaw, Tony Tantum and Paul Truong descended on me and turned my professional life upside down. In the first article of the first ever SAVN Newsletter I described Vetiver as the "conservationists' Cannabis – dull at first glance but increasingly exciting as subtle (but far more positive) properties reveal themselves." Unlike Bill Clinton I inhaled deeply and, just over three years on, I am firmly hooked. Still wet behind the ears here I am attending my first World Vetiver Conference and looking forward to meeting similar junkies who have become e-mail and Vetiver soul mates. (Following our first date, courtship with the love of my life was initially conducted by e-mail between Cambridge and South Africa - so I have personal experience of the power of the Net in building relationships.) How far have I progressed into addiction? Even my prospective mother-in-law has been recruited into SAVN. How much further can one go?!
What follows is largely from a personal and rather parochial view of coordinating the Southern Africa Vetiver Network for the past three years. The bias is African, particularly South African, and the focus is developing countries and the challenges we face as we enter the new millennium.
Coordinators of networks promoting Vetiver grass technologies operate at numerous levels and scales, and in contrasting physical and socio-economic environments. The roles of David Jobson in White River covering Mpumalanga (a province in South Africa), myself in Pietermaritzburg covering Southern Africa, and Dick Grimshaw in Leesburg, Virginia covering the world are fundamentally different. Yet we all face similar challenges:
How do we secure funds to sustain our networks?
Who do we target with support and promotion for maximum leverage?
Where and how do we source relevant expertise and information for particular applications?
What research should the network be promoting?
Where do we find other champions to spread the load?
How do we counter resistance to the technology?
What is the most effective way of disseminating information on Vetiver?
To what extent do we involve ourselves in works projects and propagation?
Numerous other questions also pass through all our minds. Obviously, in many cases, we will have different answers depending on where we find ourselves. Different circumstances demand different solutions. This paper does not attempt to dictate what the various solutions to particular challenges might be. Instead, it simply puts forward a number of ideas on how some key challenges might be approached.
Sustaining a network – where do we find the money?
The perennial problem – how do we pay the bills? In the past numerous networks, including SAVN, have been reliant on donations and grants from international funding agents and large private corporations. The fortunes of the networks were dictated by corporate sector and international agency policy shifts – this year soil conservation might be a priority so money for Vetiver roles in; next year poverty alleviation is the priority so the money supply dries up. Clearly, the lack of consistency and control rendered this funding source unsustainable. The challenge here for networks is to move away from donation based funding to investment based funding – investment by those who will see either direct or indirect financial returns, or some other form of return for what they are investing. This is going to demand a fundamental change in the way we conceptualise and operate our networks. For individuals and organisations to invest they are going to want to see a service based network – if Anglo American Corporation is paying a membership subscription its mine-based environmental managers should have the latest Vetiver rehabilitation technology or advice at their finger tips. Information dissemination, as an example, will no longer be based only on what we as coordinators think is important but also on what the market regards as important. A lot of good can come out of such a shift. Network members are likely to be drawn closer. The network will no longer be some distant `nice-to-have' free service. Instead it will be close at hand and the vested interest in its survival will be strengthened. Also, if a service is paid for its perceived value will increase. This is all very well for the Anglo's and other corporate giants who can splash out a tiny fraction of a percent of their turnover on a Vetiver network subscription. But what about Siphiwe Zondi of Biyela, central Zululand who is unemployed, who obtains occasional income from sales of Cannabis, and who uses Vetiver hedging for contouring and to hide his illicit crop from prying eyes. How is he supposed to pay – the odd parcel of `pot' to the coordinator? Clearly, we have to look to other mechanisms and some form of cross-subsidisation has to come into play. A solution we are developing is to approach ten to twenty large mining and civil construction firms, commercial rehabilitation companies, government departments and parastatals who have a direct interest in Vetiver to become core corporate investors in the network. Conventional network members will pay a nominal fee and those who can't pay, predominantly the rural poor, will receive subsidised (free) membership. This form of investment will be linked implicitly to the level of service - through their operational divisions, core corporate investors are likely to demand greater services, normal members generally only want to be kept informed, and the rural poor only have access to certain network services.
Another way of sustaining a network financially is by developing a commercial division that effectively subsidises the network. There are definite opportunities in this direction but there are also problems. Let's use the Institute and SAVN as a particular example. We field numerous requests from contractors requiring Vetiver stock or technical services. One option is to levy a commission on the sales we facilitate. This has potential but is likely be an administrative nightmare. It also increases the price of stock; something we would prefer to prevent. Another option is to supply stock or services directly ourselves. With our agricultural training farm that contains a Vetiver nursery and with the expertise that exists within the Institute we have the capacity to do this. In this way we would certainly maximise the amount that could be ploughed back into the network. However, as operators of the network this places us at an immediate competitive advantage and I foresee conventional commercial operators crying `foul'.
Targets
Who do we target our promotion and support at to obtain maximum leverage? Again, it depends on what level the network is operating at. However, here are few ideas. When operating a national or regional network there are four specific areas where promotion and support could be directed:
Provincial and regional government departments/parastatals: In most developing countries the agent of service delivery is regularly a government department or a parastatal. In South Africa much of agricultural extension is within national and provincial agricultural departments. These departments also contract in consultants, private sector agencies and NGOs to assist in delivery. If these departments are familiar with and supportive of Vetiver technologies they will write the various applications into project briefs. This forces their clients and contractors to make use of the technology. A parastatal such as Umgeni Water (bulk water infrastructure and supply) is a specific example of where an organisation that is familiar and supportive has written the use of Vetiver technology into the technical briefs of numerous works projects. Umgeni Water has actually gone a step further by setting up a nursery to supply stock to its external contractors. With encouragement, those organisations that regularly have large civil construction projects can combine entrepreneurial development options using Vetiver with large-scale rehabilitation and stabilisation operations. These organisations generally know at least two years in advance where large works projects will take place. They can identify local entrepreneurs, support the establishment of nurseries, and when the rehabilitation takes place can purchase the locally available Vetiver stock – both sides benefit.
Local Champions: Coordinators of networks rarely have the time or resources to engage Vetiver propagation and works projects directly, or to network at the very local level. In fact, this is often counter-productive as the effort could be better spent on more strategic leverage. We need to rely on local individuals and organisations to do this. These local champions require continual and pro-active nurturing, support and encouragement so as to lever maximum activity at a local level. Where do we find these champions and what are we looking for in a champion? Beyond an obvious interest in Vetiver, ideally we need to source individuals that are located in an organisation with a natural resource or agricultural focus. The day-to-day activities of the individual should regularly bring them into contact with activities and individuals with interests in or need for rehabilitation and stabilisation works. They should preferably be local and settled rather than an external temporary staff member. Individuals from development, conservation and agricultural NGOs make ideal candidates. They usually have extensive networks ranging from government through the private sector to rural communities. They are well placed to lever funds, and they can generally operate more freely than individuals located in government and the private sector.
Mass circulation publications: The mining, civil construction, rural development, conservation and agricultural sectors all have widely circulated technical and non-technical publications and they are generally looking for pertinent articles. Articles specifically designed for these sectors can have a considerable positive impact on Vetiver technology use.
NGOs: In less developed countries, especially those where government delivery is limited, the responsibility often rests with a variety of non-government organisations. In South Africa, up until recently, small-scale farmers and rural residents generally knew more about Vetiver than the other sectors. This was because NGOs such as Eco-Link, The Valley Trust and the Institute operating in the rural development, conservation and agricultural sectors had actively championed it. These organisations are usually very effective in accessing communities and introducing new technologies as part of their operational activities.
Information dissemination
With the advent of electronic networking and the move to web-based publications access to and dissemination of information on Vetiver has become far more efficient. Information is at one's fingertips, world experts are an e-mail message away and, in the case of our most accommodating Vetiver experts, responses are often immediate. However, in developing countries the vast majority of people who could or do obtain benefits from benefits from network membership do not have access to telephonic communication, let alone the Internet. The challenge in the new millennium is the effective dissemination of information on Vetiver in an accessible format to these members. Conventional postage of newsletters and other information such as simple guidelines and fact sheets must remain at the core of network activities.
Research
There exists a superb foundation of research for Vetiver technology. Much of that research is readily accessible. In developing countries the challenge is not to conduct technical research but rather to use existing technical research to inform and strengthen our methods of application and to increase geographical areas for application. With this in mind two technical research efforts that might have merit are the following:
To determine if any existing cultivars perform better than others in the cooler high altitude environments. Alternately, although I am personally opposed to genetic engineering, there would be considerable merit in creating a genetically modified variety that performs in more temperate climates. I must admit that the vision of Vetiver hedgerows criss-crossing the hills and dales of Ireland or Wales appears a little perverse. However there are numerous sites in cooler high altitude locations of developing countries where rehabilitation would benefit considerably from Vetiver applications.
To determine more precisely the impact Vetiver has when used in landfill site rehabilitation. We have seen how the flow of leachate from these sites is curtailed when Vetiver is planted but what is happening to the toxic substances? Are they being retained on-site or is Vetiver effectively breaking them down and converting them into something more benign.
For me the major research challenge for developing countries is in the realm of business and entrepreneurial development. Unemployment and a low skills base plague Southern Africa. It is also plagued by severe land degradation largely as a consequence of rural poverty. We need to research business development that provides entrepreneurial opportunities and income for the rural poor and at the same time contributes to improved caring for the natural resource base. Vetiver is an ideal agent that can contribute to this - technologies are simple, markets exist, and the natural resource benefits have been unequivocally demonstrated. We need to analyse the entire production system from propagation through to sales and marketing, identify and find solutions to various constraints and pitfalls, and demonstrate success through pilot projects. The Institute will be engaging this as an initiative over the next two years.
Conclusion
Despite all the challenges we face, network coordinators can take heart from the fact that we are promoting and supporting an invaluable technology with future uses that we have yet to dream about. I predict that, as the ethic of natural resource custodianship evolves so will the demand for our services increase and, with this demand, so will the resources necessary to sustain our networks role in. I don't think I am out of a job just yet!