There are a lot of people in China and, wherever there are people, environmental problems tend to crop up. The people of China realise this and are taking significant measures to address such problems. As a developing country there are major infrastructure developments taking place and, unless carefully managed, such developments can have a significant negative impact on the environment. Our hosts showed us a number of sites around Guangzhou where vetiver has been used to mitigate negative impacts on the environment. These include
Jim Smyle and Dale Rachmeler inspecting slope stabilisation with vetiver on the Guang Zhu Highway in Zhongshan, China.
The field tour was a particularly interesting trip, where we were made to feel like honoured guests – every possible effort was made to make our journey as interesting and pleasurable as possible. A big thanks to the organising committee for their efforts in making the conference a success.
Nine African countries were represented at the conference. These were:
Kenya Dr. James Owino
Senegal Criss Juliard
Vencaslas Goudiaby
Kizzitoh Nkemonto
Ngwainmbi Simonchia Cameroon Zachee Ngoko
Nigeria Olaolu Babaloa Prince Osakpamwan Osifo
Madagascar Karen Freudenberger Jean Randriamananatsoa Fenomanana Rahelisoa Etiene Razafindraboto
Tanzania Antony Makoye DRC Ir. Alain Ndona Nzey Uganda James Olweny South Africa Johnnie Van den Berg
Jon McCosh
This was a good turnout in respect of African Countries and shows a growing interest in the use and application of vetiver on our continent (which includes, by the way, Madagascar).
Let's hope African representation is even better at the next conference.
THIRD INTERNATIONAL VETIVER CONFERENCE AND EXHIBITION (IVC3): VETIVER AND WATER POST CONFERENCE REVIEW
October 6-9, 2003. Guangzhou, P.R. China
Dick Grimshaw
The conference, attended by about 300 persons from many countries, was honoured by the attendance of TVN's Patron, Her Royal Highness Princess Maha Chakri Sirindhorn of Thailand. Apart from the excellent arrangements made by the Provincial Government of Guangdong, this conference excelled in the quality of topics and papers that were presented. We draw attention to just a few that are likely to have significance to natural resources management in the future.
Paul Truong's overview "Clean Water Shortage, An Imminent Global Crisis - How Vetiver Can Reduce Its Impact" provides an excellent picture of Vetiver and Water, and set the background for the conference.
Firstly there were some excellent presentations showing how Vetiver Systems could be used in improving water quality mainly through its use in constructed wetlands. Perhaps the most important was the calibration of vetiver grass to allow it to be used with a good degree of accuracy in the "engineering" design calculations of wetland planning. The paper "Modelling Monto Vetiver Growth and Nutrient Uptake for Effluent Irrigation Schemes" is a good example. Other related papers include: "The Use of Vetiver Grass Wetlands for Sewerage Treatment in Australia", and "Response of Vetiver Grass to Extreme Nitrogen and Phosphorus Supply". Another water associated paper "Hydraulic Characteristics of Vetiver Hedges in Deep Flows" will be useful for engineers who are using vetiver to stabilize banks where vetiver is subjected to water currents.
Secondly there were some very good papers relating to land stabilization and rehabilitation. A truly inspiring paper,
"Vetiver Victorious: The Systematic Use of Vetiver to Save Madagascar's FCE Railway"
described how a cyclone prone railroad in Madagascar was stabilized with vetiver and how the related community issues and involvement that were interestingly solved. Other papers included: "Progress of the Use of Vetiver Grass System for Erosion Control and Slope Stabilization along the Yadana Gas Pipeline Right of Way", "Application of the Vetiver System in the Reclamation of Degraded Land" and "Revegetation of Quarry Using a Complex Vetiver Eco-engineering Technique".
Thirdly, there were two papers that deserve very special attention that relate to vetiver's role as a pest trap and its role in the acquisition of nutrients via "Glomalian Fungi". The paper "Can Vetiver Grass be Used to Manage Insect Pests on Crops?"
may be one of the most important pieces of research yet done on vetiver. (This was presented by Dr. Johnnie van den Berg – readers of this newsletter will be familiar with
his work – ed) It describes how Chilo partellus, a lepidopterous stem borer of grasses, a pest that is often mentioned in vetiver literature and is a serious pest of maize, rice, grain, and sugar cane crops. It occurs in Asia and throughout Eastern and Southern Africa where it can cause total crop failure. Research in South Africa shows that crops, when grown in association with vetiver hedgerows, have a very significant reduction in stem borer infestation because vetiver acts as a trap crop (without harm to itself). These results need confirmation in other countries, and then the message should go out to farmers
-this surely should induce farmers to plant vetiver hedgerows. The other paper "Vetiver grass as an Ideal Phytosymbiont for Glomalian Fungi for Ecological Restoration of Heavy Metal Contaminated Derelict Land" shows how vetiver, in association with glomalian fungi, can use nutrients that are generally unavailable to plants - thus explaining why vetiver appears to grow well even under extreme nutrient deficient soils, and points to the real value of vetiver in nutrient recycling.
Fourthly there are a number of papers relating to using the private sector to commercialise Vetiver Systems. The Chinese have been particularly successful at this. So too, as described in "Vetiver System and Private Sector" has Criss Juliard in Senegal. Last but not least, the Ekoturin Foundation of Indonesia has demonstrated so well in the paper "Vetiver Grass: A Key to Sustainable Development on Bali". I presented a world overview "Vetiver Grass – A World Technology and its Impact on Water" which may interest some readers.
All the papers have now been published and can be found under "What's New" and "ICV3 Proceedings" (on the TVN website www.vetiver.org -ed) The conference proceedings as well as the Power Point Presentations that were made at the conference will shortly be available on a CD ROM. To order the CD please email Dale Rachmeler ([email protected])
In summary there was a lot of very good country that suffered more than 280 information generated at the conference. landslides. The line was closed for three Much of it should be taken to the field to be months, causing severe hardship to the more tested and used. than 100 000 people living along its route.
Dick Grimshaw. January 3, 2004
ICV IV…..South Africa???
The Fourth International Conference on Vetiver is scheduled for 2006. Four potential venues have been selected.
The Philippines
Venezuela
China
South Africa To host a conference of this magnitude is no mean feat. A lot of effort and funding is required to make it a success. The important thing, however, is that it will raise awareness and showcase the use of vetiver and provide exposure to all countries in Africa, and this is what is important. We will be looking for Government and private sector support for this initiative, as we would like to sponsor as many delegates from Africa as possible.
Watch this space for details!
(Included below are three abstracts of papers that were presented at the conference. I feel these give a good idea of the variety of vetiver work that is being done as well as the progress that is being made with vetiver research and application. Full papers available a www.vetiver.org - Ed)
Vetiver Victorious: The Systematic use of Vetiver to Save Madagascar's FCE Railway
Diti Hangchaovanich and Karen Schoonmaker Freudenberger
Abstract: In 2000, two cyclones hit the island nation of Madagascar in a two week period. The devastation to infrastructures was enormous. Among the worst hit was the FCE train line in the southeastern part of the
Example of damage on the FCE Railway in Madagascar
Two Thai vetiver specialists went to Madagascar soon after the cyclones to investigate the possible uses of vetiver in restoring the rail line and protecting it from future erosion damage. In the three years since, the Land Development Intervention (LDI) and FCER projects, in collaboration with the FCE railway, have worked to systematically disseminate vetiver along the line in a technical intervention that has enlisted more than 600 farmers in slope stabilisation activities along the train line. Using an innovative "vetiver-for-vetiver loan/reimbursement" scheme and a "modular cropping" system that have facilitated dissemination and implementation with farmers over a three year period, more than
2.6 million slips have been planted along the 163 km long train line. This has significantly reduced erosion damage and strengthened slopes and infrastructure along the line.
The vetiver intervention also provides farmers with a sustainable agriculture alternative to traditional slash-and-burn practises, enhances soil fertility and improves farmers' income. The success achieved has prompted an adoption or these vetiver intervention techniques by another railway line in the northern part of Madagascar.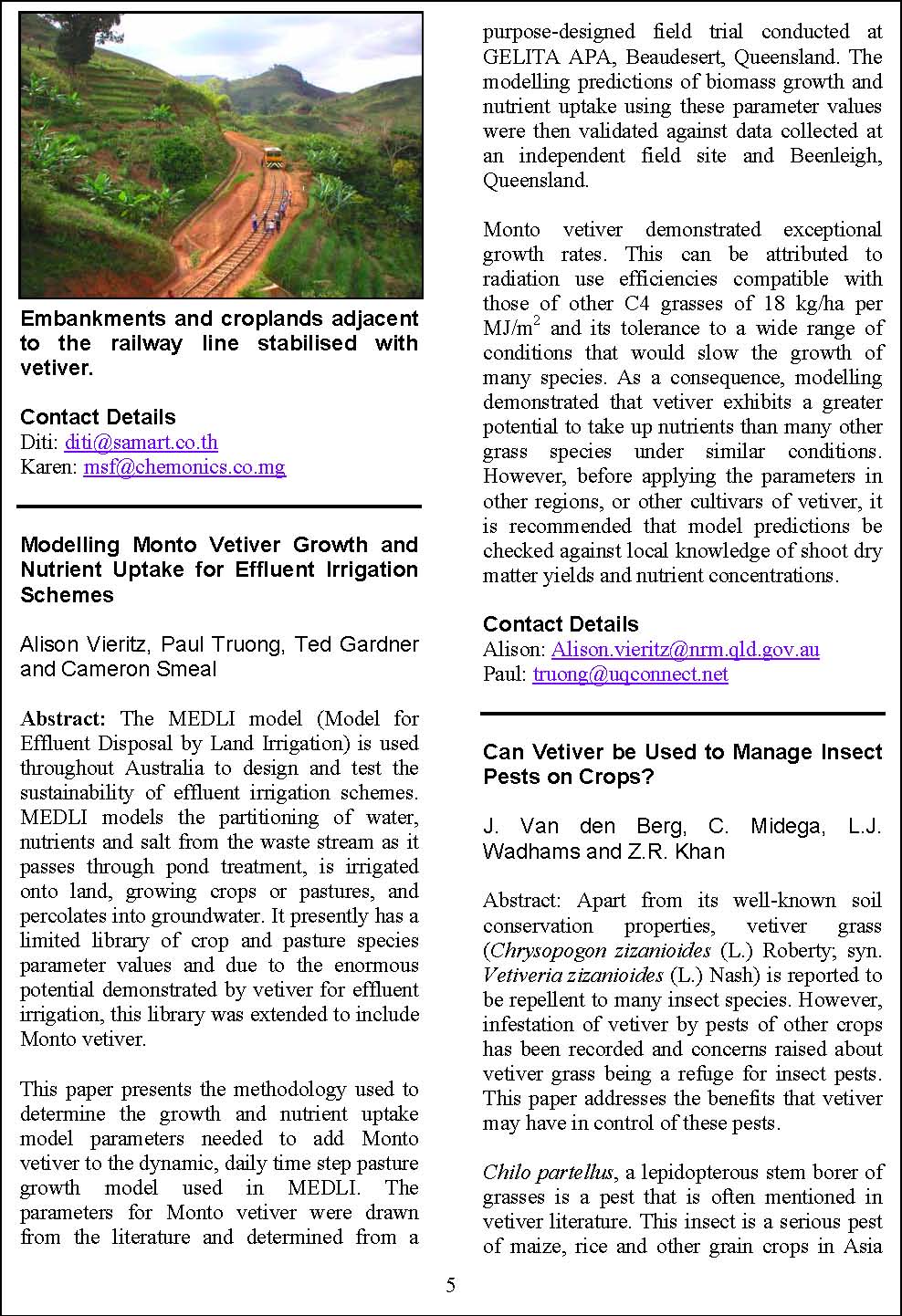 Embankments and croplands adjacent to the railway line stabilised with vetiver.
Modelling Monto Vetiver Growth and Nutrient Uptake for Effluent Irrigation Schemes
Alison Vieritz, Paul Truong, Ted Gardner and Cameron Smeal
Abstract: The MEDLI model (Model for Effluent Disposal by Land Irrigation) is used throughout Australia to design and test the sustainability of effluent irrigation schemes. MEDLI models the partitioning of water, nutrients and salt from the waste stream as it passes through pond treatment, is irrigated onto land, growing crops or pastures, and percolates into groundwater. It presently has a limited library of crop and pasture species parameter values and due to the enormous potential demonstrated by vetiver for effluent irrigation, this library was extended to include Monto vetiver.
This paper presents the methodology used to determine the growth and nutrient uptake model parameters needed to add Monto vetiver to the dynamic, daily time step pasture growth model used in MEDLI. The parameters for Monto vetiver were drawn from the literature and determined from a purpose-designed field trial conducted at GELITA APA, Beaudesert, Queensland. The modelling predictions of biomass growth and nutrient uptake using these parameter values were then validated against data collected at an independent field site and Beenleigh, Queensland.
Monto vetiver demonstrated exceptional growth rates. This can be attributed to radiation use efficiencies compatible with those of other C4 grasses of 18 kg/ha per MJ/m2 and its tolerance to a wide range of conditions that would slow the growth of many species. As a consequence, modelling demonstrated that vetiver exhibits a greater potential to take up nutrients than many other grass species under similar conditions. However, before applying the parameters in other regions, or other cultivars of vetiver, it is recommended that model predictions be checked against local knowledge of shoot dry matter yields and nutrient concentrations.
Can Vetiver be Used to Manage Insect Pests on Crops?
J. Van den Berg, C. Midega, L.J. Wadhams and Z.R. Khan
Abstract: Apart from its well-known soil conservation properties, vetiver grass (Chrysopogon zizanioides (L.) Roberty; syn. Vetiveria zizanioides (L.) Nash) is reported to be repellent to many insect species. However, infestation of vetiver by pests of other crops has been recorded and concerns raised about vetiver grass being a refuge for insect pests. This paper addresses the benefits that vetiver may have in control of these pests.
Chilo partellus, a lepidopterous stem borer of grasses is a pest that is often mentioned in vetiver literature. This insect is a serious pest of maize, rice and other grain crops in Asia and throughout eastern and southern Africa where it can cause total crop failure. These observations prompted research on insect/ vetiver grass interactions to determine the response of stemborer moths and larvae when they encounter Vetiveria zizanioides plants. The response of moths to vetiver grass, which could be either positive (attraction or arrestment) or negative (repulsion), would determine if vetiver grass could be used as a trap crop for C. partellus in an integrated pest management system. Wild grasses such as Napier Grass (Pennisetum purpuretum) is successfully used in habitat management systems in East and Southern Africa.
Studies were therefore conducted to determine preference of female moths for vetiver grass compared to maize and to determine the suitability of vetiver, Napier Grass and maize for survival of stem borer larvae.
Two choice preference bioassays and larval survival experiments were conducted. Results indicated that vetiver grass was highly preferred for oviposition but that larval survival on vetiver grass was extremely low. Thus, vetiver has potential as a trap crop component of an overall push-pull strategy to concentrate C. partellus oviposition away from the maize crop and reduce subsequent population development. This technology may also have application in rice pest management
Vetiver in Swaziland
Rob Mackenzie
SFDF has continued to pioneer the use of vetiver with experimental plantings in the filtration of grey water at communal laundry sites and the development of handicrafts. Mrs Shongwe at kaNdinda and a group at Qomintaba have produced hats and other designs, like mats, are being developed using vetiver leaves.
We have been unable to secure vetiver specific funding, but vetiver has been integrated into other activities and demonstration sites and nurseries established in 2000/1 have been monitored. Elsewhere in Swaziland, Vetiver has been included in the agriculture syllabus of Manzini Industrial Training Centre. ACAT includes vetiver in its community permaculture training. Rosecraft, a local award-winning producer of mohair products, is producing lampshades, placemats and blinds incorporating vetiver roots.
Vetiver demonstration sites established by communities with SFDF assistance in 2000/1: Community demonstration sites were established at Lubhuku, Dvokodvweni, Mkhaya, Mgampondo, Sithobela, Vuka Sidvwashini, Mgulube and Mkhuhlwini, all lowveld sites with average annual rainfall of 450-550mm in 80% of years. General Lesson Learnt: While vetiver can survive under harsh conditions, the establishment of an effective hedge commonly requires considerable time and attention. The replanting of gaps will commonly need to be done twice and a closely monitored 18-week establishment period should be planned for. Once a hedge is established with the production of culms, then it is able to withstand quite severe shocks, whether trampling, overgrazing or waterlogging. Termites attack: Particularly where there is very little other vegetation, attack by termites can be serious, even green leaves have been attacked. Shale: It is also difficult to establish a hedge on shale, the vetiver tends to be stunted and some of the leaves dry up. Even when planting in summer season it is advisable to irrigate.
Establishing hedges in flow-lines with periodic flow: Establishing hedges in flowlines is problematic and the use of rooted tillers, and especially strips, is recommended to hasten establishment. Protection is vital to prevent washout. Stones can be used if the flow is low, with the vetiver planted above the stone check. Hessian bags filled with sand were successfully used with higher flows. Rooted vetiver was planted between two rows of sacks. Care must be taken to extend the hedges well up the banks otherwise the flow will quickly go round the hedge as the central flow-line fills with sediment. Higher up the banks there is less moisture and there is a greater need for watering during establishment.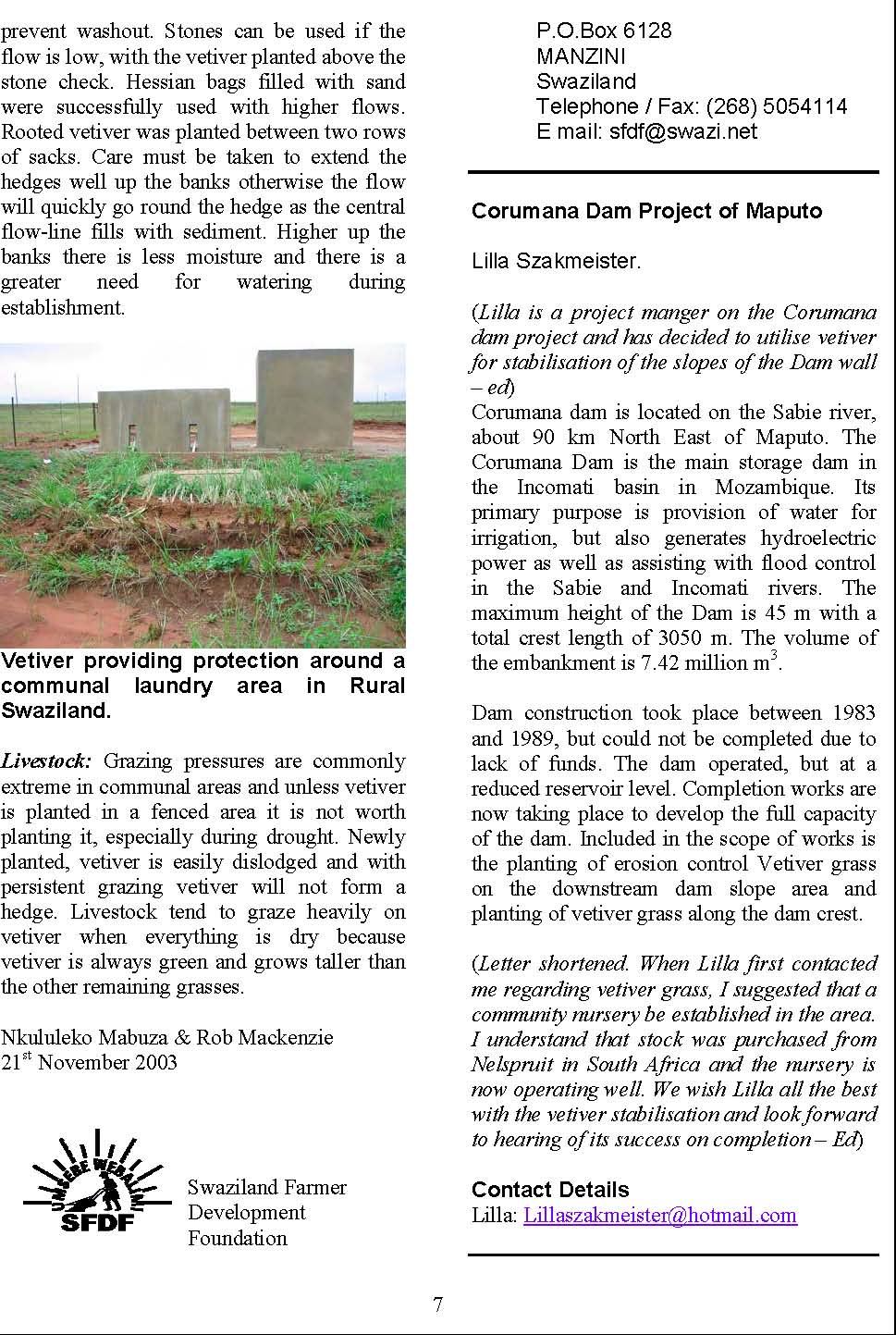 Vetiver providing protection around a communal laundry area in Rural Swaziland.
Livestock: Grazing pressures are commonly extreme in communal areas and unless vetiver is planted in a fenced area it is not worth planting it, especially during drought. Newly planted, vetiver is easily dislodged and with persistent grazing vetiver will not form a hedge. Livestock tend to graze heavily on vetiver when everything is dry because vetiver is always green and grows taller than the other remaining grasses.
Nkululeko Mabuza & Rob Mackenzie 21st November 2003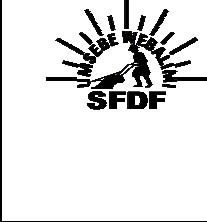 Swaziland Farmer Development Foundation
P.O.Box 6128 MANZINI Swaziland Telephone / Fax: (268) 5054114 E mail: [email protected]
Corumana Dam Project of Maputo
Lilla Szakmeister.
(Lilla is a project manger on the Corumana dam project and has decided to utilise vetiver for stabilisation of the slopes of the Dam wall
– ed) Corumana dam is located on the Sabie river, about 90 km North East of Maputo. The Corumana Dam is the main storage dam in the Incomati basin in Mozambique. Its primary purpose is provision of water for irrigation, but also generates hydroelectric power as well as assisting with flood control in the Sabie and Incomati rivers. The maximum height of the Dam is 45 m with a total crest length of 3050 m. The volume of the embankment is 7.42 million m3.
Dam construction took place between 1983 and 1989, but could not be completed due to lack of funds. The dam operated, but at a reduced reservoir level. Completion works are now taking place to develop the full capacity of the dam. Included in the scope of works is the planting of erosion control Vetiver grass on the downstream dam slope area and planting of vetiver grass along the dam crest.
(Letter shortened. When Lilla first contacted me regarding vetiver grass, I suggested that a community nursery be established in the area. I understand that stock was purchased from Nelspruit in South Africa and the nursery is now operating well. We wish Lilla all the best with the vetiver stabilisation and look forward to hearing of its success on completion – Ed)
Contact Details
Lilla: [email protected]