El Salvador. Lakeshore Soil Conservation Initiative Using Vetiver Grass
by Walt Dennig
Walt Dennig is a home decorator from California. He has a mission to help stop soil erosion. He admits he is not a professional conservationist but he has done much in his own way, time and money to try and do something useful and practical. Walt has been interested in Vetiver Systems for some time, and having met Aldo Miranda of NOBs (El Salvador at the IVC2 in Thailand he arranged to go to El Salvador to work with Vetiver there. We salute him for his efforts. Here follows a dialog between him and your editor concerning certain aspects and issues, followed by some interesting photographs.
Q. Walt, how did you get involved with Vetiver grass and soil conservation in El Salvador?
My primary interest is in soil conservation for agriculture. However, anti-erosion measures, in general, are of interest to me.
In May of this year, I visited El Salvador, at the invitation of Aldo Miranda Sol of NOBS (They raise and sell Vetiver). His General Manager for soil conservation, Ronaldo Chavez, arranged daily field trips for me during my 8-day visit. The situation that seemed most attractive to me was the effort of the 创Fundacion de Amigos del Lago Ilopango创 (now 创Asociacion de Amigos del Lago Ilopango创). Therefore, the director of the Fundacion, Jeanette Monterrosa, and I began to develop a loose-knit agreement whereby I purchase and help to install (with my own two hands) vetiver in small projects. Her organization includes a number of agronomists and agronomists in training.
During my first trip, I actually worked alone in the field. That was a little boring! The trip just completed was with one of her teams (three agronomists). This trip was quite successful. I think it磗 the paradigm that I want to continue. They locate a situation that is the right size for my visit (two weeks) and then work with me on the project. In this way, the cultural interface is eased and a satisfactory amount of work is accomplished.
So this is the end of my second planting visit. I will return for the last two weeks of September for another project. And already we have agreed on my basic plan for next year, which will consist of three visits of three weeks each. The actual projects are not yet determined.
My relationship with the Amigos is more of a partnership. All that I do is documented for their management purposes and accounting to the various funding organizations.
Ronaldo Chavez recently received notification of the 创International Training Course on Vetiver Systems创 in November 2000. He passed the information on to me, suggesting that we both attend. I would like that. He will probably apply for a fellowship or partial fellowship.
I, of course, don磘 need one. However, when reading over the prospectus, I find that I don磘 qualify as a trainee, on several counts: (1) I have no official title or position other than donating time and money to soil conservation. (2) My bachelor磗 degree is in Russian Language with a minor in Biology (I have no higher education) and I have only four weeks experience with Vetiver. (3) I磎 57 years old (it磗 not clear what their concern is here (age-ism?)). If it磗 only physical condition, that shouldn磘 be a problem since I work as a residential remodeler 8 hours a day, seven days a week.
Q. I am particularly interested in farmer involvement, farmer response and whether other farmers will take up the technology by themselves.
That's the rub. And my greatest concern. I also asked Narong Chamlow (Pacific Rim Vetiver Network Coordinator), last month, about the situation in Thailand. The program is mostly "top down"(i.e. typical government approach -- here is the system use it -- little involvement in conceptualization with communities - Ed.). Also, I've asked Jeannette Monterrosa. Same response. Don't know how to get the farmers to be self starting with erosion control. One of the good things about the Training 2000 was an increased emphasis on utilization of the foliage. Ronaldo Chavez (of NOBS) wants to start an education effort in El Salvador in that direction. Hopefully, I'll be able to help him with that. The idea is to send a contingent of Salvadoran artisans to Thailand for a week or two of training with the the artisans. Then that core group of trained artisans could return to El Salvador and travel the country, where Vetiver is being used, and train local artisans and farmers wives in the production of handicrafts. Thailand is experiencing difficulty in the marketing of the products. My sense of that problem is that they're approaching it on too grand of a scale. In the little town where I stay on the lake (San Agustin) many of the women get on the bus or truck, for the 20-minute ride up to the larger town, with a tub or sack of some vegetable or some needlework or a couple handfuls of chickens for sale at the daily farmers market. This is common all over El Salvador. I think Vetiver handicrafts will do well in this type of market. I think the local people will know what will sell well. So, the whole point, as you well know, is to make it immediately more profitable for the farmer to plant the grass.
I see that you planted some under trees, has it been shaded out, is there enough sun light?
I'll have a better sense of the shading problem this year when I return. I plan to revisit all the sites that were planted this year. The agronomists that I was working with seemed to think that it would do well, as long as the plants got a good start. The soil is quite friable. We're not using any fertilizer, compost, mulch, potting soil or water. Just planting the clumps in the rainy season and hoping for the best. A major difference from what they're doing in Thailand, and I think in the Philippines, is that in Thailand they're planting individual tillers or, at the most, three tillers, with a space of about 5cm. In El Salvador, in the agricultural area, on the steep slopes, the interval is a little more; about a fist. But the major difference is that we're not planting individual tillers. Clumps. Clumps of about, say, 8-15 tillers. NOBS raises the Vetiver in huge nurseries and when there is a call for material, they dig it up and cut up the clump which may be 30 cm in diameter. So they just use the machete to trim off most of the root mass and cut the foliage to about 30cm. The resultant clump is about 7-10 cm in diameter. Then, they pile them up in a pickup truck and deliver them. In most cases, I've had the material the next day and delivered to the farmer's house. In some cases, since we're near the lake, it is necessary to load the material into sacks and then onto the launch that the Fundacion has and transport it around a point or across the lake to a beach near the farmland. Ronaldo tells me that the success rate is very high with this method. I can't remember the percentage. But I do remember that it's greater than the 60% that I heard mentioned in Thailand. Of course, El Salvador is quite small compared to Thailand. And NOBS has three strategically located nurseries, so delivery is quite easy.
Q. Where did you get your plant material from? NOBS?
Yes, and the quality is very good. Working with the agronomists (three of them)(and farmers for only two days so far) we're are able to plant about $500 US in two weeks ($0.06/clump), or roughly one kilometer of hedge.
Q. Since you obviously know what you are doing I will add your name and email address to our consultant list.
Thank you. You know, I have no professional training in soil erosion or agronomy. Although, I think I'll go to the IECA conference in Las Vegas, since it's so close. They do have a certification process that I'm considering. Perhaps that would be useful. I don't know how long a maverick can be taken seriously.
Q. Do you speak Spanish?
Precious little, but it's coming along. Living at the lake is like total immersion. Thanks for the moral support. Sometimes I feel like a fish out of water. But the effort seems worthwhile and appreciated.
Bye the way, we were treated very well in Thailand. It was certainly not the show that was put on at ICV-2, but we had much more access to the folks from the ORDPB and Narong and Samron. So, in that sense, it was more folksy/homey. I do have a long list of recommendations that I promised to send to Narong, as the ORDPB plans to continue the workshop model.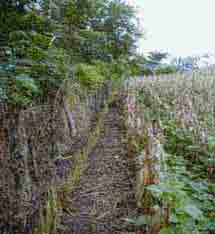 Vetiver planted along the farm boundary. Note the beans maize cropping system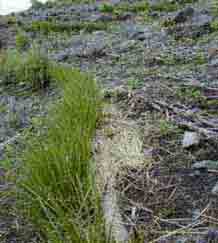 Apart from stopping erosion vetiver does a great job holding
back crop residues and other debris.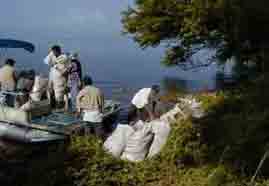 As you will see in later photos vetiver is often planted in inaccessible locations.
Here vetiver is moved in sacks by boat to the planting location elsewhere on this lake.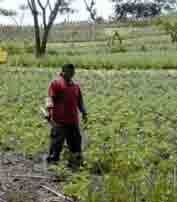 Don Alcides with four vetiver hedgerows.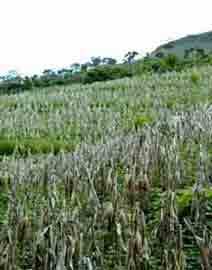 Four hedgerows amongst the corn and beans crop.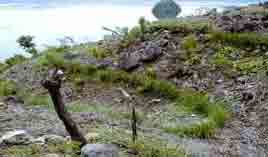 A very nicely planted hedge for gully control, note how the hedge extends into the
field and is part of the total protection system.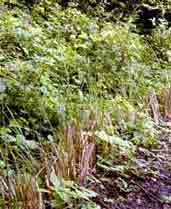 One month after planting.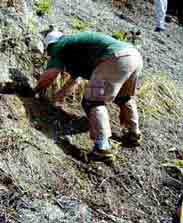 Walt on the job, a very steep slope.
You can't ware crampons for ever!!
Actually, they don't work very well. And they hurt my feet.
But I thought it was a great idea, given the gradient.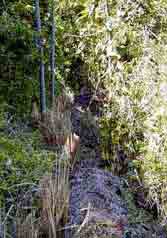 Newly planted vetiver under partial shade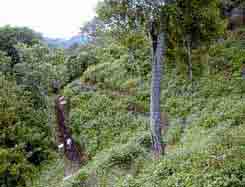 New rows of vetiver planted on this lake side cultivated area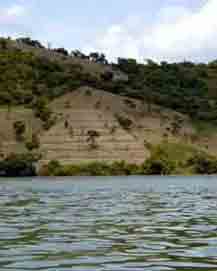 Vetiver hedgerows on steep land. An older hedge is growing well in the center of the
photo, a new hedge is being planted along the bottom boundary of the cropped land.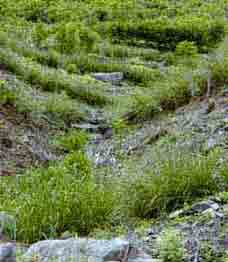 Vetiver planted to rehabilitate this ravine.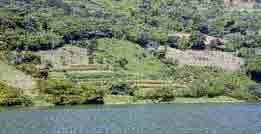 The hedges shown in this picture are three years old. They are well grown and are doing their job in stabilizing
the slope, helping to maintain fertility, and are stopping sediments from polluting the lake.