Vetiver Development in China in 2000
Prof. Liyu Xu, China Vetiver Network (CVN), P.O.Box 821, 71# Beijing Donglu, Nanjing 210008, China, P.R.
Fax: 0086-25-3353590, Tel. 0086-25-3367364 (Office), 3358720 (Res.). Email: [email protected] Homepage: https://www.vetiver.org
I have just finished a field trip in Fujian Province, from Pingtan Island in the south to Wuyi in the north and got a lot of fantastic stories. The trip covered several counties/cities, as Pingtan, Fuzhou, Shanming, Nanping, Fuqin, Youxi, Qingliu, etc.
1. Vetiver and a County Town
Without looking with your own eyes you might not imagine what a relationship between vetiver and a town. However, when you see in situ you would not be surprised. Qingliu County is located in the west part of Fujian province, and it is a mountainous county with its county town along a river. Opposite the river there is a mountain. Tens of thousand people live in the town. A highway was constructed between the mountain and the river .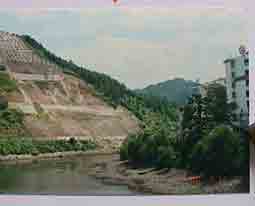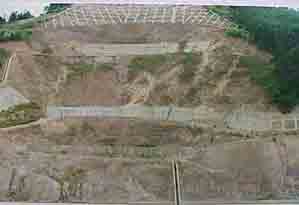 Photo T1 Highway constructed along left hand bank of river (at foot of cut). This huge cut slid and caused major problems. Photo T 2 partially repaired cut
In 1997, there was a warning that almost half the mountain was to slide over the highway and the river and possibly hit against the town. So, thousands of people immigrated to safer places. In the event almost half the mountain slid onto the highway and the river. Fortunately no one was hurt and no buildings were destroyed. After hundreds of thousands cubic meters of earth and rocks were removed a hot discussion tok place as to how to protect the huge cuts that were about 20,000 m2. Traditionally, the cuts would be protected by concrete to stabilize the slope and prevent further slide, not only costing a lot but also causing an environmental problem. The county town people did not want to see a huge concrete wall, which would look like tomb people said, once they open their doors. According to the suggestion from Provincial Highway Bureau, they finally decided to use vetiver to protect the cuts in addition to limited concrete walls at the most critical section.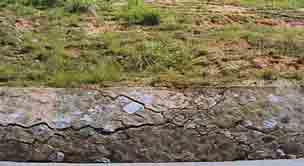 Photo T3 cracking walls due to soil pressure and unstable hill side.
Vetiver grass was planted in March and April 1999.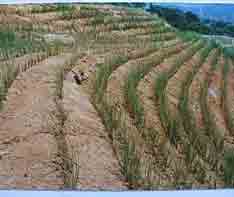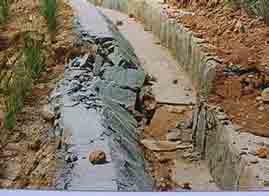 Photo T4 Double rows of vetiver ........................................... .....................................Photo T5 Collapsing concrete drains
There were two contourly planted rows as a group, spacing 20 cm within a row and 25 cm between two rows, and 75 cm between 2 groups. Investigation showed that the survival rate reached 95%. The roots developed very well and it was impossible for an ordinary person to pull it out a single clump just one month after planting. A dense living fence formed after 3 - 4 months.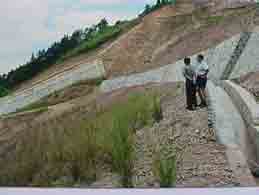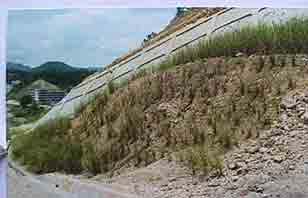 Photo T6 View ofs.............Photo T7 Not all vetiver grew well.
As the huge cut was pure semi-weathered parent materials containing very little soil, the grass did not grow as good as in other locations. However, it did provide a good protection function. The whole cost for vetiver planting was only 45,000 Yuan RMB (about US$5487), plus the costs of planting materials (0.1Yuan/per tiller). The cost was only 50% of that using other kind of grasses. The only technics they did was to dip the roots with clay paste before planting, and covering the roots with 6-8 cm think extra soil above the origina soil surface, and watering.
2. Vetiver for Highway Protection in Northern Fujian Province
Some persons may have visited the demonstrations on vetiver for highway protection during International Workshop on Vetiver in 1997 and Vetiver Bio-Engineering Technology for Erosion and Sediment Control and Civil Construction Stabilisation in 1999. After that great progress was made by both NGO and highway institutions. At the most critical section of national highway No.205, vetiver was planted on the fills on 1-5 April 2000 during rainy season spacing 20 - 25 cm within rows and 1.5 m between rows. An NGO called North Fujian Agricultural High-Technology Institution contracted the project with the Highway Bureau and guaranteed that the slope with 3,000 m2 should be protected and covered with vegetation within 6 months. However the slope was already completely cover by the grass just in 100 days when we visited there. The grass not only stabilized the highway embankment but also protected the state-owned farns just down the slope. To provide vegetation cover other grass was inter-planted.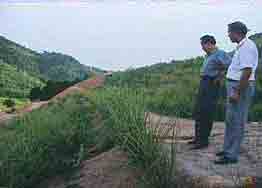 Photo H4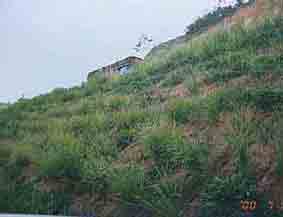 Photo H5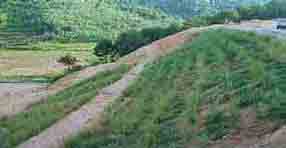 Photo H6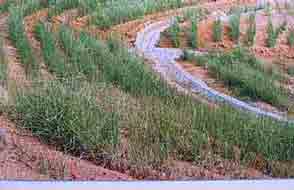 Photo H7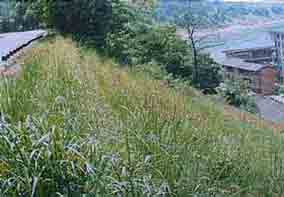 Photo H8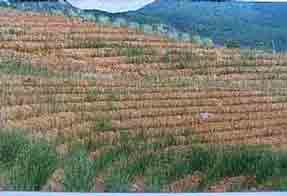 Photo H9
Photos H4 to H9 represenat a series of Highway/vetiver images showing good quality techniques and applications of vetiver grass for highway stabilization
In Meixian Township of Youxi County, a newly constructed highway, the LongKou Highway, was protected by vetiver by the County Communication Bureau in October 1999. The whole slope has a area of over 8000 m2. When we visited there in July 2000, the grass was around 140 cm high and with 10-15 tiller/per clump. The highway was stabilized and the rice field down the road was also protected. The highway bureaus have high enthusiasm in using vetiver because ,it was a cheap and easy way. Before the application of vetiver grass, there was a lot of conflicts between highway bureaus and farmers. Farmers often went to highway bureaus asking for payment when their rice field was buried by the eroded sediments from the highway embankments.
On national highway No. 316, vetiver grass was planted on the mile stone of 109K+3 to protect the fills, in addition to various demonstration established in the former few years. The grass was planted on 15-17 April 2000. Now, the grass was over 100 cm high and 30-40 tillers per clump. The slope was generally stabilized.
In addition, the grass was planted on the river bank in Jianyang County. It was planted in February 2000. Now, it has reached 70 - 80 cm high, except that some of the grass was washed away by the flooding. It will be replanted in September.
3. Vetiver in Pingtan Islands
Some people may see and remember that a lot of vetiver grass was planted in Pingtan directed by Madam Zhang. Now the major change is that farmers themselves are dedicated to planting the grass themselves. They continue to plant the grass to protect the fish ponds, but also to prevent sediments flowing into the ponds, because the sediments may cause great problem to baby fish.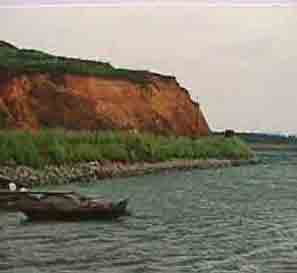 Photo P1. Salt water fish farm on Pintang Island protected by vetiver grass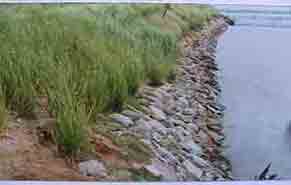 Photo P2. Pintang Island salt water fish pond protected by vetiver grass
Another key application is that farmers start to plant the grass along the ridges of their plots to protect vegetables and crops from the damage of strong wind.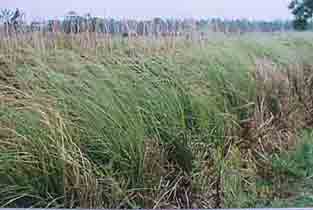 Photo P3. Pintang Island vegetables protected by vetiver against wind damage. Note the dense vetiver hedgerows give very good protection to neighboring crops, better than tree wind break protection, the latter does not have the density near the ground, and also traditional windbreaks often include three or four rows of different species thus taking up large areas of potential crop land.
Photo 4. Pintang Island. Sweet potato field protected by vetiver grass hedgerow
In the island the strong wind sas proven to be the main factor influencing crop production. Many years ago the wind breaks using Casuarina equisetifolia were built with an average spacing rows of 120 m. However, it is still not enough to protect against the strong wind. Recently, farmers were fond of planting vetiver grass which was three meters high in one year after planting and occupied very limited farm land. Additionally, some farmers joined together voluntarily and organized private
groups to contract projects with engineering institutions. They also contract and encourage other farmers to plant vetiver and provide planting materials.
Photo P5. A very large vetiver grass nursery on Pintang Island
To disseminate vetiver grass technology and to help farmers to grasp the technology, the Pingtan Charity Association decided to invite China Vetiver Network to co-organize training courses. The first course will be held in September, 2000.
4. Difference between cuts and fills
Vetiver grass can be planted on both cuts and fills of the embankments. However, if we compare the results we found that there is great difference. General speaking, vetiver grew very well on fills. The only problem was that we should replant the grass when it was washed away during the heavy rain and should repair the new eroded gullies during the first few months after planting. But for the cuts, huge cuts in particular, the thing was quite different. The soil, slope gradient and aspects varied dramatically. In some sections soil was think and slope was gentle, and vetiver grew well. In other places, soil was thin with steep slopes and large amount of rock fragments. The soil contained extremely little moisture. Therefore, vetiver growth was limited. Therefore for a huge cut, different management should be applied for a specific section, i.e. more water and fertilizer should added for some places especially during the first few months after planting, so that the grass can be grown healthy and evenly. In some places, small terraces should established to retain more moisture, and container seedling may be used. It also indicated there is still some issues to be studied when vetiver grass technology is applied in large scale.
Additinally, the situation was different with different climate. In Fujian or other provinces in southern China the climate is sub-tropical. The heat and rainfall are much less than the tropical countries. Hence, the soil horizon is relatively thin . In Philippine however, the parent rock was deeply weathered with very deep soil or weathered parent materials. Vetiver grass grew well even on large cuts.
5. Great demand for planting materials.
In deed, there were many other great developments in highway sectors through out the country in 2000, in addition to institutions mentioned above. The spring of 2000 was a very busy time for vetiver workers. The highway institutions in Fujian, Zhejiang, Jiangxi, Yuannan, and many other provinces were very busy with planting vetiver. For example, in Jiangxi Province, vetiver was planted for the highway embankment protection around the Poyang Lake for over 10000 m2 in Duchang County, and similar demonstrations in Xingguo and Xingyu Counties. In Lishui Prefecture of Zhejiang Province vetiver was planted in 1999 and 2000 for highway stabilization in the mountains. In addition to highways, vetiver was also used for dam stabilization and quarry re-vegetation in Guangdong Province, for copper mine tail and golden mines in Jiangxi and Fujian Provinces respectively. As a result, there appeared an unprecedented shortage in planting materials in the spring of 2000. All of the planting materials in Fujian and Jiangxi, the two largest production provinces, were sold off. The price for per tiller increased from 5 cents RMB to over 15 cents RMB. To meet the needs of planting materials, many new private sectors in Fujian started to establish nurseries in large scale in the spring of 2000 and in the autumn of 1999.
Experiences showed that planting tillers during the autumn can help the production of planting material faster than that planting in the next spring. For example, the tillers planted on 22 September the grass was 40 cm tall and with new tillers for 5-6/per clump when investigated in October. People was usually planting tillers in the nursery in spring, but now they started to plant the grass in autumn as well, which is good for fast production of vetiver production and its application.r