Our company energetically promotes planting vetiver grass in South China and regards it as one of our company's major business. Over the past several years, vetiver grass has been widely used on railways, highways, lakes, both sides of rivers and dykes, rubbish fields and some other reclaimation projects. According to the feedback, vetiver grass is being accepted by more and more people. As time goes on, many features and functions are being discovered and approved. A lot of owners call vetiver grass "magical grass".

We also obtained considerable development in promoting vetiver grass in 2002. We built the first ecological vetiver road in Zhongshan city of Guangzhou province even the whole country. We persuaded the owner into planting vetiver grass on outer-ring road and sight road around the Zhongshan city. So we gained the expert's unanimous comment in the examination by Zhongshan Construction Bureau. It is a successful example that planting vetiver grass in weather shale near Huiao Road in Huizhou city. The vetiver grass proves its strength again through its adaptability and tolerance to barren land and makes people who are skeptical about vetiver grass change their attitude.

We as well face some problems. For one thing, the vetiver's leaves may turn black and its roots go mouldy after planting. Sometimes, they are apt to suffer from gnawing by large mouse. For another, in the course of popularizing, many people look them as the cogon grass (Imparata cylindrica) because their roots and leaves are very rough and similar to the cogon grass.

We have some imagination that whether we can make short and their leaves and roots more beautiful through transforming gene. In this way, it will make our popularization job easier to carry on.

Highway Protection - showing good vetiver growth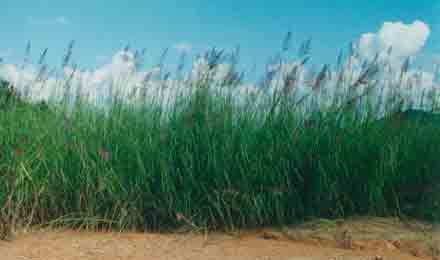 Highway Protection - close up of vigorous vetiver growth on highway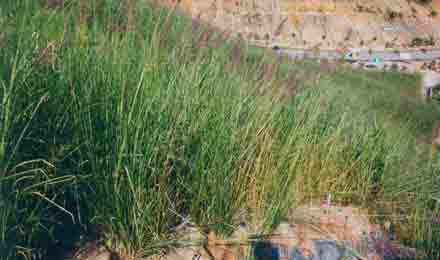 Highway Protection - vetiver hedgrows associated with highway stabilization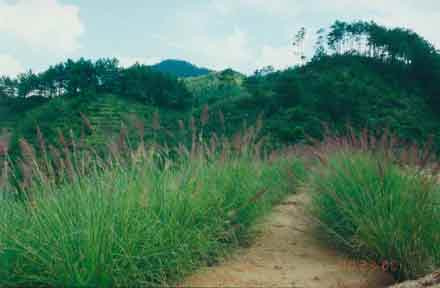 Highway Protection - prepared slope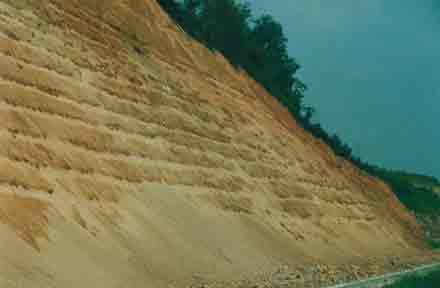 Highway Protection - newly planted with vetiver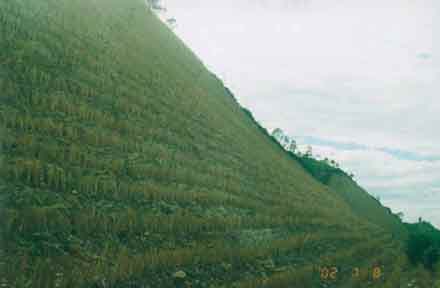 Highway Protection - Protected slope - vetiver hedgerows at six months of age
slope-protection in Nanya - using vetiver grass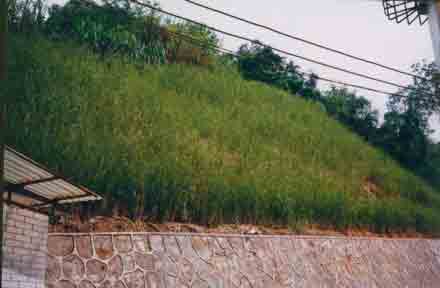 slope-protection in Nanya - using vetiver grass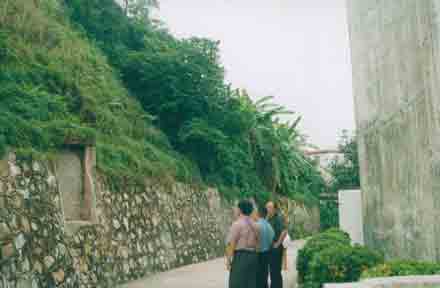 slope-protection in Nanya - using vetiver grass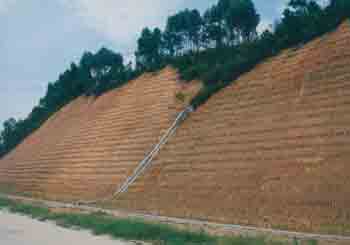 zhongshan out-ring road - before planting vetiver grass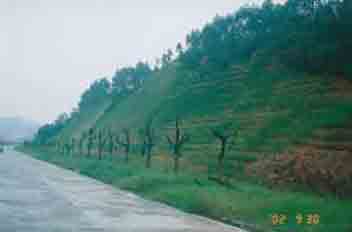 zhongshan out-ring road - after planting vetiver grass