Magic Grass
VETIVER BECOMES MAGIC AFTER SIX YEARS
Paul Truong, QDNR, Brisbane, Australia.
Due to both climatic and edaphic influences, a vast region in western Queensland, Australia, locally known as Mitchell Grass Downs, remains treeless in its natural state.
This treeless state is partly due to the extremely hot and dry weather, with temperature often exceeds 45oC in the summer. The clayey soil will crack wide open when dry, breaking the roots of young trees. As a result, areas of up to 1 000 hectares of this grassland can be found completely bare of trees or shrubs, provided no shading for any wild life or domestic animals.
This grassland is mostly used to graze sheep for wool production, but the lack of shading in the summer has been found to significantly reduce lambing rate. About 6 years ago, Greg Bortolussi, a research scientist with the DPI, asked me whether vetiver grass, because of its drought tolerant characteristics, could be used to provide shade for sheep in the Mitchell Grass Downs region. I was hesitant as vetiver is only a grass and I have not heard anyone has used grass to provide shade for animal before. But Greg insisted and pointed out that anything thicker than a fence post is an improvement as at the present sheep line up behind fence post to seek shade in the summer. So we decided to give it a go, that was in 1993.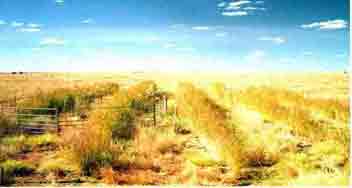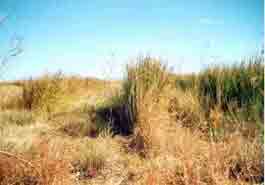 The following article on the Queensland rural paper highlights some of the points I mentioned above:
Queensland Country Life
Thursday, November 10, 1994
Asian grass to lift lambing percentages - by Toni Somes
An Asian grass, already used extensively to control soil erosion, may soon prove instrumental in boosting lambing percentages in western Queensland.
The Vetiver grass (vetiveria zizanioides) is being grown as part of shade plot trials at Toorak, a QDPI research station, south of Julia Creek.
Research has already found artificial shade plots on Mitchell grass country can boost lambing percentages by 15pc. According to Toorak manager Tony Barnes, the Vetiver grass has considerable advantages over native trees and its predecessors, particularly Prickly Acacia and Parkinsonia.
"Introducing thorny trees and shrubs like Prickly Acacia and Parkinsonia, for animal welfare reasons, has seriously threatened the viability of Mitchell grass pastures." Mr Barnes said. "But research shows Vetiver doesn't spread - it can only be propagated by root division or slips - and therefore will not compete with natural grasses like Mitchell and Flinders."
"It also grows rapidly and is capable of providing adequate shade for adult sheep after at least 12 months."
The Vetiver grass is already recognised world-wide as a effective way to control soil erosion. It has been described as fire-resistant, well adapted to humid and dry condition, tropical and temperate climates and can also survive under water for a reasonable period. Although the Toorak trial is in early stages, research officer, Greg Bortolussi said he was confident of finding favourable results. "We planted the grass in February last year and now it stands about 1.7m high and provides quite adequate shade for sheep." He said.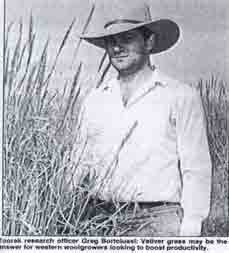 Mr Bortolussi said: "Heat stress is currently blamed for approximately 20pc reduction in the birth weight of lambs and up to 30pc increases in lamb mortality". He said the addition of artificial shade plots for pregnant and lactating ewes on Toorak had increased overall productivity by 15pc."
"Already we know that nothing really eats the grass, stock won't touch it, and although kangaroos use if for shade they don't touch it either". He said.
The Vetiver grass trial is being run alongside native tree shade plots trials at Toorak.
Greg has transferred to another posting soon after the publication of the above article so I have lost touch of that trial, thinking the sheep has eaten it out. But recently on a visit to the region, to my great delight and surprise to find out that Greg's prediction of the success of the trial was correct, except for a minor point, that kangaroos have now developed the taste for vetiver too !!
Although I did not visit the trial area, I was told that vetiver has been a great success there and now being used quite extensively to provide shading for sheep in the region and graziers in the Julia Creek region now call vetiver the MAGIC GRASS.
I will certainly find out more about the impact of this magic grass on the wool industry later.